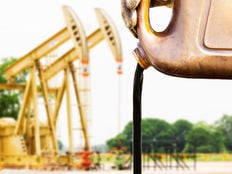 ETFdb.com analyzes the search patterns of our visitors each week. By sharing these trends with our readers, we hope to provide insights into what the financial world is concerned about and how to position your portfolio.
The debacle in the crude market has eclipsed a perhaps more important event this week – the French election. Oil took first place on the list followed by Asia Pacific equities, which trended thanks to the South Korean presidential election. Automotive ETFs and silver took the third and fourth spots, respectively, while France, fresh from staving off a populist wave, was last.
Check our previous trends edition at Trending: Home Builders Wary of Trump Timber Tax.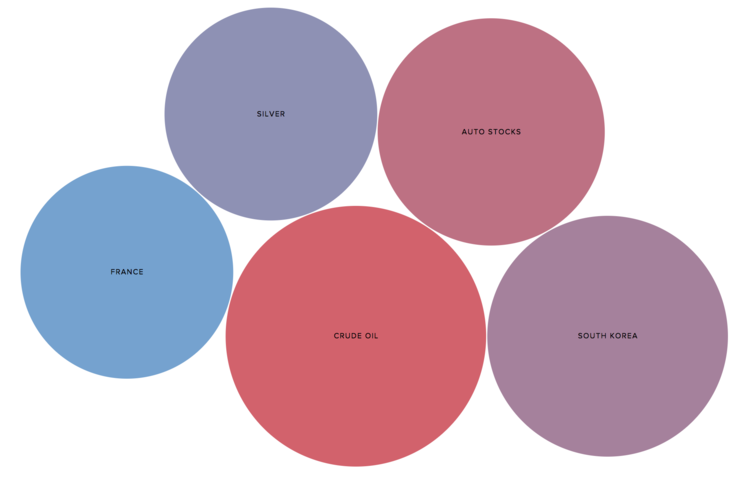 ---
Content continues below advertisement
Crude Oil Struggles Amid Abundant Supply
Crude oil has seen its traffic rise 156% this week, as investors have been eagerly monitoring the developments in the market, which is again being plagued by fears of a supply glut. United States Oil (USO B) has dropped more than 11% over the past 30 days, extending year-to-date losses to nearly 16%.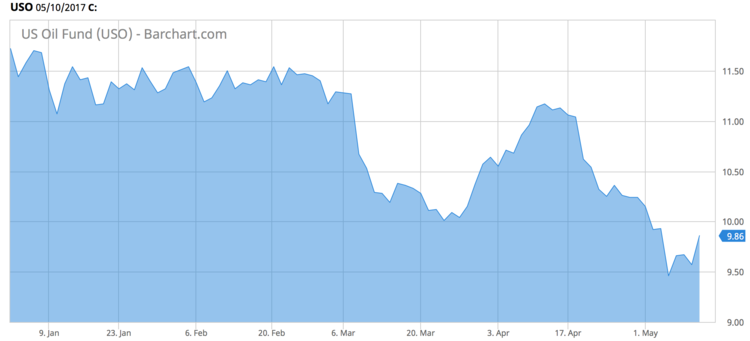 Although the OPEC members led by Saudi Arabia have reiterated their commitment to cut supplies, U.S. output has been rising steadily of late. Since mid-2016, U.S. oil production has increased by 10% to 9.3 million barrels per day, close to the output of Saudi Arabia and Russia. Evidence is mounting that U.S. shale players started to re-enter the game after prices improved significantly, thanks to the OPEC deal announced about six months ago. According to Baker Hughes, 462 new rigs have opened in the U.S. over the past year.
Further worsening the outlook for oil prices, demand has started to slow as Chinese manufacturing activity is faltering and the sentiment of the U.S. consumer is declining. However, oil prices have received a respite this week following upbeat demand data from the U.S. Stockpiles fell by a whopping 5.2 million barrels for the week ended May 5, marking the fifth consecutive weekly decline. As a result, (USO B) has rallied 6% over the past five days. In the year-to-April period, crude stockpiles lodged large weekly increases.
Sign up for ETFdb.com Pro and get access to real-time ratings on over 1,900 U.S.-listed ETFs.
South Korea Rallies as New President Elected
South Korean stocks have rallied this week as liberal Moon Jae-in was declared victorious in the presidential election. Asia Pacific ETFs overall have seen their traffic rise 109% as a result. iShares MSCI South Korea Capped (EWY B) have gained an impressive 2.2% this week, extending yearly gains to as much as 22%.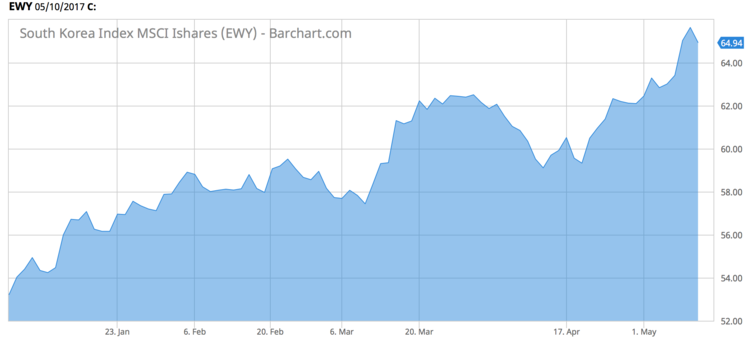 Clearly, investors have cheered the news that the country will finally leave behind months of a high-profile bribery scandal involving former conservative President Park Geun-hye, who lost her post as a result of corruption allegations. Moon, who was chiefly voted in by the young population, is now expected to swiftly name a prime minister and start implementing his agenda. Perhaps most importantly, he promotes a more conciliatory tone toward the nation's belligerent neighbor, North Korea, and is the proponent of starting a dialog. Moon's election comes at a time when North Korea has been an increasing burden to the U.S. and even allies such as China. The rogue nation promised nuclear and intercontinental missile tests, unnerving the global community.
Domestically, Moon wants to reform the way powerful conglomerates such as Samsung Group and Hyundai are run and increase fiscal spending to create more jobs.
Auto Stocks Gain on Healthy Results
Automotive ETFs have seen their viewership increase 97% in the past week, as many U.S. auto companies released their earnings.
Broadly, the results were rather positive and the auto stocks rallied. First Trust NASDAQ Global Auto (CARZ B), an ETF with General Motors (GM), Ford (F) and Tesla (TSLA) among its top holdings, has jumped about 1% over the past five days, extending year-to-date gains to more than 5%.
The car makers are experiencing a challenging environment this year, after two consecutive years of record sales. U.S. vehicle sales ended 2016 on a high note, with 17.5 million automobiles sold. However, in 2017 sales have started to deteriorate. In April, sales declined 4.7% compared to the same month a year ago to 16.8 million. The latest disappointing data suggest the demand may have peaked, and car manufacturers may be forced to tap other markets in order to continue their growth. Unfortunately for some car manufacturers, China and India, markets with huge growth potential, are prioritizing electric vehicles.
ETFdb.com has ETF investing guides and other ebooks to help you navigate the investing landscape using ETFs.
Silver No Longer 'Precious'
Silver, fourth in the list with a 79% increase in viewership, has dropped over the past week, as investors sold it along with other precious metals. The markets have heaved a sigh of relief following news that liberal Emmanuel Macron won the French presidential election in a landslide against his far-right opponent Marine Le Pen. As a result, iShares Silver Trust (SLV B-) has lost its safe-haven appeal. (SLV B-) has declined about 1% over the past five days, trimming year-to-date gains to less than 2%.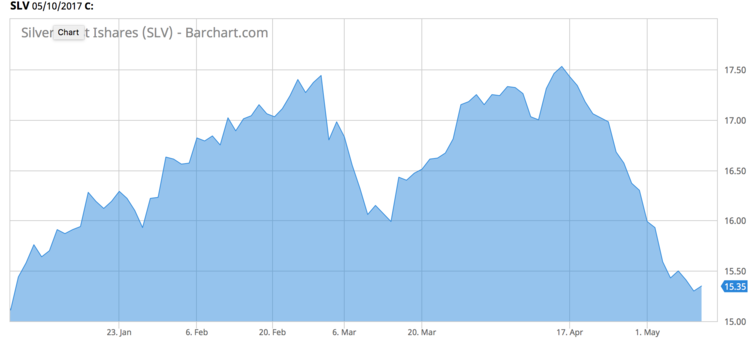 For a deeper analysis on individual ETF investments such as (SLV B-) or (CARZ B), use our ETF Analyzer tool. You can select ETFs by category or type as well as add individual ticker symbols to compare performance, expenses and dividend yield, among other metrics.
France Avoids the Lure of Populism
Last in our weekly trends is France, which dominated the headlines lately thanks to the presidential election. The nation's ETFs have experienced a 58% increase in traffic, as liberal Macron defeated far-right Le Pen by a large margin. iShares MSCI France (EWQ B) has advanced 9% in the past month, widening year-to-date gains to more than 16%.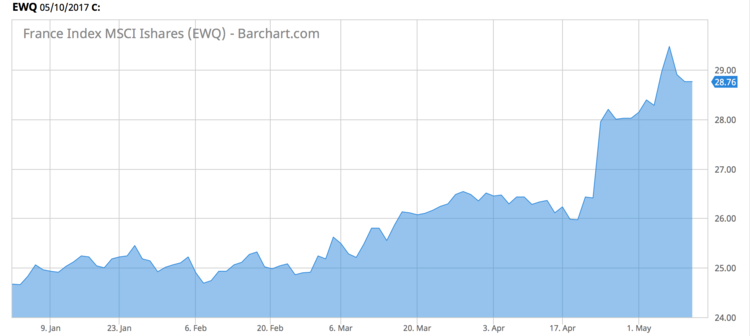 Macron garnered 66% of the votes, significantly more than polls suggested – around 60%. Markets heaved a sigh of relief following the results, although Macron would have to move quickly to arrest the rise of populism, which has engulfed a large part of Europe and the U.S. The former investment banker and economy minister now has to deliver. He wants to make the 35-hour work week more flexible, lower corporate taxes, and increase public spending for infrastructure projects and others. Macron wants France to be part of a more integrated Europe and for the founding country to take a leading role in the beleaguered union again.
To easily find ETFs exposed to a particular country, use our ETF Country Exposure tool. Select a specific country and get a list with all the ETFs with exposure to your pick.
The Bottom Line
Crude oil's downward slide was on investors' minds this week, as a persistent supply glut is putting pressure on prices. South Korea's stocks have rallied after the presidential office was won by a liberal favoring better relations with North Korea. Auto stocks have staged gains following strong financial results reported by some U.S. automakers, despite the fact that new vehicle sales have been sliding. Silver has fallen out of favor, as it has lost its safe-haven appeal. Finally, French stocks rallied after Macron defeated far-right candidate Le Pen.
By analyzing how you, our valued readers, search our property each week, we hope to uncover important trends that will help you understand how the market is behaving so you can fine-tune your investment strategy. At the end of the week, we'll share these trends, giving you better insight into the relevant market events that will allow you to make more valuable decisions for your portfolio.