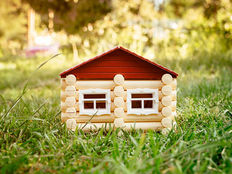 ETFdb.com analyzes the search patterns of our visitors each week. By sharing these trends with our readers, we hope to provide insights into what the financial world is concerned about and how to position your portfolio.
This week, Donald Trump's protectionist policies have left a mark on some U.S. stocks. Home builders suffered a blow after the Trump administration announced plans to slap tariffs on Canadian wood imports. Timber took the first position on the list followed by leveraged volatility ETFs, which have been beaten up lately due to an uncanny stability in the markets. Amazon reached new highs, while European equities trended because of the upcoming French election. Mexico took the last spot.
Read our previous edition at Trending: France's Election Results Boost Market Optimism.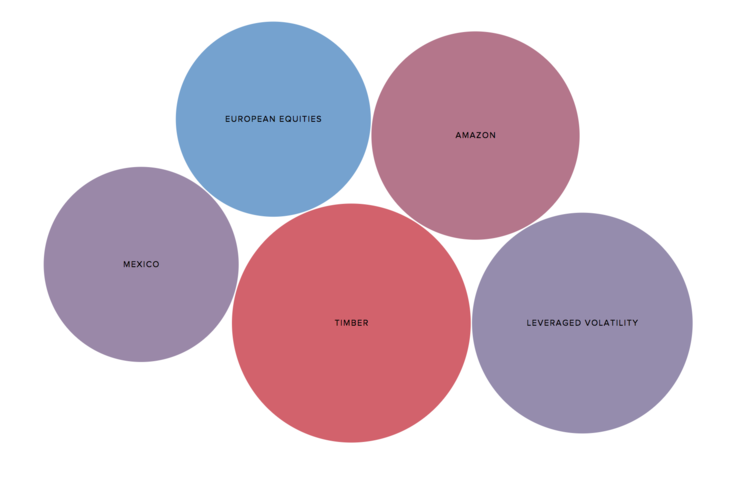 ---
Content continues below advertisement
Home Builders and Timber Producers Feel Trump's Protectionist Heat
Timber ETFs have seen their traffic rise as much as 230% over the past week, as the Trump administration slapped an up-to-24% tariff on Canadian lumber imports. The stocks of Canadian timber producers were unaffected by the move on average, but U.S. home builders felt the heat, with many of them dropping in a rising market. iShares Global Timber & Forestry (WOOD B), an ETF containing U.S. and Canadian timber producers, was down slightly over the past five days. Meanwhile, iShares US Home Construction (ITB A) has dropped 1.3% in the past week, although its year-to-date performance remains outstanding, up around 16.5%.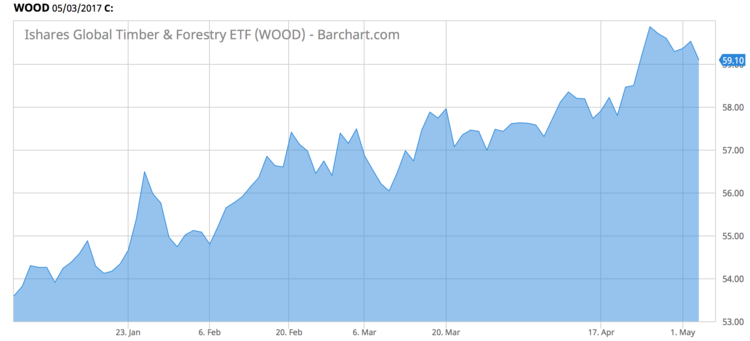 The Trump administration plans to impose duties of between 3-24% on Canadian softwood lumber, arguing many of the producers are getting unfair subsidies from the government. U.S. softwood producers have long complained about unfair competition with their Canadian counterparts and called on the U.S. government to level the playing field, which it duly did. However, although the tariff will inevitably help U.S. timber producers, it hurts home builders, as they are expected to pay a higher price for the commodity. Commerce Secretary Wilbur Ross played down the fear, saying that timber will not rise by 20%, although he admitted a tick up was possible.
Evidently, Canada was upset by the move and promised retaliation. It suggested consumers will be affected on both sides of the borders and the duty will lead to higher home prices in the U.S. Ross begged to differ, noting that lumber makes up just a small part of a house's value.
Leveraged Volatility
It seems somewhat surprising that Leveraged Volatility ETFs are getting increased attention in such a stable market. Nevertheless, Leveraged Volatility ETFs' viewership was up 91% this week. ProShares Ultra VIX Short-Term Futures ETF (UVXY B-)'s performance has been terrible, tumbling nearly 6% over the past five days and a staggering 69% since the beginning of the year.
The reason for the poor performance was the extremely low volatility in the markets, which have moved up this year and posted only small corrections. With President Trump promising dramatic tax cuts and red tape reductions, market optimism is running high. The need to hedge against volatility seems unnecessary, particularly in view of the fact that gold prices, another hedging alternative, are very low.
ETFdb.com has ETF investing guides and other ebooks to help you navigate the investing landscape using ETFs. Sign up to ETF Database Pro to get access to all the PDFs located on our ETF Guides page.
Amazon Reaches New Highs on Upbeat Results
Giant online retailer Amazon (AMZN) seems unstoppable, garnering 87% more viewers in the past five days. Amazon's stock reached new highs after the company reported strong ad sales growth. The upbeat figures made investors wonder whether the company might creep too aggressively onto Google's (GOOG) turf and prompt a battle between the two giants. Both revenues and earnings per share topped analysts' estimates, spurring a 5% increase in the stock price, although it gave up some of the gains since the results were published on April 27. Year-to-date, the shares are up more than 25%.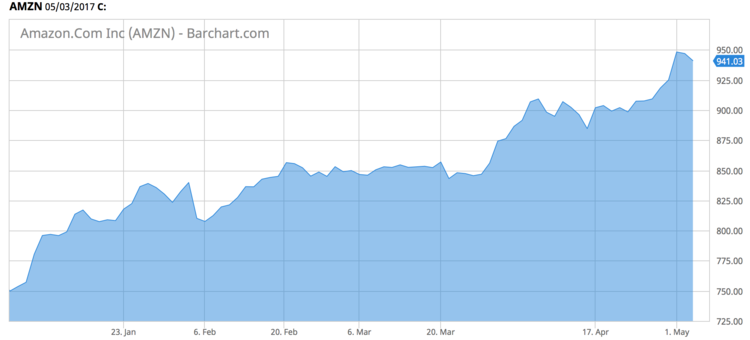 Amazon, which in the not-so-distant past posted inconsistent earnings, started to see its profits increase with the dramatically profitable Amazon Web Services (AWB). Although the cloud infrastructure platform (the largest in the world) makes up only 10% of total revenue, it was responsible for 89% of operating income last year. This cash machine allows the firm not only to be profitable but also to invest in a host of other pursuits. And Amazon is likely the most diversified technology company in the world, with interests in pay-TV, restaurant delivery, artificial intelligence, cloud computing, retail, publishing and many other sectors.
Analysts have been raising their target price over the past year, as the stock continued to move higher. Just recently, FBN Securities increased its target price to $1,050 from $925. The highest estimate now stands at a whopping $1,250 per share, more than 30% higher than current prices.
European Equities in Spotlight as France Heads to Polls
European equities continued their rally this week as optimistic investors expect liberal Presidential candidate Emmanuel Macron to win the French election in a landslide this Sunday. Europe equities have seen their traffic advance 83% this past week. Vanguard FTSE Europe ETF (VGK A) has gained 1.6% over the past five days, extending year-to-date gains to as much as 12.9%.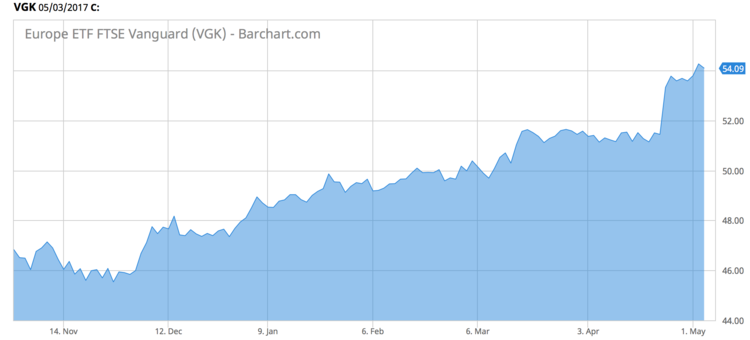 Macron is expected to win by a margin of 40% to 60%, according to the latest polls. An upset, however, is not a far-fetched possibility. For Le Pen, the only way to win the election is if there is a low turnout, something that may indeed happen. Many voters supporting the traditional candidates – François Fillon and Jean-Luc Mélenchon, both of whom marginally failed to get into the second round – may decide not to show up at all because they cannot identify themselves with either of the two. That's an issue widely discussed in France because these voters constituted almost 40% of the total turnout in the first round. For more on the French election, read Will France Leave the EU Next?
To easily find ETFs exposed to a particular country, check our ETF Country Exposure tool. Select a specific country and get a list of all the ETFs with exposure to your pick.
Mexico
Mexico took the last spot on our list this week with a 28% increase in viewership. Mexican equities traded sideways of late as investors try to make sense of how Trump's rhetoric on the nation and Nafta will morph into action. iShares MSCI Mexico Capped ETF (EWW A) has fallen slightly over the past days. Year-to-date, however, (EWW A) is up an impressive 17.4%.
For a deeper analysis on individual ETF investments such as (EWW A) or (VGK A), use our ETF Analyzer tool. You can select ETFs by category or type as well as add individual ticker symbols to compare performance, expenses and dividend yield, among other metrics.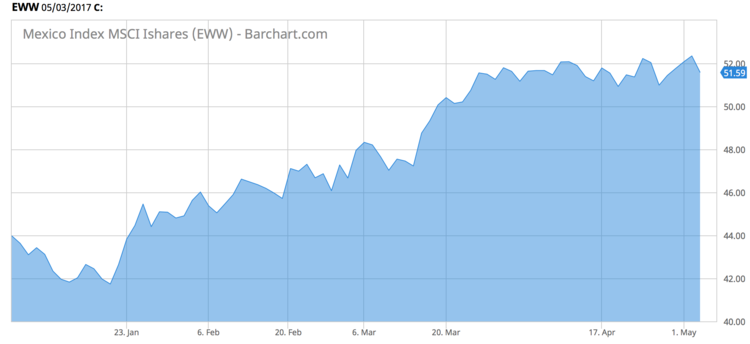 Trump has revived talk about building a wall between the two countries, reiterating his belief that Mexico will pay for it at a later date. The White House had attempted to include funding for the wall's construction in a bill to keep the government running, but the move met the opposition of Democrats and some Republican lawmakers. Trump later backtracked on the demand.
The Bottom Line
Home builders and Canadian timber producers were dealt a blow by the Trump's administration's tariffs on lumber imports. Leveraged volatility ETFs have been hit lately by, well, low volatility. Amazon reached new highs this week on upbeat results and strong growth in its cloud services division. European Equities rallied again this week on optimism France will avoid the populism trap in this Sunday's election. Finally, Mexico investors are watching carefully Trump's attempt to build a wall south of the border.
By analyzing how you, our valued readers, search our property each week, we hope to uncover important trends that will help you understand how the market is behaving so you can fine-tune your investment strategy. At the end of the week, we'll share these trends, giving you better insight into the relevant market events that will allow you to make more valuable decisions for your portfolio.