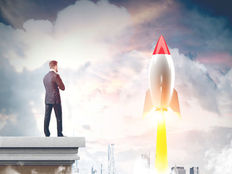 Despite being in the summer doldrums for Wall Street, the slogan "sell in May, go away" for ETF launches remains pretty swift. This week saw a flurry of new ETFs hit the tape and they all tackled familiar themes – income, growth and value. However, the new launches took a different take on these popular themes; they went active.
Active ETFs have continued to gain popularity in recent months from both issuers and investors. As more traditional mutual fund houses embrace the fund type, they've increasingly turned to active products to make their names known. This week was no exception as several major mutual fund powerhouses expanded their ETF lineups.
---
Content continues below advertisement
Value & Momentum
For newcomer Alpha Architect, the name of the game has been unique value and momentum-driven portfolios. The sponsor has specialized in various quantitative ETFs and funds since its founding. We're not talking about traditional indexing here at all. The problem, given the complexity of some products, is that a lot of retail investors are clueless as to how to use them, or more succinctly, how to switch between them when market conditions change. With that in mind, the firm created the Alpha Architect Value Momentum Trend ETF (VMOT B-) to help remove some of the issues and make it easier for investors to integrate its products into their portfolios.
VMOT is considered an "ETF of ETFs" – meaning it holds other ETFs to complete its mandate. In this case, it's four of Alpha Architect's other funds that target "value" and "momentum." VMOT will use a proprietary methodology to determine allocations to each of the four ETFs.
Based on market conditions and recorded risk, VMOT will shift its portfolio of "value" and "momentum" factors to create a blend that achieves a portfolio with lower volatility and risk levels while boosting returns. If the market is doing well, momentum strategies will get a higher weighting. When things start to get dicey, value stocks will get the nod. The fund can also hedge 100% of its portfolio if the bottom indeed drops out.
In the end, VMOT should provide a way for investors to tackle certain smart-beta factors automatically when market conditions are right. Investors will pay up for the ability, however. VMOT charges a hefty 0.79%, or $79 per $10,000 invested in expenses.
For a full list of all of Alpha Architect ETFs, check out its issuer page here.
Principal Gets Active With Global Income
As one of the largest mutual fund shops on the planet, Principal has hit the ground running when it comes to ETFs. Rather than the index, the manager has relied on what made it a success in the mutual fund space: active management. This time, that takes the manager into the global equity income space.
The Principal Active Global Dividend Income ETF (GDVD B) can be seen as a traditional "growth and income" fund. The ETF will bet on stocks that pay dividends as well as seek to grow that income and invested capital. To do so, GDVD will use a quantitative screening process that was only available at Principal in separately managed accounts and as a component of its broader strategies. The ETF isn't limited to just U.S. stocks and can find opportunities across the globe. Currently, GDVD holds 59 stocks.
Expenses run at just 0.58% a year, which is roughly in line with what a larger growth and income mutual fund would charge these days.
Legg Mason Piles on the Growth
Also hitting the ground hard when it comes to ETFs has been mutual fund powerhouse Legg Mason. Last year, Legg Mason bought stakes in several ETF sponsors and issuers and had quickly built out an impressive lineup of smart-beta and active ETFs. This time it tapped one of its long-time sub managers to bring a growth-focused ETF to the market.
The ClearBridge All Cap Growth ETF (CACG B-) will seek to achieve long-term capital appreciation by investing in a diversified portfolio of stocks that has the potential for above-average, long-term earnings and cash-flow growth. The strategy behind the ETF was previously only available in a separately managed account.
CACG managers will use a bottom-up investment process that will look for those stocks with strong fundamentals, incentive-driven management teams, and dominant positions in niche markets. The team will also use different criteria based on sector, industry and, even, market-cap size.
The ETF can invest in a variety of large-, medium- and small-capitalization stocks. However, the fund is very top heavy and large-cap dominated. More than 74% of the fund is in large-cap stocks currently.
Expenses run at 0.53%.
For a list of all new ETF launches, take a look at our ETF Launch Center.
The Bottom Line
Even with summer approaching, ETF sponsors have continued to rollout new products. This week, those new products focused on the old reliables of growth, value and income. This time with an active approach.
By signing up for ETFdb.com Pro, you will get access to real-time ratings on over 1,900 U.S.-listed ETFs.