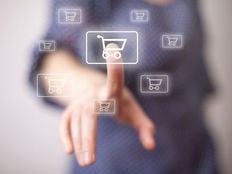 ETFdb.com analyzes the search patterns of our visitors each week. By sharing these trends with our readers, we hope to provide insights into what the financial world is concerned about and how to position your portfolio.
The U.S. economy is showing renewed signs of strength with the latest consumption data, turning the spotlight on retailers and the battle between brick-and-mortar business and online retailers. Retail took first place on the list, followed by technology stocks, which trended due to a hacking attack. Emerging markets equities are situated in the middle of the list on geopolitical tensions in some regions. Volatility and MSCI World index close the list.
Check our previous trends edition Trending: Oil Slides on Renewed Supply Glut Fears.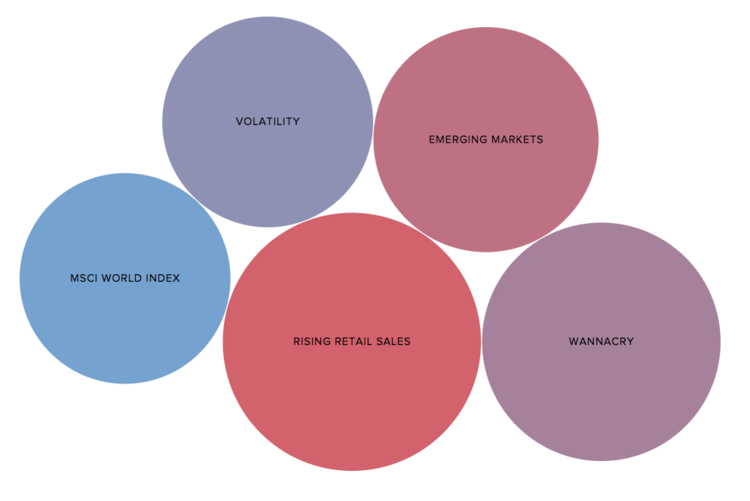 ---
Content continues below advertisement
Rising Retail Sales Benefit Online Retailers
The recent weakness of the U.S. economy is proving to just be a hitch. Strong retail sales for the month of April have turned the spotlight on retailers, and particularly online stores, which continue to eat market share from their traditional peers. Retail has seen its viewership advance as much as 283% over the past week.
The performance of retail ETFs varies significantly as a result of a shift from the brick-and-mortar model to an online format. For example, Amplify Online Retail ETF (IBUY C+), an ETF geared toward online retailers, has risen more than 9% over the past 30 days, while SPDR S&P Retail ETF (XRT B+), which is mostly comprised of brick merchants, is down about 3% over the same period.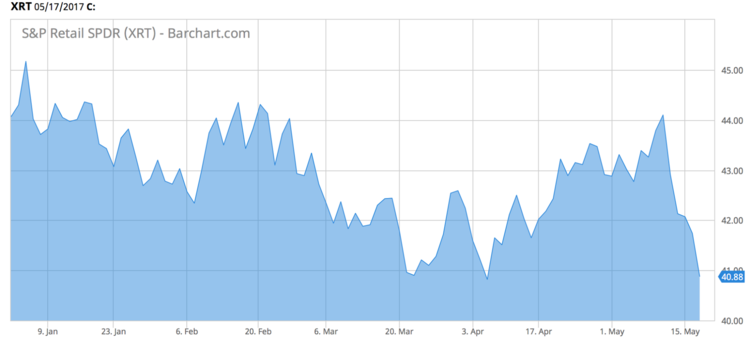 U.S. retail sales increased 0.4% in April compared to the previous month and were 4.5% higher year-over-year. The relatively good data comes after two months of disappointing figures. While sales dipped slightly in February, they registered a mere 0.1% increase in March. Clothing retailers and department stores were among the worst decliners in April, while healthcare and motor sales contributed most to the positive figures. Non-store retailers, which include online shops, reported that sales increased by 1.4% in April, while general merchandise stores and clothing stores decreased by 0.5%. For the first four months of the year, online sales increased 10.7%, and the category was bested only by gasoline stations, which are facing a cyclical expansion.
Online retailers are the clear winners of the U.S. economic expansion. In addition to benefiting from the cyclical growth, online stores face secular tailwinds.
Sign up for ETFdb.com Pro and get access to real-time ratings on over 1,900 U.S.-listed ETFs.
WannaCry Cyberattack Boon for Tech
Internet ETFs have seen their viewership rise 191% over the past five days, as a large cyberattack provided a boon for the sector. WannaCry, which infects Windows computers, is a malware that works by blocking files on a device until the owner pays a $300 ransom. About 150 countries have been attacked so far, affecting around 200,000 computers in total. Among the victims were FedEx, Nissan and the U.K.'s National Health Services. Microsoft has released a patch that closes the vulnerability even in older operating systems, such as Windows XP and Windows 8.
It is unclear who launched the attack, but it is believed that the initiators are amateurs and new to the game. So far, they have gained around $50,000 from the ransomware. Apple computers were not affected by the attack.
Technology stocks, particularly antivirus software providers, stand to gain from the attack, as large clients are expected to boost their defense budgets. Technology Select Sector SPDR Fund (XLK A), an ETF with Apple (AAPL) and Microsoft (MSFT) as top holdings, has dropped more than 1% over the past five days but is up 3.3% in the past 30 days.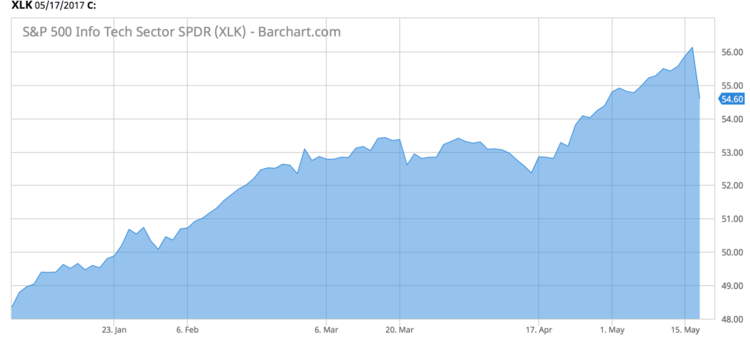 Hot Emerging Markets Hit by Geopolitical Tensions, Trump Worries
Emerging markets, with a rise in viewership of 143%, have been hot lately, posting impressive gains since the beginning of the year. iShares MSCI Emerging Markets ETF (EEM A-), an ETF counting Samsung Electronics, Tencent Holdings and Alibaba Group among its top holdings, is up 17% since January 1. However, on Wednesday, the index tumbled nearly 4% on the eruption of a new political crisis in Brazil and worries that a political turmoil in the U.S. will derail Donald Trump's growth agenda. (EEM A-), like most emerging markets ETFs, is heavily exposed to China and South Korea, two countries that have performed well lately, despite political wobbles in South Korea and a nuclear threat from North Korea.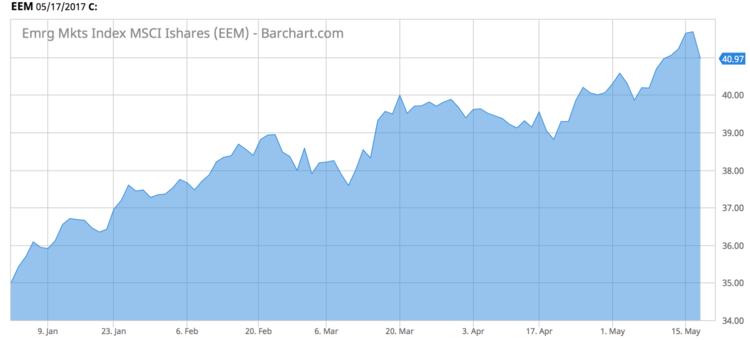 North Korea, in particular, has raised worries across the developed world after it conducted what analysts called the most successful missile test yet. The rocket landed around 60 miles south of Russia's Vladivostok region, drawing condemnations from President Vladimir Putin. However, the Russian President also warned against "intimidating" North Korea, which said it started the tests in order to protect itself from the U.S. and its allies. The U.S., meanwhile, called for tougher economic sanctions against the country. The missile is said to be capable of reaching the U.S. and carrying nuclear warheads.
Trump has said he prefers a diplomatic solution to the North Korean threat; although, he suggested a major war was also a possibility.
As a whole, emerging markets equities are considered cheaper compared to their American counterparts, and have more growth potential, although they tend to be more volatile.
To easily find ETFs exposed to a particular country, check our ETF Country Exposure tool. Select a specific country and get a list with all the ETFs with exposure to your pick.
Volatility Benefits From Tumbling Markets
Volatility ETFs are again present on the list, after taking second place two weeks ago. Traffic to volatility ETFs has increased by 120% over the past five days, as the instruments provided a safe haven in the face of falling stock markets. Volatility instruments may attract investors due to their cheapness, relatively high equity prices and geopolitical tensions. Although the U.S. economy has a strong foothold, a conflict escalation between the U.S. and North Korea could send shockwaves across the global markets, sending volatility ETFs skyrocketing.
iPath S&P 500 VIX Short-Term Futures ETN (VXX A-), up nearly 15% over the past week, benefited from a respite, after global markets slumped and U.S. stocks had the worst day in eight months on Wednesday.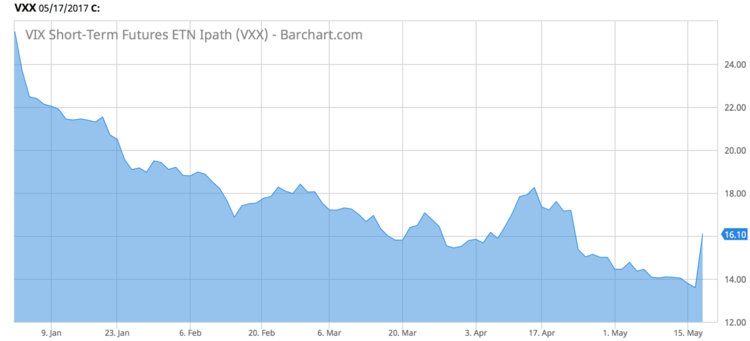 Over the longer term, however, the instruments are still suffering. For instance, (VXX A-) has dropped more than 6% in the past month, extending year-to-date losses to as much as 36%.
For a deeper analysis on individual ETF investments such as (VXX A-) or (EEM A-), use our ETF Analyzer tool. You can select ETFs by category or type as well as add individual ticker symbols to compare performance, expenses and dividend yield, among other metrics.
MSCI World Index
MSCI World Index has taken the last place in the list with 97% increase in viewership. MSCI World Index, which contains blue-chip companies from around the world, has been blessed lately from positive global developments, with the victory of liberal Emmanuel Macron in the French Presidential election being among the most prominent event. iShares MSCI World ETF (URTH A-) has jumped more than 2% over the past 30 days, extending year-to-date gains to over 8%.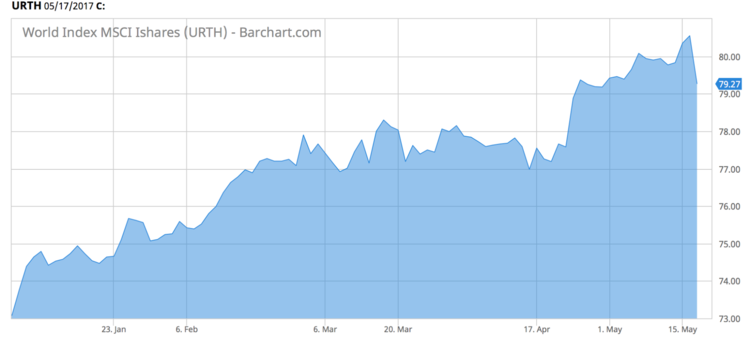 Of note, it recently emerged that there are more equity indexes than stocks. According to Bloomberg, there are more than 4,000 stocks and over 5,000 indices to choose from. The reason for the discrepancy is the rising demand for low-cost investment products, including ETFs.
The Bottom Line
This week, retailers' prospects have improved with the release of positive economic data. A cyberattack directed attention to technology stocks, particularly software companies providing security solutions. Emerging markets continued to post gains this week, despite ominous geopolitical signs, while volatility ETFs skyrocketed due to a global selloff. Finally, the MSCI World Index has staged gains of late thanks to rising optimism and improving economies, although on Wednesday it fell dramatically along with other equity indices.
By analyzing how you, our valued readers, search our property each week, we hope to uncover important trends that will help you understand how the market is behaving so you can fine-tune your investment strategy. At the end of the week, we'll share these trends, giving you better insight into the relevant market events that will allow you to make more valuable decisions for your portfolio.