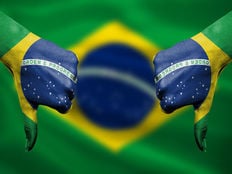 ETFdb.com analyzes the search patterns of our visitors each week. By sharing these trends with our readers, we hope to provide insights into what the financial world is concerned about and how to position your portfolio.
Brazil has made headlines this week with a fresh scandal involving recently installed President Michel Temer. The volatile Brazilian equities, first on the list, tumbled on the prospect of protracted political uncertainty. U.S. home builders' improving confidence and Japan's safe-haven status generated significantly less traffic, but the assets still took second and third place, respectively. Amazon is fourth on the list as it continued to rally this week, while artificial intelligence ETFs came in last.
Check out our previous trends edition Trending: Rising Consumption Puts Spotlight on Retail.
---
Content continues below advertisement
Brazil Braces for Protracted Turmoil
Just as it seemed like Brazil's political landscape had started to show signs of tranquility following the impeachment of President Dilma Rousseff last year, a bribery scandal involving current President Michel Temer risks throwing the country back into the abyss. Brazil generated the most traffic by far this week, with viewership increasing 785% as investors worryingly watched the unfolding drama. iShares MSCI Brazil Capped ETF (EWZ A-) fell off a cliff in the aftermath of the bribery scandal, although the index recouped some of the losses and is now down 11% since May 18. Year-to-date, (EWZ A-) remains up more than 5%.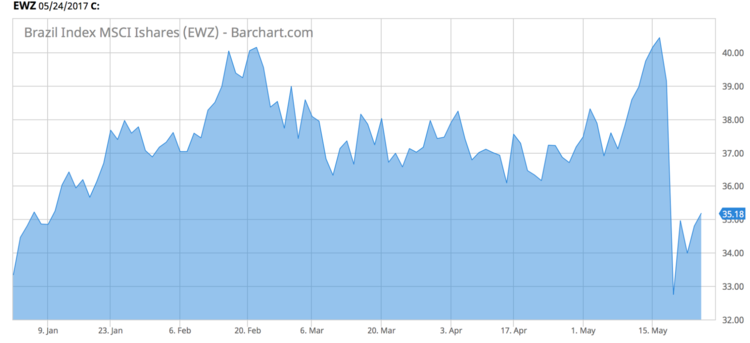 On May 19, a Brazilian newspaper reported that Temer bribed a former House Speaker to buy his silence. The President denied any wrongdoing and resisted calls to step down. The news surfaced after the owners of meat conglomerate JBS testified before the Supreme Court as part of a comprehensive corruption probe dubbed "Operation Car Wash." The investigation has already led to the imprisonment of a host of politicians and high-powered business people.
JBS' owners reportedly told authorities that they recorded discussions of Temer authorizing bribery payments. The Supreme Court acted swiftly and authorized an investigation into the allegations against the President. Temer, meanwhile, asked investigators to analyze whether the audio recordings were edited.
The political earthquake comes at a time when the government is attempting to implement market-friendly reforms. Now, these reforms will be delayed for an indefinite period of time, at best, or cancelled altogether, at worst.
To easily find ETFs exposed to a particular country, use our ETF Country Exposure tool. Select a specific country and get a list with all the ETFs with exposure to your pick.
Home Builders' Confidence Rises Despite Slowdown
U.S. home builders have seen their viewership rise 109% this week, far behind Brazil. Home builders' confidence rose to 70 in May, the second-highest level since the Great Recession, although recent hard data could not back such optimism. iShares U.S. Home Construction ETF (ITB A) continued its rally this week, advancing about 2.6%. The ETF extended year-to-date gains to as much as 19%.
For a deeper analysis on individual ETF investments such as (ITB A) or (EWZ A-), use our ETF Analyzer tool. You can select ETFs by category or type as well as add individual ticker symbols to compare performance, expenses and dividend yield, among other metrics.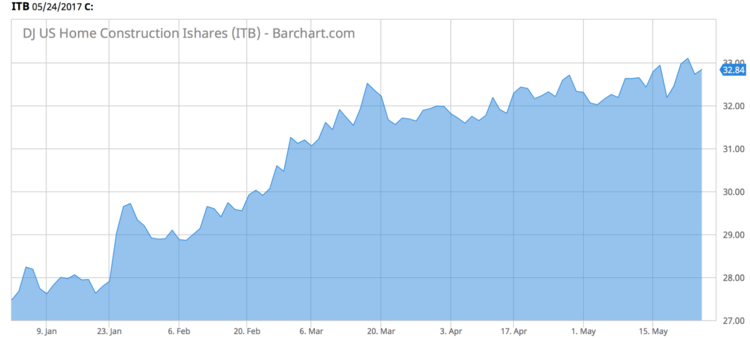 According to government data, sales of single-family homes fell by 11.4% in April, the first drop this year. However, the numbers for the first three months were all revised up, sustaining broad sector optimism. Compared to last year, sales are up more than 11% for the first three months of 2017 and prominent industry figures are optimistic about the future. But the sector's conditions are largely dictated by demand, which has been slowing of late, particularly due to stagnant wages among millennials and weak buying power.
Despite uncertain prospects, home builders' confidence increased to 70 in May after registering a drop in April. A showing above 50 indicates expansion. In the same month last year, the index stood at just 58. Home builders are most optimistic about sales for the next six months, with the component rising to a whopping 79 – the highest level recorded since June 2005. On the contrary, expectations for buying traffic are the lowest among the three components of the index, dropping one point to 51.
Japan's Strong GDP Boosts Equities
Japan has seen its viewership rise 60% over the past week, as the country benefited from its safe-haven status. A global selloff last Wednesday boosted the appeal of the country's equities, although strong GDP figures also helped. iShares MSCI Japan ETF (EWJ A) has risen about 1% over the past five days, extending year-to-date gains to more than 8%.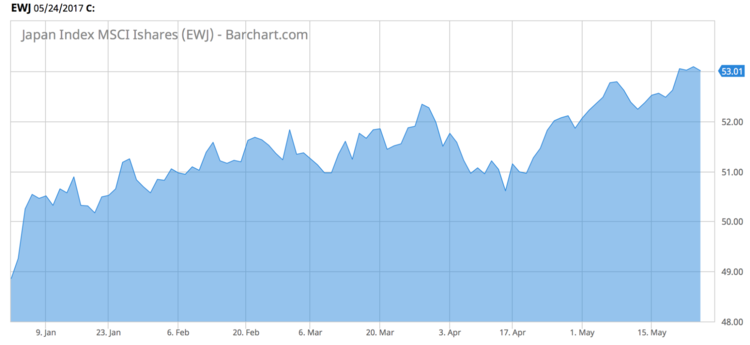 First-quarter GDP advanced 0.5% representing an annualized growth of 2.2%. The figure beat analysts' expectations of 0.4% quarterly growth and an annual pace of 1.7%. The Japanese economy has been rising for five consecutive quarters and the current figure is the best since the winning streak began in the first quarter of 2016. The growth was mainly driven by exports, with strong demand coming from China. The output growth is an indicator of a healthy global outlook rather than a strong Japanese economy. In the case of slowing global demand, Japan may stumble over the next quarters, particularly in the face of increased protectionist rhetoric across the developed world.
Sign up for ETFdb.com Pro and get access to real-time ratings on over 1,900 U.S.-listed ETFs.
Amazon Marks 20th Anniversary
Amazon (AMZN) has experienced 31% increase in traffic, as the online retailer and technology company celebrated its 20th anniversary as a public company last week. Investors in the firm founded by Jeff Bezos have been richly rewarded for their trust. Over the past twenty years until its anniversary on May 15, the stock has risen 48,776%, representing the fastest rise in 20 years for any tech stock. The second fastest riser was Microsoft (MSFT) with 27,010%, followed by Yahoo with a 2,557% gain.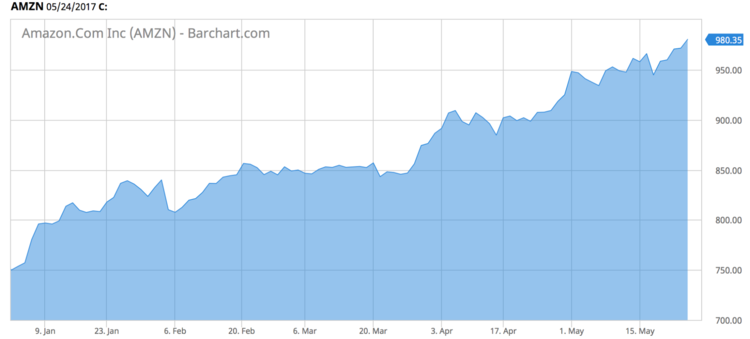 An investment of $1,000 in Amazon at the time of its IPO in 1997 would have returned a whopping $639,900 over the past two decades.
Artificial Intelligence
Artificial intelligence ETFs, with traffic up 27% in the past five days, are on a tear lately, as investors pin their hopes on the industry being the next technological game-changer. Global Robotics & Automation ETF (ROBO B-) has gained more than 3% over the past week, extending year-to-date gains to around 21%.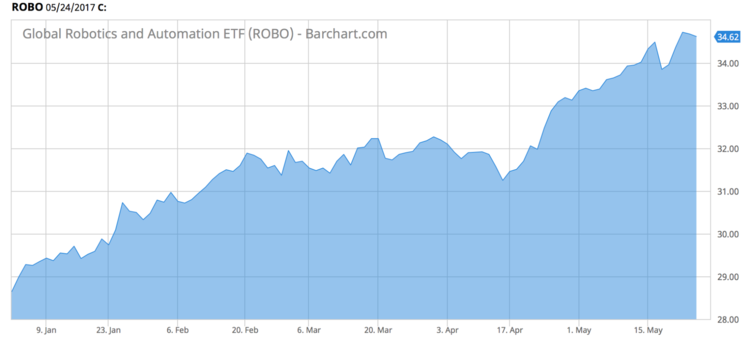 Artificial intelligence has both its supporters and its detractors in the tech community. Google's (GOOGL) Founder Larry Page and Facebook's (FB) Founder Mark Zuckerberg both believe artificial intelligence could greatly help humanity by giving people more free time to spend with their families. Elon Musk, the founder of Tesla (TSLA), believes there could be catastrophic consequences if the technology lands in the wrong hands. Musk reportedly invested $1 billion in researching ways to use the emerging technology safely.
The Bottom Line
This week was all about Brazil. The South American nation has seen its stock market tank after a new bribery scandal involving incumbent President Michel Temer emerged. In the U.S., home builders' confidence grew in May, but hard data could not back such optimism. Japan equities were boosted by strong GDP for the first quarter, although, worryingly, the growth was mainly driven by exports. Amazon marked its 20th anniversary on May 15, while artificial intelligence equities rallied on hopes of a better future.
By analyzing how you, our valued readers, search our property each week, we hope to uncover important trends that will help you understand how the market is behaving so you can fine-tune your investment strategy. At the end of the week, we'll share these trends, giving you better insight into the relevant market events that will allow you to make more valuable decisions for your portfolio.