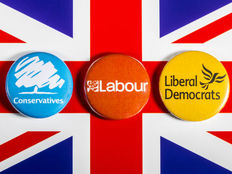 ETFdb.com analyzes the search patterns of our visitors each week. By sharing these trends with our readers, we hope to provide insights into what the financial world is concerned about and how to position your portfolio.
Britain's snap elections were in the spotlight this week, as investors attempted to assess the damage from Prime Minister Theresa May's disastrous bet. The British pound took first place on the list, followed by the technology sector, which has been worryingly underperforming of late. Crude oil is making headlines again due to its protracted downward volatility, while short-term bond investors cheered the Federal Reserve's decision to raise interest rates. Brazil's ongoing political scandal also made it to the top five.
Read our previous trends edition at Trending: U.S. Climate Accord Withdrawal Rattles Business Elite.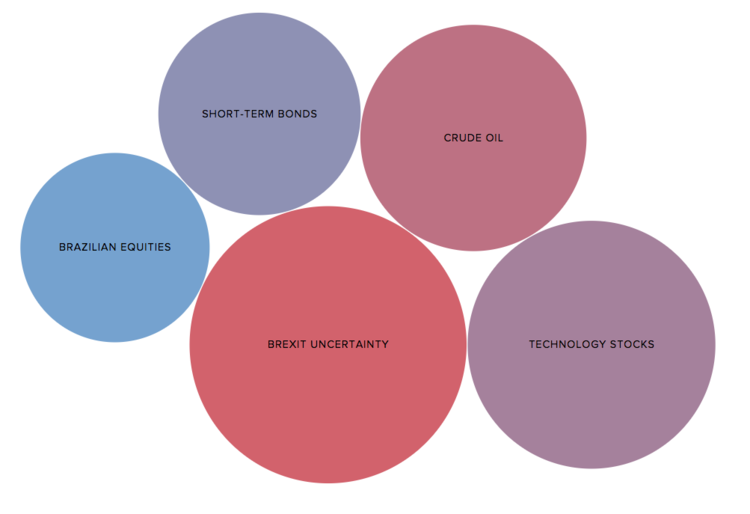 ---
Content continues below advertisement
Pound Declines on Renewed Brexit Uncertainty
The British pound took first spot in the list this week, with a rise of 313% in viewership. Prime Minister Theresa May's floundering bet to strengthen her position in the upcoming Brexit negotiations has made her and the Conservative Party weaker. The Tories lost 13 seats, while the Labour Party gained 32, as there was a massive turnout among younger voters. The Conservatives won the election with 318 seats, but they don't have a majority in the Parliament and are forced to join forces with Northern Ireland's Democratic Unionist Party (DUP). Negotiations with DUP have been dragging on with no results, and divisions inside May's own party have been widening. Some policymakers favor a softer Brexit with emphasis on keeping access to the single market, while others want a clean break from the European Union. DUP itself favors a softer stance on Brexit, given its desire to keep a frictionless border with its EU neighbor, Ireland. Undoubtedly, the snap election, far from providing a stronger hand to May's hard Brexit agenda, emboldened voices seeking a middle path.
Amid negotiations with DUP, May is facing increasing calls from other parties to be more transparent on the talks and to provide a clear plan for Brexit. May herself acknowledged the terrible result and suggested she may lean toward a softer stance, which likely means prioritizing access to the single market with the cost of contributing to the EU budget and allowing the free movement of people.
European leaders, including French President Emmanuel Macron and German Finance Minister Wolfgang Schäuble, have indicated the EU's arms were open if Britain changed its mind and wanted to stay in the union. Both leaders, however, acknowledged it was unlikely that Britain would change course. May confirmed that Britain would continue on its path to exit the bloc.
The British pound was the chief loser from the renewed debacle, although it may start to gain over the long term if the hard Brexit stance is ditched in favor of a softer approach. Guggenheim CurrencyShares British Pound Sterling Trust (FXB B) has lost 1.3% over the past five days.
To easily find ETFs exposed to a particular country, use our ETF Country Exposure tool. Select a specific country and get a list of all the ETFs with exposure to your pick.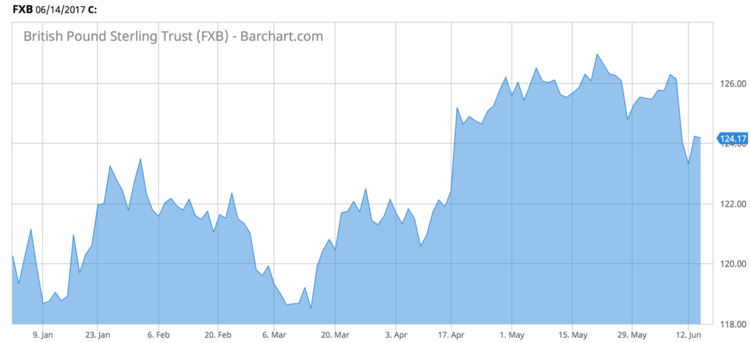 Technology Stocks Dip on Fed
Technology stocks have seen their traffic surge 221% this week, as investors worryingly observed an abrupt correction of late. Technology Select Sector SPDR Fund (XLK A) has dropped nearly 3% over the past five days, underperforming the S&P 500, which was roughly flat. However, it's worth noting the (XLK A)'s year-to-date performance still remains nearly double that of the S&P 500.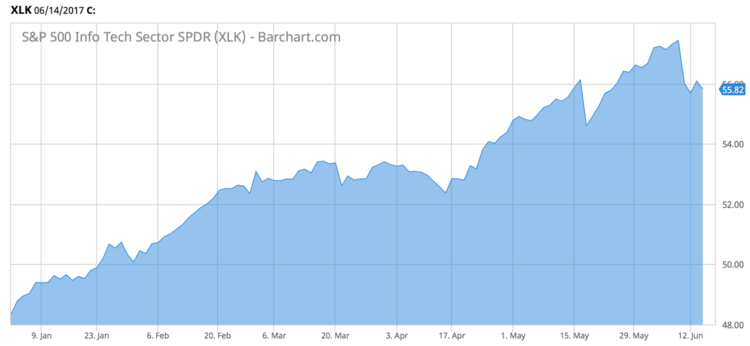 The tech sector's drop had been preceded by an astonishing performance, with many of the heavyweights such as Amazon (AMZN), Alphabet (GOOGL) and Apple (AAPL) advancing incessantly over the past year. The sudden fall made investors wonder whether this is the beginning of a new trend or just a correction. Given that investors had rightly expected that the Federal Reserve would raise rates, it is possible that some had decided to take money off the table.
The Fed's Chairwoman Janet Yellen announced a rate increase on Thursday, and because the tech sector has gained the most so far, it is more sensitive than other sectors to a tightening of monetary policy. However, tech stocks are still supported by a strong economy and rising earnings.
Crude Slumps on Gasoline Buildup
Crude oil has seen its traffic advance 97% since last Thursday, as the black commodity continued its downward slide. Crude has been suffering from a persistent supply glut, despite efforts by OPEC to reduce supply. United States Oil Fund (USO B) has declined nearly 3% over the past week, extending year-to-date losses to as much as 21%.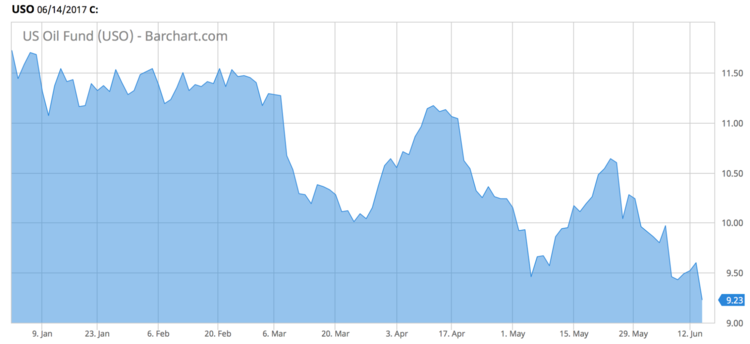 The latest pull down was largely due to a drop in gasoline futures, which tumbled on oversupply concerns. Gasoline inventories are 9% higher than the five-year average, while demand is 1.2% lower compared to last year. Although crude stockpiles dropped by 1.7 million barrels this week, investors were more concerned with the 2.1 million buildup in gasoline stocks, which could herald further increases in oil supplies.
OPEC and Russia have reached an agreement to cut 1.8 million barrels per day compared to the end of last year, but this week output rose by 336,000 barrels as Nigeria and Libya pumped more.
Sign up for ETFdb.com Pro and get access to real-time ratings on over 1,900 U.S.-listed ETFs.
Short-Term Bonds
Short-term bonds have taken fourth place on the list this week with a 64% increase in traffic, as the Federal Reserve made another hike on Wednesday. Short-Term Bond (BSV A+) has advanced slightly over the past five days, and is up 1.3% since the beginning of the year.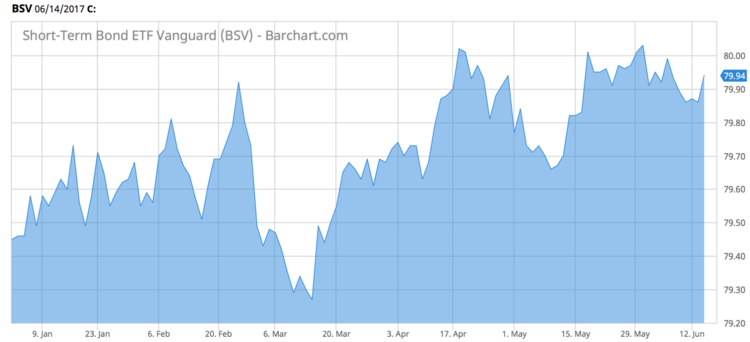 Short-term bonds are attractive in times of rising interest rates and they may outperform, chiefly because their maturities are shorter and investors may deploy the cash to other higher-yielding instruments.
The Federal Reserve raised rates for the third time this year, to 1.25% from 1% previously, in a move that was highly anticipated by the markets. Fed Chairwoman Janet Yellen said the U.S. economy was on strong footing and is expected to continue to move toward maximum employment and price stability.
For a deeper analysis on individual ETF investments such as (BSV A+) or (USO B), use our ETF Analyzer tool. You can select ETFs by category or type as well as add individual ticker symbols to compare performance, expenses and dividend yield, among other metrics.
Glimmer of Hope for Brazilian Equities
Brazilian equities experienced a 61% increase in traffic this week, a little behind short-term bond ETFs. The nation's stocks continued to plunge over the past week, but there are signs of hope that a political fallout may be avoided, at least for a while. iShares MSCI Brazil Capped (EWZ A-) has tumbled nearly 4% since last Thursday, trimming year-to-date gains to just short of 3%.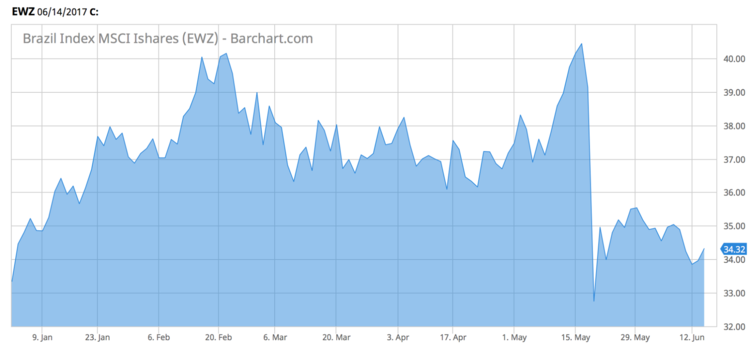 The reason for optimism stems from the fact that Brazil's President Michel Temer has been acquitted by an Electoral Court of charges of campaign finance abuse, thus, he will keep his post. That would not have happened in the case of an opposite ruling. However, the clouds are not entirely clear, as the Supreme Court has yet to decide on the integrity of evidence. Temer now needs as much political capital as possible to implement his pension reform.
The Bottom Line
This week was all about the British election upset. Prime Minister Theresa May lost seats for her Conservative party, casting fresh doubts over the future of Britain's relationship with the European Union. Technology stocks have been losing some of their shine of late, as the Federal Reserve raised interest rates. Crude oil, meanwhile, continued to head down on worries that OPEC output cuts will not be enough to clear a persistent supply glut. Short-term bonds were in demand due to their attractiveness in times of rising interest rates, and Brazilian equities finally got a piece of good news after President Temer was acquitted by an electoral court.
By analyzing how you, our valued readers, search our property each week, we hope to uncover important trends that will help you understand how the market is behaving so you can fine-tune your investment strategy. At the end of the week, we'll share these trends, giving you better insight into the relevant market events that will allow you to make more valuable decisions for your portfolio.