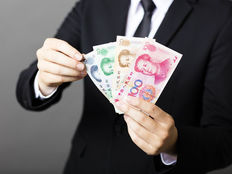 ETFdb.com analyzes the search patterns of our visitors each week. By sharing these trends with our readers, we hope to provide insights into what the financial world is concerned about and how to position your portfolio.
This week was all about China's accession to the MSCI global benchmark indexes and the headline-grabbing Amazon takeover of Whole Foods. These topics took the first two places on our list and the lion's share of attention in the discussion of our trends this week. In addition, inverse equities, inverse bonds and inverse volatility will also be given due attention.
Read last week's trends edition at Trending: British Election Upset Triggers Pound Decline.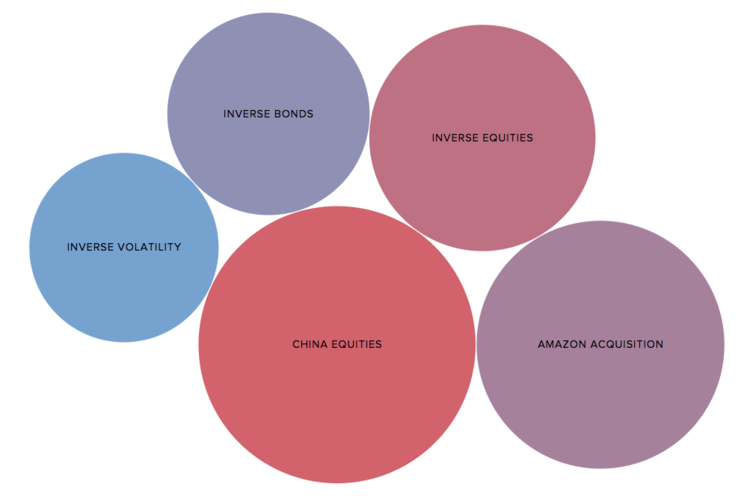 ---
Content continues below advertisement
Chinese Equities Jump on MSCI Inclusion
Chinese equities have seen their traffic rise 112% over the past week. The nation's stocks rallied on the landmark announcement that index provider MSCI is planning to include a host of mainland stocks into its indexes. iShares MSCI China (MCHI A) has advanced 1.5% over the past five days, extending year-to-date gains to an impressive 25%.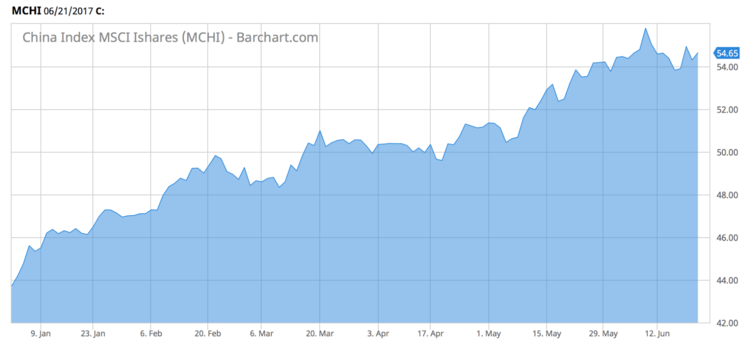 MSCI has said it would include 222 so-called A-shares, which will make up 0.7% of its flagship global index. The mainland-listed shares will also be part of the emerging markets index, where the country already had 27% of shares, although all of them were listed abroad, including Alibaba (BABA) and Tencent. As a result, Chinese equities are expected to experience a good deal of inflows, given that ETFs and other investment funds tracking MSCI indexes would be forced to buy Chinese stocks to include in their instruments.
China has long been attempting to gain more clout in the international markets, but three previous attempts were opposed by the index provider largely because it did not fit MSCI's description of an open market. The nation then tried to address this concern and implemented the so-called Stock Connect program, which links Shanghai and Shenzhen exchanges with Hong Kong. Through this system foreign investors do not face the same restrictions as they do when buying shares on the mainland.
Investors are on the fence about whether this is a positive development for global equity markets. On one hand, China is an important component of the global economy and financial system, and international investors should have bigger exposure to it. The Chinese market is the second-largest in the world behind the U.S., but it makes up only about 2% of global portfolios. On the other hand, Chinese mainland companies are largely state-owned giants plagued by corruption and inefficiencies. These features make them vulnerable to sudden market crashes, similar to what happened in August 2015 when the government banned trading in an effort to stave off a market collapse.
To easily find ETFs exposed to a particular country, use our ETF Country Exposure tool. Select a specific country and get a list with all the ETFs with exposure to your pick.
Amazon Rallies on Whole Foods Buyout
In a landmark move, giant retailer Amazon (AMZN) made its first serious foray into the grocery market by acquiring Whole Foods Market (WFM) for nearly $14 billion. The retail sector has seen 98% more viewers this week compared to last, thanks to this development. While Amazon rallied around 2% on the announcement, grocery retailers across the board plunged on the prospect their business will be disrupted by Amazon's entrance.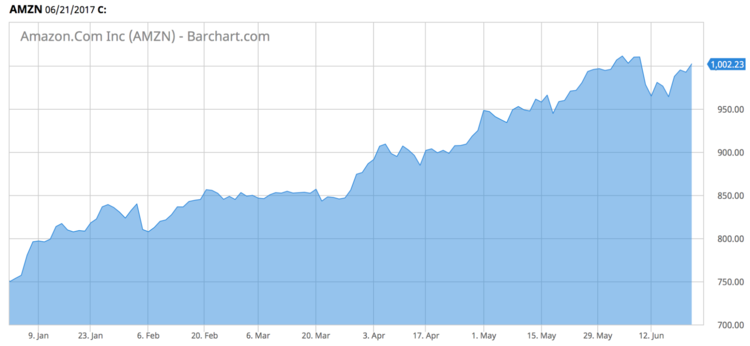 Whole Foods' sales have been declining over recent years as it steadily lost market share to its competitor Kroger. Shares in Kroger dropped nearly 10% on the news, as investors expect Amazon to use its enormous cash capabilities to aggressively expand its grocery footprint. Several media outlets reported that Amazon planned to slash prices to attract more customers, a strategy it successfully used in other parts of the retail industry. Analysts expected Amazon to use its recently unveiled cashier-less system to cut personnel costs, although the company dispelled such rumors. Amazon, which is known for being able to deploy new technology at a fast pace, has reportedly been stumbling with the rollout of its brick-and-mortar AmazonGo concept.
The giant retailer is expected to slash its own margins, perhaps operating with zero profit, in a bid to win over more customers. Such a move undoubtedly spells trouble for Whole Foods' competitors, including Kroger (KR) and Wal-Mart Stores (WMT).
Inverse Equities
Inverse (short) equities have taken third place on the list with a 49% increase in viewership. Index short sellers have been harshly hit of late, with equities around the world jumping in unison despite geopolitical uncertainty and rising interest rates in the U.S. Short S&P 500 (SH A+) has dropped nearly 9% since the beginning of the year, as the stock market cheered Donald Trump's election as U.S. president.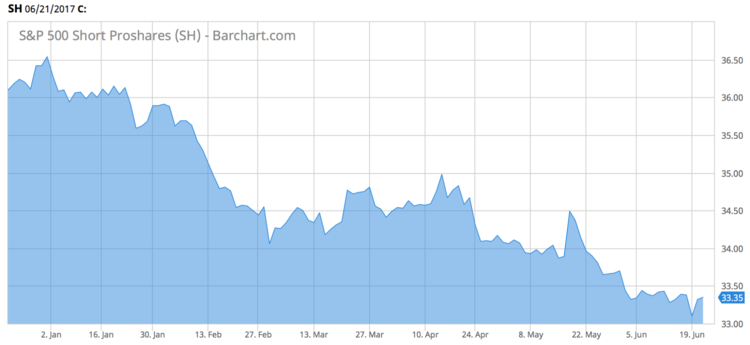 The equity market may present a good short opportunity for investors, hence its attractiveness. The Federal Reserve has been incessantly increasing interest rates. In addition, Trump's promised tax cuts and regulatory reform is yet to materialize as his presidency has stumbled with a series of investigations into whether his campaign managers colluded with Russia to influence the election. On top of that, the economy has been weakening lately, although the Fed hopes these are temporary headwinds, while the stock market has been hovering near record highs. Time for a correction?
Inverse Bonds
The old adage that the performance of bonds is inversely correlated with the stock market could not be further from the truth in the current bull market. Bonds across the board have been rallying along with equities, despite Federal Reserve increasing interest rates two times this year. Inverse Bonds are fourth on the list with a 44% rise in traffic.
Treasury bonds have been advancing from a yield of 2.7% in March to 2.2% now in spite of two rate hikes by the Federal Reserve. The demand for the asset class has been strong, in part because investors are still worried about the economy, particularly in view of weak data of late. This is all bad news for bond short sellers. Short 20+ Year Treasury (TBF A+) has dropped more than 1% over the past five days, extending year-to-date losses to as much as 7.7%.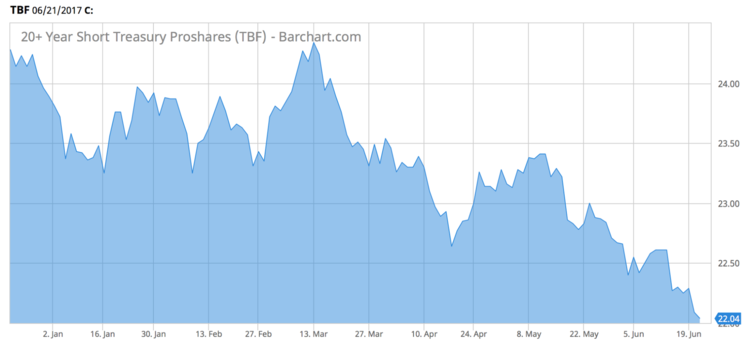 For a deeper analysis on individual ETF investments such as (TBF A+) or (SH A+), use our :ETF Analyzer tool. You can select ETFs by category or type as well as add individual ticker symbols to compare performance, expenses, and dividend yield, among other metrics.
Inverse Volatility
Inverse Volatility is last on the list seeing a 27% increase in viewership. VelocityShares Daily Inverse VIX Short-Term (XIV B+) has been among the best performers since the beginning of the year, rising nearly 80%.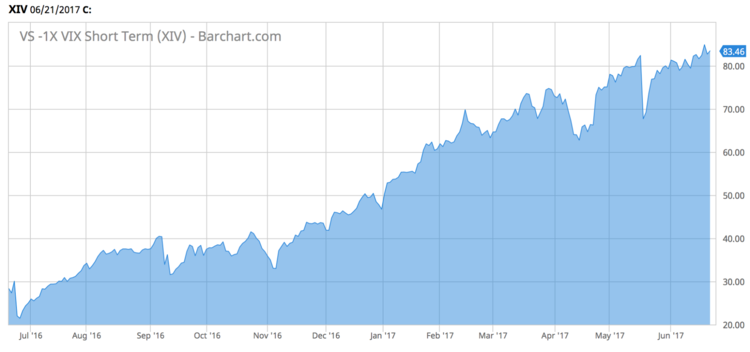 Volatility has been scarce of late, with markets largely on the rise and posting only minor corrections. Based on the fact that inverse bonds and inverse equities are high in the trends' list, investors may expect a storm in the financial market, something that will not bode well for inverse volatility. Buying inverse volatility, however, is a great way to hedge short bets against equities and bonds.
Sign up for ETFdb.com Pro and get access to real-time ratings on over 1,900 U.S.-listed ETFs.
The Bottom Line
This week MSCI decided to include mainland Chinese stocks in its indexes after three previous failed attempts by the second-largest economy in the world. Naturally, investors cheered the news and the stocks advanced as many investment funds, including ETFs, that track MSCI indexes will be forced to buy Chinese stocks. Amazon's acquisition of Whole Foods grabbed headlines and wiped out more than $30 billion from the market capitalization of supermarkets and other companies expected to suffer from the combination. Now, all eyes are on Amazon's strategy for the grocery company, with many expecting it to drastically slash prices to attract customers. Investors may be expecting doom, with inverse bonds and inverse equity trending this week. However, inverse volatility provides safety in case of a different scenario.
By analyzing how you, our valued readers, search our property each week, we hope to uncover important trends that will help you understand how the market is behaving so you can fine-tune your investment strategy. At the end of the week, we'll share these trends, giving you better insight into the relevant market events that will allow you to make more valuable decisions for your portfolio.