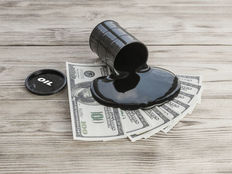 ETFdb.com analyzes the search patterns of our visitors each week. By sharing these trends with our readers, we hope to provide insights into what the financial world is concerned about and how to position your portfolio.
Crude oil has been rallying over the past week, but the black commodity is yet to recover its year-to-date losses. Oil is first on the list this week, as investors try to assess whether OPEC will be able to put a floor under prices by cutting supply. Biotechnology and pharmaceutical stocks took second and fourth place, respectively, on rallies stemmed from optimism about industry-positive government policies. Chinese equities was the third-most popular asset, thanks to the MSCI inclusion. Solar energy completed the list.
Read our previous trends edition at Trending: China Celebrates as MSCI Endorses Nation's A-Shares.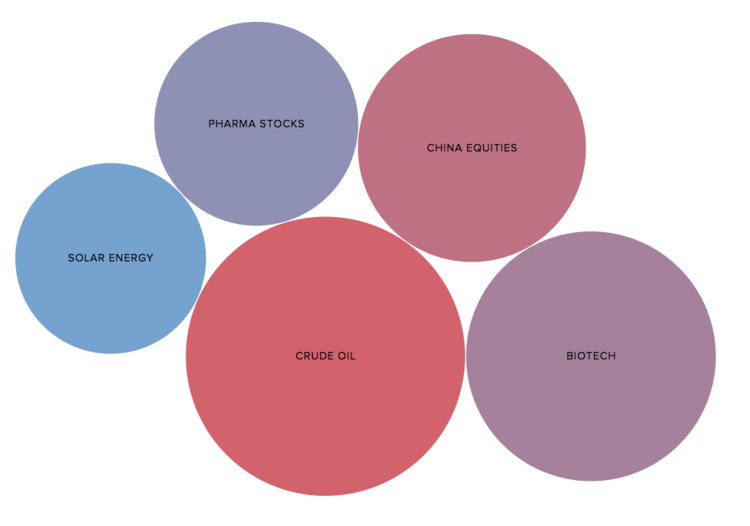 ---
Content continues below advertisement
Crude Rises on Lower Stockpiles
Crude oil has been on a rollercoaster lately, as investors came to terms with the fact that OPEC countries will not be able to clear excess supply with the announced cuts. Oil was the most popular asset this week, with an impressive 213% increase in viewership. Over the past five days, United States Oil (USO A) has advanced more than 5%, although the gain has hardly struck fear into crude's bears.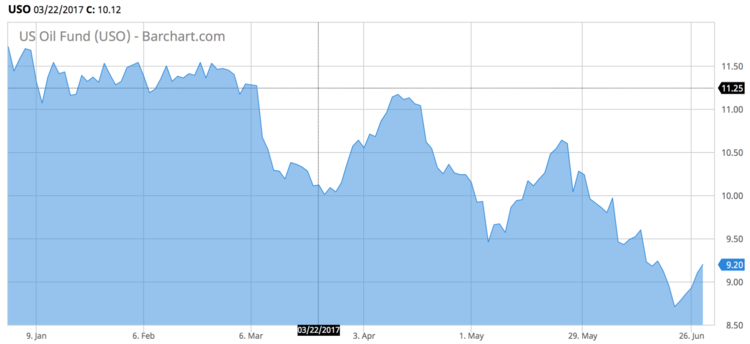 Oil's advance was largely thanks to a better-than-expected inventory report in the U.S. For the week ended June 23, crude stockpiles advanced by 118,000 barrels compared to a 2.6 million barrels decline expected by analysts. Gasoline stocks dropped by 894,000 barrels, which was still better than analysts' estimates of a 583,000 barrel drop. Adding to the good news, oil production decreased by 100,000 barrels per day to 9.3 million barrels. However, the fall was likely temporary, caused by a storm in the Gulf of Mexico last week.
Oil's long-term prospects are yet unclear. Year-to-date, crude has tumbled more than 21%, as OPEC cuts were not enough to clear production increases from United States, Nigeria and Libya.
Biotech Gets Trump Boost
Biotechnology stocks have been on a tear over the past month, as the long-shunned industry received a respite from U.S. President Donald Trump. Biotechnology ETFs took second place on the list with an increase in viewership of 173%. iShares Nasdaq Biotechnology (IBB B+) has risen more than 11% over the past 30 days, with the bulk of the gains taking place after the reports about Trump's policies.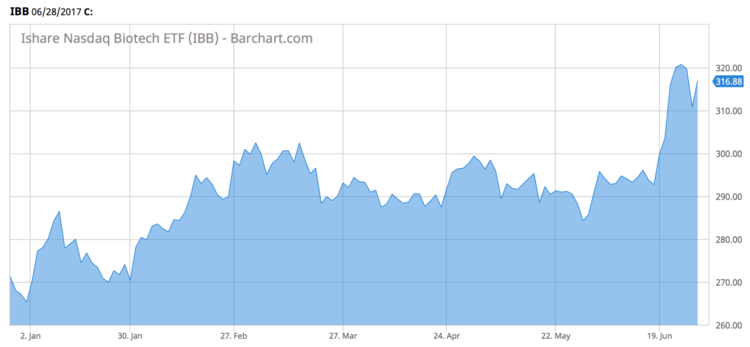 Various media outlets recently said Trump is preparing an executive order that would be positive for the industry as a whole, in a surprise departure from his negative rhetoric on the campaign trail. It is expected that the proposed policies will aim to foster cooperation between drugmakers and insurers, accelerate approval of new therapies and seek ways to make other countries pay more for drugs. These moves are particularly aimed at increasing competition among biotech companies instead of attacking them directly on prices. The order, which reportedly was supported by the drug industry, is expected to be announced within weeks.
Democrats outside the White House are not as willing to be kind to the biotechnology sector. Two Democrats, Elijah Cummings and Peter Welch, sent a letter to President Trump warning about the disconnect between Trump's promises and his actions.
The news was surprising and beneficial for drug companies. On the campaign trail, Trump signaled his displeasure with drug companies overcharging customers and the government, saying at one time they "were getting away with murder."
Sign up for ETFdb.com Pro and get access to real-time ratings on over 1,900 U.S.-listed ETFs.
China Equities Expect Massive Inflows
China equities have taken third spot on the list with an 85% increase in traffic. Worth noting, last week the asset class was first on the list due to news about the nation's equities inclusion in the MSCI indexes. At the time of the announcement, the only thing known was the fact that demand for Chinese equities will boom in the coming years. Now asset manager BlackRock has tried to put a number on it. BlackRock said the nation's stocks could attract more than $400 billion as soon as shares are fully included in the MSCI indexes.
The reaction to the news has been largely muted given that MSCI said the inclusion factor is only 5% of the market capitalization of eligible stocks. When the Chinese stocks are fully included in the MSCI indexes, inflows are expected to reach the $400 billion figure, according to a BlackRock analyst.
iShares China Large-Cap (FXI A-) has risen slightly over the past days, extending year-to-date gains to more than 15%.
To easily find ETFs exposed to a particular country, use our ETF Country Exposure tool. Select a specific country and get a list with all the ETFs with exposure to your pick.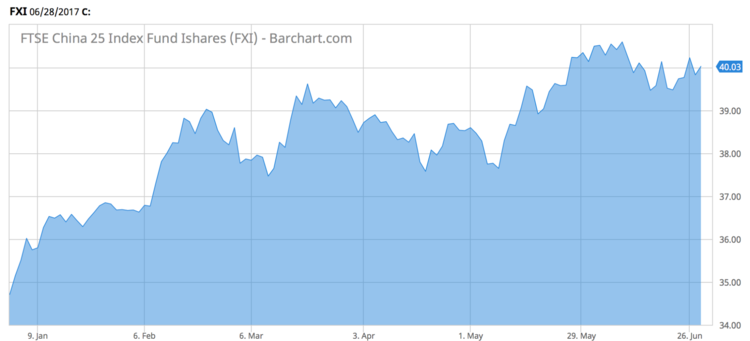 Pharma Stocks Relieved Following Trump's Executive Order
Pharmaceutical companies, along with the biotech sector, could finally breathe a sigh of relief. After promising a swift crackdown on drug prices, U.S. President Donald Trump has softened his stance and is now poised to issue an executive order beneficial to pharma stocks. Pharmaceutical ETFs have seen their viewership edge up 78% over the past week.
PowerShares Dynamic Pharmaceuticals Portfolio (PJP B) has skyrocketed nearly 10% over the past thirty days, with most of the gains taking place following the news about the impending executive order. Since the beginning of the year, (PJP B) has jumped nearly 14%.
For a deeper analysis on individual ETF investments such as (PJP B) or (FXI A-), use our ETF Analyzer tool. You can select ETFs by category or type as well as add individual ticker symbols to compare performance, expenses and dividend yield, among other metrics.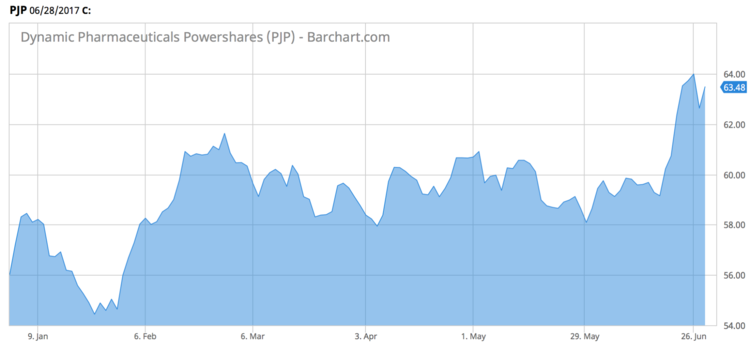 Solar Energy on Track to Take Off
Solar Energy ETFs have seen 47% more viewers this week. Renewable energy equities are becoming increasingly attractive to investors as the industry is finally showing signs that it can be profitable without massive government subsidies. Guggenheim Solar (TAN B) is up nearly 5% over the past five days, while year-to-date gains amount to more than 20%.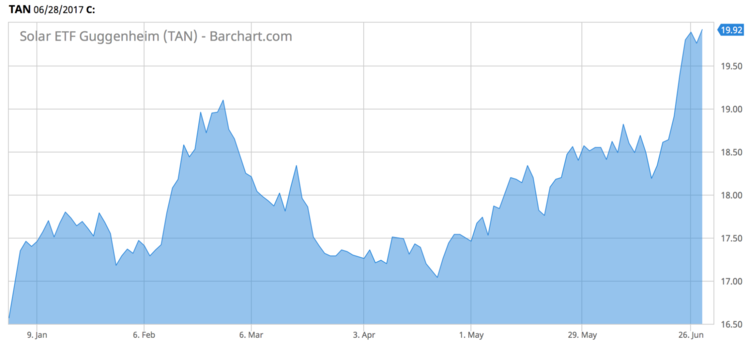 Solar stocks have also been boosted after President Trump floated the idea of building a wall with solar panels on the Mexican border. However, analysts believe it will be difficult to implement the idea, even if there is political support.
The Bottom Line
This week, crude oil has recovered a bit on encouraging storage data in the U.S., but the commodity's long-term prospects are still uncertain given the persistent supply glut. Biotechnology and pharmaceutical stocks received a long-awaited respite following news that Trump is preparing an executive order that will be positive for the industry. China equities are predicted to experience massive inflows on full inclusion in the MSCI indexes, while solar energy companies are finally becoming profitable.
By analyzing how you, our valued readers, search our property each week, we hope to uncover important trends that will help you understand how the market is behaving so you can fine-tune your investment strategy. At the end of the week, we'll share these trends, giving you better insight into the relevant market events that will allow you to make more valuable decisions for your portfolio.