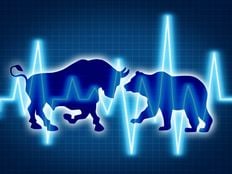 To help investors keep up with the markets, we present our ETF Scorecard. The Scorecard takes a step back and looks at how various asset classes across the globe are performing. The weekly performance is from last Friday's open to this week's Thursday close.
The European Central Bank President Mario Draghi took the markets by surprise after signaling in a speech that stimulus tapering may come sooner than markets had anticipated. He said the European economy was growing at a decent pace and the threat of deflation subsided. In addition, he noted that negative factors influencing inflation, such as low fuel prices, were "mainly temporary."
The U.S. housing sector is improving, with new home sales rising by nearly 3% to 610,000 in May. On top of that, the April figure was revised up by 24,000.
In the U.S., new durable goods orders dropped 1.1% in May compared to April. Compared to last year, however, orders were up 2.7%. A fall in aircraft sales had a negative impact on the report. Orders minus transportation were up 0.1% month-over-month and 5.5% year-over-year.
U.S. consumer confidence was strong in June, with the index rising to 118.9 from 117.9 last month. Analysts had predicted a deterioration, with consensus estimates standing at 116.7.
Pending home sales dropped 0.8% in May, representing the third consecutive monthly fall. Analysts had expected a 0.5% advance.
Crude oil inventories rose tepidly in the June 23 week by around 0.12 million barrels. The figure took analysts by surprise given their forecasts of a 2.6 million drop.
U.S.

GDP

grew by 1.4% in the first quarter, upgraded from previous estimates of 1.2%. Although the figure is still weak, it surprised analysts, who expected no change.
The U.S. jobs market continues to be stable, with unemployment claims coming in at 244,000 for the week ended June 24. The report also comes with a small upward revision for the previous week.
Risk Appetite Review
Except for the riskier assets, the markets were all down this week.
The broad market (

SPY

) fell 0.64%.
High Beta (

SPHB

) was the best performer with a gain of 1.22%; last week, it largely disappointed.
Low Volatility (

SPLV

) was the worst performer, falling 1.26%.
Sign up for ETFdb.com Pro and get access to real-time ratings on over 1,900 U.S.-listed ETFs.
---
Content continues below advertisement
Major Index Review
Global equities were mixed.
The technology sector (

QQQ

) has been the most volatile asset of late. After an impressive performance in the prior week, (

QQQ

) slumped more than 2% over the past five days, as investors started to bet that central banks across the developed world will start to tighten monetary policies. Growth sectors, such as technology, are usually suffering in such times. The tech sector is also the worst performer for the rolling month, down 2.51%.
Sectors Review
All sectors were down this week, with the exception of financials and energy.
The financial sector (

XLF

) posted strong gains of 2.53% this week on rising bets that central banks around the world will start raising interest rates. European Central Bank's President Mario Draghi provided hints that tapering of stimulus could start earlier than expected. Banks and other financial outfits stand to gain from rising interest rates. For the rolling month, financials rose 4.89%, sharing the first spot with the healthcare sector (

XLV

).
With a drop of 2.55%, utilities (

XLU

) are the worst weekly performers, as investors sold off the industry and flocked to energy equities and financials.
The tech sector (

XLK

) is the worst performer for the rolling month, down 2.89%.
Foreign Equity Review
Foreign equities largely experienced losses this week due to fears that interest rates will rise at a faster pace than anticipated.
Japan (

EWJ

) was the single monthly gainer with a tepid advance of 0.43%.
India (

EPI

) has lost 1.78% over the past five days, after being the best performer last week.
Russian stocks (

RSX

) were again the worst monthly performers, although this time, equities were down only 6.82% compared to more than 10% drop the previous week.
To find out more about ETFs exposed to particular countries, use our

ETF

Country Exposure tool. Select a particular country from a world map and get a list of all ETFs tracking your pick.
Commodities Review
With the exception of precious metals, commodities had a good week.
Copper (

JJC

) continued its strong recovery this week, becoming the best performer for the rolling month with a solid gain of 5.28%.
Gold (

GLD

) posted the worst performance this week, falling 1.11%, as investors' appetite for risk increased, thanks to signs of an improving global economy.
Currency Review
Currencies posted mixed results.
The European single currency (

FXE

) was undoubtedly the best weekly performer, with an impressive gain of 2.31%. The euro's performance came after the

ECB

President suggested that the bank may start tapering sooner than expected.
The U.S. dollar (

UUP

), on the other hand, was beaten up, dropping 1.87%. The greenback is also the worst performer for the rolling month, down 1.79%.
For more ETF analysis, make sure to sign up for our free ETF newsletter.
Disclosure: No positions at time of writing.