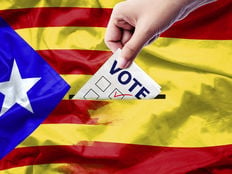 ETFdb.com analyzes the search patterns of our visitors each week. By sharing these trends with our readers, we hope to provide insights into what the financial world is concerned about and how to position your portfolio.
Spanish and European stocks were in the spotlight this week as Spain's Catalonia region is seeking secession. The country took first place on the list, followed by oil and gas, which trended thanks to the Russian Energy Week International Forum. The small-cap index Russell 2000 was the third-most popular item, as investor attention turned to the U.S. government's attempt to overhaul the tax code. Transportation ETFs and homebuilders close out the list as both industries expect a boost in demand following the twin hurricanes in Texas and Florida.
Check out our previous trends edition at Trending: Devastating Earthquake Sends Tremors Through Mexico ETFs.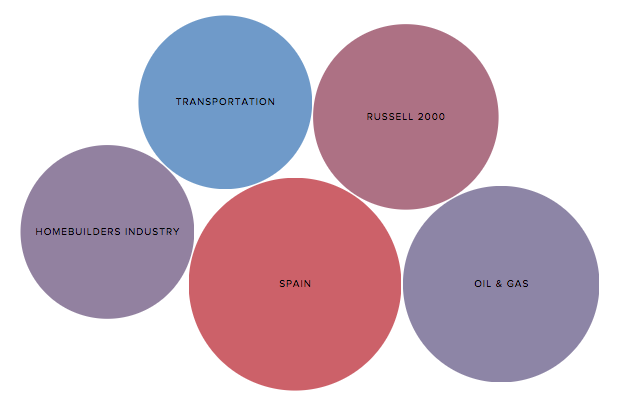 ---
Content continues below advertisement
Spain in Chaos as Catalonia Asks for Independence
Spain has unexpectedly descended into chaos after its Catalonian region voted massively in favor of independence in an illegal referendum. As a result, Spain trended this week with an increase in viewership of 216%. The nation's stocks naturally suffered, with iShares MSCI Spain Capped (EWP B+) dropping more than 7% since the conflict broke out.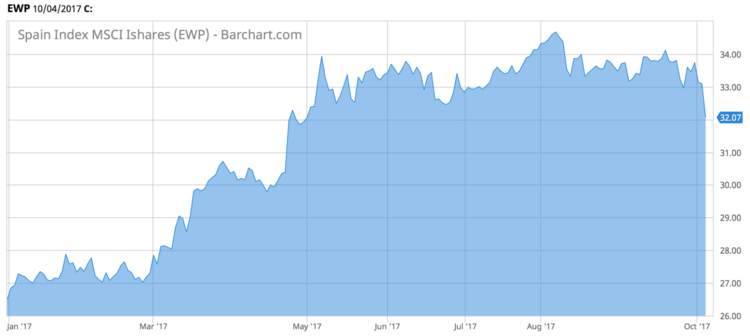 Although the referendum was not approved by the Spanish government, the Catalonian leadership said they planned to declare independence by the end of the week or early next week. Because the referendum was illegal, Spanish police at times used violence in an attempt to block the vote. The Catalonian police, however, did not get involved and it appears that it sides with protesters, who on Tuesday blocked the main entrances in Barcelona.
What happens next is largely a matter of speculation given there has been no such precedent in Spain. Catalonian leadership and the Spanish government may negotiate a settlement that may include further concessions for the region with 7 million people; although, the Spanish government made clear it did not want to cede ground. In essence, Catalans want out of Spain but to remain in the European Union, something the leaders in Brussels excluded from the start. Spanish Prime Minister Mariano Rajoy could legally take over Catalonia's leadership. Although he refrained from doing so as part of a "wait-and-see" approach, Rajoy likely wants Catalonian government to declare independence before resorting to the tactic.
Catalonia has been seeking mediation from international authorities and the EU, but Brussels made clear this is an internal Spanish affair. It also warned that an exit from Spain would mean an exit from the EU, noting the potential damaging effects on the region's economy. According to estimates, around 30% of the output could be lost. Catalonia is currently the richest region in Spain and a net contributor to the central government's coffers.
Catalonia is important for Spain's economy, representing roughly one-fifth of the GDP and responsible for one-fourth of the nation's exports. A breakup would certainly have a near-term negative impact on both Spain and Catalonia.
Russia Energy Week Puts Spotlight on Oil and Gas
Oil and gas ETFs have seen their traffic surge 127% over the past five days, as Russia hosts an energy forum that gathers all energy powers of the world. One of the most important panels took place on Wednesday and had among its participants Russian President Vladimir Putin. The key takeaway from his speech and follow-up remarks was a signal that Russia is open to extending an agreement with OPEC nations to cut oil supplies until the end of 2018. Putin made it clear that he will wait for a final decision shortly before the current pact ends in March.
Following Putin's remarks, SPDR S&P Oil & Gas Exploration & Production (XOP B+) erased losses for Wednesday, bringing its five-day performance slightly into positive territory.
For a deeper analysis on individual ETF investments such as (XOP B+) or (EWP B+), use our ETF Analyzer tool. You can select ETFs by category or type as well as add individual ticker symbols to compare performance, expenses and dividend yield, among other metrics.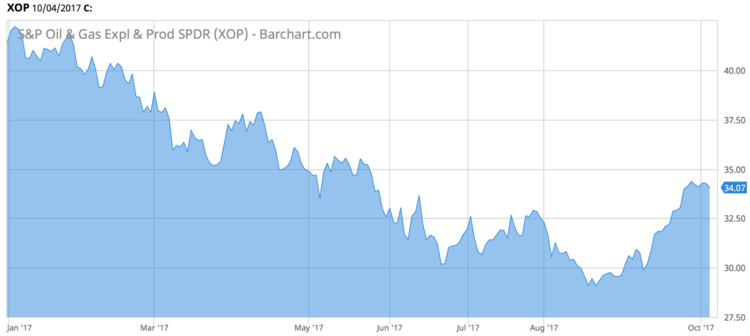 Another important development is the blossoming relationship between Russia and Saudi Arabia, a long-term American ally. The energy nations struck an accord that will see the formation of a $1 billion fund devoted to starting common projects in oil, electricity, gas and renewable energy, among other things. Saudi Arabia's King Salman is expected to attend the energy summit, marking the first visit of a Saudi monarch in Russia. The fact that the countries are extending their relationship into other sectors is a clear signal that another extension of the oil pact is in the cards. The previous agreement boosted oil prices somewhat and kept them at around $50 per barrel levels, as U.S. shale players returned to the market with new supply.
Russell 2000 Back in Fashion
The small-cap index, Russell 2000, has returned to favor as U.S. Republicans have unveiled their blueprint for tax reform. As a result, the viewership is up by 95%. iShares Russell 2000 (IWM A-) has advanced 1.7% over the past five days, extending monthly gains to around 7%. Investors got excited after Republicans disclosed plans to reduce the corporate tax from 35% to 20%, a move that will help U.S. companies' bottom lines.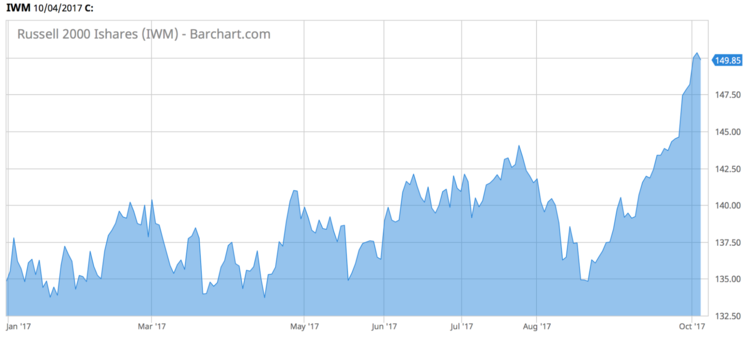 The scheme was criticized by Democrats and even some Republicans because it will not achieve its stated goal. President Donald Trump said that ultimately around 70% of the cuts will flow to workers, although many suggested a better way was to trim wage taxes. Democrats and independent institutions have criticized the bill for favoring the rich. Non-partisan Congressional Budget Office assumes that one-third of the cuts goes to workers and the rest fills the pockets of shareholders, which usually are rich people.
The bill was also lambasted for the lack of a viable solution on how to finance the cuts. Many Republicans insist that economic growth spurred by lower taxes will make up for the deficit; although, independent parties and Democrats disagree.
Transportation ETFs Rally on Expectations of Higher Demand
Transportation stocks saw their viewership rise 68% over the past five days, as investors reassessed the positive impact on the industry of the twin hurricanes. Indeed, iShares Transportation Average (IYT A+) is up nearly 6% over the past 30 days, largely on the back of increased demand from Florida and Texas.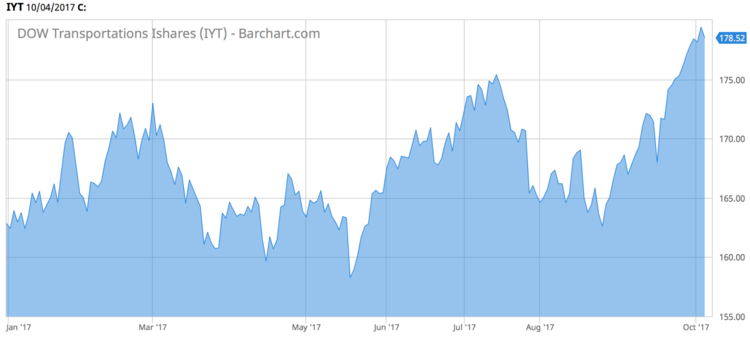 As people from the hurricane-torn areas start to rebuild their lives, they will need materials for houses, new cars, and other supplies, which will largely be transported via trucks from other regions. Evidently, there will be some small short-term issues with the storms and missed orders, but in the near term, the prospects for the shipping industry look bright.
Homebuilders Gain From Hurricane
Homebuilders saw their viewership advance as much as 53% this week, as the industry received a boost from the hurricanes. iShares US Home Construction ETF (ITB A) has risen 9% over the past month, bringing year-to-date performance into positive territory.
The hurricane regions of Florida and Texas will see increased construction activity over the next period as people start rebuilding their homes. As a result, demand for building services will rise, benefiting the industry as a whole, and particularly operators close to the regions.
Sign up for ETFdb.com Pro and get access to real-time ratings on over 1,900 U.S.-listed ETFs.
The Bottom Line
Catalonia's illegal referendum on independence sent Spanish stocks into a tailspin, renewing fears about a breakup of the European Union. Oil and gas were in spotlight this week as Russia held an energy summit with the leading energy producers marking their presence, including Saudi Arabia. Russell 2000 index is again on the rise on renewed hope Republicans will be able to cut corporate taxes. Finally, transportation ETFs and homebuilders gained from increased demand stemming from the negative effects of the twin hurricanes.
By analyzing how you, our valued readers, search our property each week, we hope to uncover important trends that will help you understand how the market is behaving so you can fine-tune your investment strategy. At the end of the week, we'll share these trends, giving you better insight into the relevant market events that will allow you to make more valuable decisions for your portfolio.