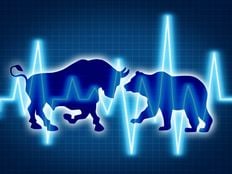 To help investors keep up with the markets, we present our ETF Scorecard. The Scorecard takes a step back and looks at how various asset classes across the globe are performing. The weekly performance is from last Friday's open to this week's Thursday close.
U.S. stocks surged to record highs this week, helped by upbeat corporate earnings and signs of an improving global economy. The Dow Jones Industrial Average reached a major milestone by closing above 23,000 for the first time ever. The benchmark index has returned more than 17% year-to-date.
U.S. initial jobless claims plunged to 44-year lows in the latest week, as the labor market recovered from weather-induced volatility caused by Hurricanes Harvey and Irma.
Shares of Apple Inc. (

AAPL

) declined Thursday amid concerns over waning iPhone demand and a

WSJ

report about Apple Watch's shoddy cellular connection in China.
On the earnings front, Netflix, Inc. (

NFLX

) topped analysts' forecasts and reported a net addition of 5.3 million subscribers for the quarter. That brings the global tally to a whopping 104 million, with plenty of room for further expansion.
Meanwhile,

IBM

(

IBM

) recorded its second-biggest rally in history Wednesday after the technology giant delivered strong Q3 results.
In geopolitics, the Spanish government has started suspending Catalonia's autonomy amid signs the region's leader may declare independence. Catalans voted overwhelmingly in favor of independence at the Oct. 1 referendum.
In global economic data, China's gross domestic product (

GDP

) expanded 6.8% annually in the third quarter, down slightly from the Q2 expansion but in line with forecasts. Meanwhile, industrial production and retail sales grew faster than expected.
On the currency front, the U.S. dollar strung together a four-day winning streak into Wednesday's session, but has since declined in back-to-back days. This has helped shore up precious metals after plunging to one-week lows on the Comex division of the New York Mercantile Exchange.
To keep track of all the latest market news and analysis, visit ETFdb.com's News section.
Risk Appetite Review
On Wall Street, investors' risk appetite remained elevated this week, with markets overcoming a volatile Thursday open. From a risk perspective, the S&P 500 Index (

SPY

) was the best performer this week, tacking on 0.25%.
Equal-weighted indices (

RSP

) also finished in positive territory, adding 0.14%.
The High Beta (

SPHB

) category was the lone decliner, falling 0.20%.
Sign up for ETFdb.com Pro and get access to real-time ratings on over 1,900 U.S.-listed ETFs.
---
Content continues below advertisement
Major Index Review
The Dow Jones 30 (

DIA

) was Wall Street's best performer this week after several blue chips reported solid third-quarter results. The Dow's five-day return amounted to 1.29%, extending its monthly gain to 3.71%.
The technology sector (

QQQ

) finished slightly lower this week, as Apple and other tech players fell. As a result,

QQQ

fell 0.06% this week.
Sectors Review
Most of Wall Street's major sectors finished lower this week, possibly signaling a slowdown in the equities rally.
Foreign Equity Review
To explore ETFs based on country exposure, refer to our

ETF

Country Exposure tool. Select a country from a world map and get a list of all ETFs tracking your pick.
Commodities Review
Precious metals headed for sharp declines this week as the U.S. dollar rose against a basket of world currencies. The

SPDR

Gold Trust

ETF

(

GLD

) declined roughly 1% over the past five trading sessions. The iShares Silver Trust (

SLV

) also finished lower. Use our Head-to-Head Comparison tool to compare these two ETFs on a variety of criteria such as performance,

AUM

, trading volume and expenses.
The United States Natural Gas Fund (

UNG

) also suffered a broad retreat, extending its monthly decline to 8.49%.
Meanwhile, the iPath Bloomberg Copper Subindex (

JJC

) climbed 1.26% as copper prices touched three-and-a-half year highs.

JJC

has returned more than 25% year-to-date and is up more than 52% over the past year.
Currency Review
The greenback pared gains in the latter half of the week, but that didn't stop the dollar bulls (

UUP

) from driving prices higher.

UUP

added 0.46% between Friday and Thursday, extending its monthly return to 1.55%.
As the dollar rose, all other major currencies fell. The British pound (

FXB

) suffered the biggest retreat as Carney stressed Brexit risks. The currency has also posted the biggest monthly retreat, falling 2.71%.
The Japanese yen was also among the biggest decliners. The Guggenheim CurrencyShares Japanese Yen Trust (

FXY

) fell 0.70% over the five-day period.
For more ETF analysis, make sure to sign up for our free ETF newsletter.
Disclosure: No positions at time of writing.