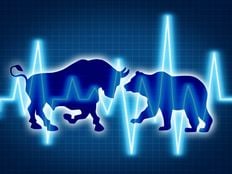 To help investors keep up with the markets, we present our ETF Scorecard. The Scorecard takes a step back and looks at how various asset classes across the globe are performing. The weekly performance is from last Friday's open to this week's Thursday close.
Prime Minister Shinzo Abe secured the Japanese premiership on Sunday in a landslide victory that gave his Liberal Democratic coalition a firm grip on both houses of parliament. The win likely signals the continuation of 'Abenomics,' which is finally beginning to pay off. The coalition's "super majority" will ensure it is business as usual from the perspective of fiscal and monetary policy.
It hasn't been all good news for U.S. stocks. A measure of implied volatility known as the

CBOE

VIX

climbed to six-week highs as earnings season gave mixed signals. The

VIX

is known to trade inversely with the S&P 500 roughly three-quarters of the time.
That being said, the technology sector has more than delivered this quarter. Amazon (

AMZN

), Alphabet (

GOOG

), Microsoft (

MSFT

) and Intel (

INTC

) – with their combined $2 trillion market cap – beat expectations and saw their stocks rise in after-hours trading.
Crude oil also surged to six-month highs amid signs that Saudi Arabia was planning to extend OPEC's production cuts well into 2018. U.S. West Texas Intermediate (

WTI

) for December delivery approached $53.00 a barrel Thursday, while Brent made its way toward $60.
Gold prices plunged to three-month lows Thursday as the dollar broadened its rally against a basket of global peers. The U.S. dollar index is trading at its highest level since July.
In monetary policy, the European Central Bank (

ECB

) kept interest rates on hold Thursday, but signaled a substantial shift in its quantitative easing program. Beginning in January, the

ECB

will cut its monthly bond purchases in half to €30 billion. However, policymakers also decided to extend the stimulus program until the end of September.
Canada's central bank also held off adjusting monetary policy following back-to-back rate hikes. The Bank of Canada struck a decidedly dovish tone in expressing the nation's near-term economic risks. This reflected in the performance of the loonie, which declined sharply against the U.S. dollar.
Risk Appetite Review
Risk appetite declined over the past five days, as jittery investors monitored corporate earnings. From a risk perspective, High Beta (

SPHB

) was the worst performer, falling 0.64% this week.
Sign up for ETFdb.com Pro and get access to real-time ratings on over 1,900 U.S.-listed ETFs.

---
Content continues below advertisement
Major Index Review
Small caps also struggled, with the iShares Russell 2000 Index (

IWM

) declining 1.03% for the week.
Sector Review
Foreign Equity Review
Foreign equity markets put up mixed results, with Brazil's iShares

MSCI

Index (

EWZ

) plunging 4.96% this week. With the decline, the fund has now dropped more than 3% over the past four weeks.
On the opposite side of the ledger, Indian stocks were the biggest gainers of the week, with (

EPI

) adding 1.37%.

Commodities Review
Crude prices recently set new six-week highs on supply-side optimism. In response, the United States Natural Gas Fund (

USO

) spiked 2.72%.
With the exception of crude oil, most commodities finished lower this week. Gold (

GLD

) and silver (

SLV

) tanked as the greenback gained ground on world currencies. Use our Head-to-Head Comparison tool to compare gold and silver ETFs on a variety of criteria such as performance,

AUM

, trading volume and expenses
Meanwhile, copper (

JJC

) settled lower for the week, but continued to trade more than 9% higher for the month.

Currency Review
The U.S. dollar (

UUP

) reigned supreme in the final week of October, gaining nearly 1.3% against a basket of world peers.
The Australian dollar was the worst performer, with (

FXA

) plunging more than 2%. The Aussie was rattled after weak consumer price data cast doubt on the Reserve Bank of Australia's rate-hike forecast.
Meanwhile, the euro (

FXE

) declined after the

ECB

extended its stimulus program.

For more ETF analysis, make sure to sign up for our free ETF newsletter.
Disclosure: No positions at time of writing.