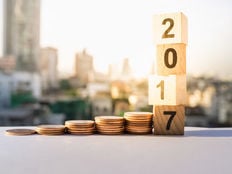 ARK Investment Management has been one of the ETF marketplace's biggest winners this year. The tiny New York-based ETF house started the year with under $100 million in assets between its five funds. Today, that number has leapt to more than $700 million and growing. Its worst-performing fund, the 3D Printing ETF (PRNT B-), is up only 19% on the year. The other four are all up at least 45% year-to-date. All are driven by disruptive technology along with the sixth ETF, which makes its debut this week.
Here are this week's new fund launches:
---
Content continues below advertisement
ARK Looks to Israel for Tech
Up until this week, ARK's lineup of incredibly successful tech funds has focused primarily on companies with the United States. ARK's latest ETF, the ARK Israel Innovative Technology ETF (IZRL B+), turns its attention to a part of the world that holds a great deal of potential. The company's website touts studies from Bloomberg, Business Insider and the World Economic Forum that rank Israel as one of the top-five most innovative countries in the world right now.
This fund follows the ARK playbook by looking for companies engaged in disruptive innovation in the areas of technology, healthcare, genomics, industrials and biotech. Currently, fewer than 50 names qualify for the portfolio, which rebalances quarterly and equal-weights its components. Roughly 57% of assets are in technology names, with 20% in healthcare and 12% in telecom. Around 80% of assets are in small- and micro-cap companies, so a high level of risk should be expected by those investing in this fund.
If you're interested in other funds with exposure to Israel, check out our ETF Country Exposure tool.
Private Equity Strategies Minus the Private Equity
Private equity has long been considered a potentially lucrative, although risky, investment that is typically out of the reach of average retail investors. The U.S. Commodity Funds group specializes in both traditional and leveraged products focused on oil, gas, metals and other commodities, so USCF's decision to launch two equity-based funds this week is a bit off brand. Still, it's looking to capture a potentially underserved area of the market.
The USCF SummerHaven SHPEI Index Fund (BUY B) looks to invest in companies that possess characteristics similar to the companies that private equity firms have historically selected for investment. The fund is not actually investing in private equity, mind you. It's simply investing in publicly-traded companies that look like the type of companies that private equity firms would target. The fund is more than 90% invested in companies categorized as either small- or micro-cap, so it is carrying some private equity-like risk characteristics. The fund's top positions include Boot Barn Holdings (BOOT), Zagg (ZAGG), Abercrombie & Fitch (ANF) and Tailored Brands (TLRD).
The USCF SummerHaven SHPEN Index Fund (BUYN C) follows a similar methodology, but focuses only on companies in the natural resources industry. Its current top holdings include California Resources Corp (CRC) and Bristow Group (BRS).
For more ETF news and analysis, subscribe to our free newsletter.
Looking for value off the Beaten Path
J.P. Morgan's roster of around two dozen ETFs looks substantially like what you'd expect from a fund provider offering a diversified group of offerings. Its two latest fund launches offer something a little more niche and unique.
The JPMorgan Event Driven ETF (JPED ) invests primarily in companies which could be impacted by pending or anticipated corporate or special situation events. Examples include companies targeted by activist investors, emerging from bankruptcy, engaged in share buyback programs or involved in corporate mergers and spin-offs. While the fund focuses primarily on long positions, it can go short or use futures contracts to achieve a desired exposure.
The JPMorgan Managed Futures Strategy ETF (JPMF A+) seeks long-term total return by essentially looking for value wherever it can be found. It can invest in almost any instrument, including stocks, bonds, currencies, commodities, swaps, options and futures contracts. The fund can also utilize just about any strategy to achieve returns, including identifying arbitrage opportunities and targeting long-short pairs. Given the sheer variety found in this fund, its manager expects that the portfolio will maintain a relatively low correlation to traditional markets.
The Bottom Line
There's not a traditional ETF to be found in this week's group. ARK has shown itself to be more than capable of identifying profitable tech trades, and its new Israel ETF could be no exception. These funds, however, can be highly volatile. Keep in mind that several of the ARK funds were underperformers prior to 2017's breakout. USCF's decision to formulate a strategy around investing in publicly-traded companies with private equity-like characteristics is certainly an interesting one, although we'll see if any distinct link between the two groups exists. The two JPMorgan funds should probably only be considered by those with an appetite for risk, and only for a small chunk of a portfolio.
Sign up for ETFdb.com Pro and gain access to more than 50 all-ETF model portfolios, each of which is backed by an unique investment thesis.