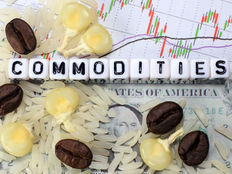 ETFdb.com analyzes the search patterns of our visitors each week. By sharing these trends with our readers, we hope to provide insights into what the financial world is concerned about and how to position your portfolio.
Ahead of the Christmas holiday week, market activity has slowed and our trends reflect that. Commodities are first on the list, as the beleaguered sector was in the spotlight in light of a sustained global recovery. Internet stocks took second place followed by Small Cap Value Equities. A rare presence on our list, TIPS (Treasury Inflation-Protected Securities) were fourth and Master Limited Partnerships (MLPs) closed the list. Check out our previous trends edition at Trending: Markets Move Sideways as Brexit Drama Rages On.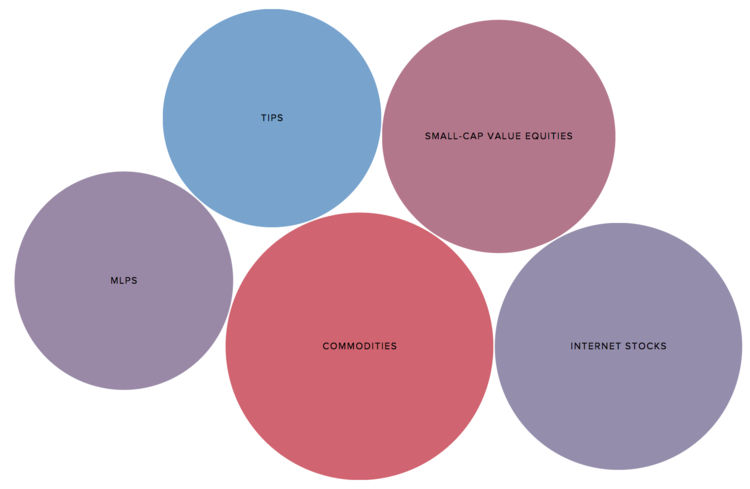 Commodities Rise on China Demand
Commodities have had a great run this week, capping a year that was neutral in terms of performance. Commodities have seen their viewership advance as much as 208% this past week, as many indexes have soared on China demand. PowerShares DB Commodity Index (DBC A) has surged 2% since last Friday, bringing year-to-date performance into positive territory at 1.6%. Oil, gasoline, soybean and gold are among the largest components of (DBC A), collectively making up more than 60% of the index.
---
Content continues below advertisement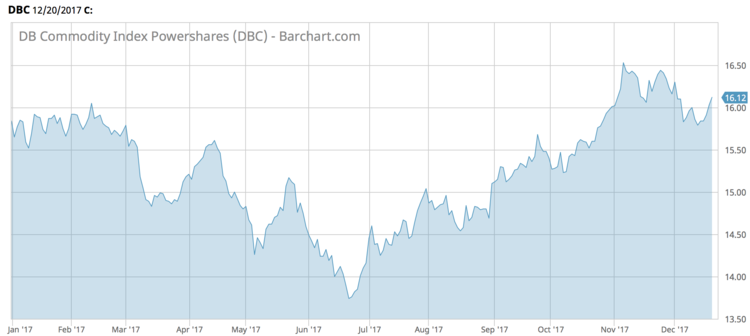 For 2018, the outlook is positive for most commodities, with the exception of gold. A strong global economic recovery across the board is expected to boost demand for many commodities, although China will likely remain the single most important factor affecting prices. The Chinese appetite for a slew of commodities has risen in 2017, with natural gas imports surging by 26% in the first 11 months of 2017. Although the switch from coal to natural gas was encouraged by the Chinese government due to lower pollution, coal imports advanced by 8.5%.
Copper United States Copper Index (CPER A-) rallied 25% in 2017, but the impressive performance was hardly thanks to Chinese demand. Copper benefited from a host of supply disruptors in Chile and Indonesia, but also from rising demand elsewhere in the world.
Agricultural commodities, meanwhile, may start to recover next year after an 8% slump in 2017. According to ABN AMRO, wheat and corn could see a surge in prices thanks to increased demand from China, while tropical commodities such as coffee and cocoa will benefit from a rise in demand in Europe and the U.S. Smaller harvests may also positively impact many of the agricultural commodities.
Sign up for ETFdb.com Pro and get access to real-time ratings on over 1,900 U.S.-listed ETFs.
Internet Stocks
Internet stocks have had a great week and year. ETFs containing internet stocks saw their traffic advance 71%, well behind commodities. No particular news drove viewership to the sector, but internet stocks are hot, despite being outshined lately by bitcoin mania.
First Trust Dow Jones Internet (FDN C+), an ETF containing Amazon (AMZN), Facebook (FB) and Netflix (NFLX), has soared 1.3% this week, extending year-to-date gains to as much as 39%.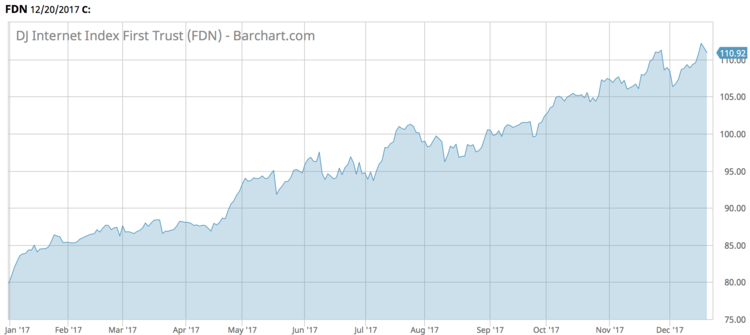 Many of internet companies have posted spectacular earnings results over the past three quarters, with Facebook benefiting from the launch of its "Watch" feature, which may continue to drive traffic in 2018. Amazon, meanwhile, started for the first time in its history to report profits, largely driven by its highly successful cloud-storage business. Netflix still has a long way to go to reach profitability, but investors like its rate of subscriber growth and its leadership position in on-demand TV.
For a deeper analysis on individual ETF investments such as (FDN C+) or (DBC A), use our ETF Analyzer tool. You can select ETFs by category or type as well as add individual ticker symbols to compare performance, expenses and dividend yield, among other metrics.
Small-Cap Value Equities ETFs
Small-Cap Value Equities saw a traffic increase of 48% this week, as U.S. Republicans passed a tax reform aimed at decreasing taxes for corporations and individuals. The tax cut is particularly expected to boost small-cap equities because most of them have their businesses in the U.S., as opposed to large global corporations. Vanguard Small-Cap Value (VBR A+) has risen more than 2% this week, extending year-to-date gains to more than 10%.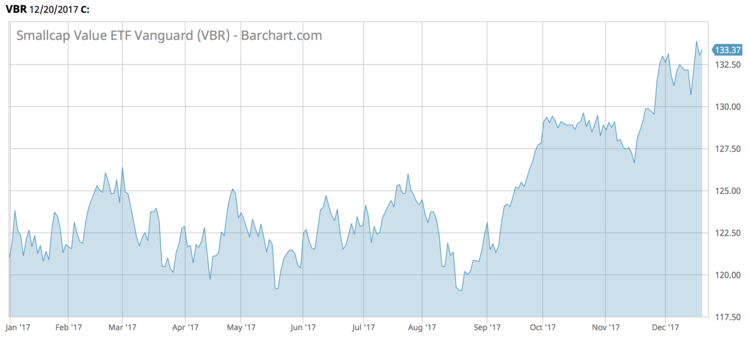 Although small-cap equities rose following the passing of the tax overhaul, the reaction was not what analysts had expected. The subdued response may have to do with the fact that the market broadly expected the new tax plan would pass without problems.
TIPS (Treasury Inflation-Protected Securities)
TIPS saw a traffic increase of 44% this week, as a rise in U.S. inflation prompted investors to seek protection. iShares TIPS Bond (TIP A-) has dropped 0.8% over the past five days, bringing year-to-date performance into positive territory – up around 0.20%.
Inflation in the U.S. has picked up in recent months and has now reached 2.2% as of November, roughly in line with U.S. Federal Reserve's target. The Fed also recently raised interest rates, making TIPS bonds attractive as a way to hedge against a rising interest rate environment. Inflation is hardly expected to increase dramatically in the years ahead, however, potentially making an investment in TIPS less rewarding.
Master Limited Partnerships (MLPs)
Master Limited Partnerships saw their viewership rise 34% this week, taking the last place in the trends' list. Alerian MLP (AMLP A-) has dropped 1.2% over the past five days, extending year-to-date losses to nearly 15%. MLPs are corporate structures largely used in the oil business, which suffered from a protracted recession as a result of crude's drop.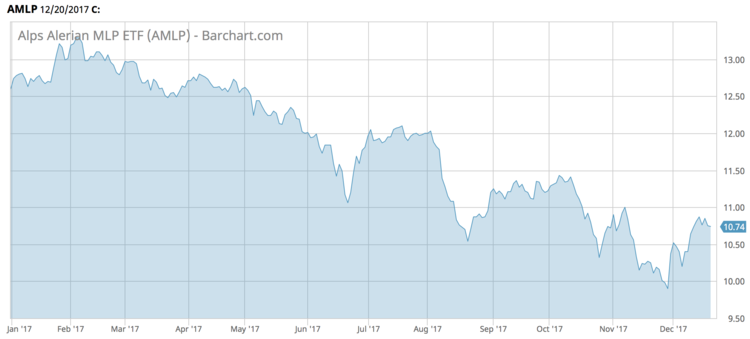 Despite a recovery in oil prices taking place this year, MLPs have failed to follow suit as the industry in the U.S. continued to suffer. MLPs are not directly linked to the oil and gas markets because they largely provide transportation and other services to the sector. After a few rough years, however, MLPs may start to recover in 2018 as U.S. oil players become healthier and oil prices stabilize.
The Bottom Line
This week, commodities led the trending pack, as the beleaguered asset class looks to continue its recovery in 2018 thanks to a strong global economy. Internet stocks continued to be hot with outsized equity performance, despite being outshined by the bitcoin mania recently. Small Cap Value Equities received another boost this week, after U.S. Republicans passed a tax-cut bill. TIPS have underperformed over the past five days, despite rising inflation and interest rates, while MLPs may finally start a recovery in 2018 thanks to stable oil prices.
By analyzing how you, our valued readers, search our property each week, we hope to uncover important trends that will help you understand how the market is behaving so you can fine-tune your investment strategy. At the end of the week, we'll share these trends, giving you better insight into the relevant market events that will allow you to make more valuable decisions for your portfolio.