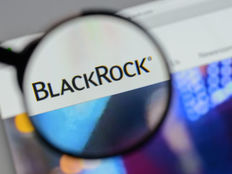 While inflation isn't a huge concern in the current economic environment, it should always be on the minds of income seekers looking to protect themselves from the loss of purchasing power.
This week, BlackRock takes one of its most popular corporate bond ETFs and layers on a hedge to do just that.
Here are this week's new fund launches:
---
Content continues below advertisement
BlackRock Joins Corporate Bonds With Inflation Hedging
When investors think about hedging against inflation, the first thing that comes to mind is probably TIPS, or Treasury Inflation-Protected Securities. TIPS are issued by the government and their interest rate is indexed to the rate of inflation. In other words, if inflation rises, so does the yield. BlackRock, with the launch of the iShares Inflation Hedged Corporate Bond ETF (LQDI B-), is taking that concept and applying it to the corporate bond world.
This ETF will use BlackRock's biggest corporate bond fund, the iShares iBoxx $ Investment Grade Corporate Bond ETF (LQD A), as its core underlying holding, while layering inflation swap contracts over the top to provide the hedge. In addition to using inflation swaps, where the owner makes a fixed payment to a counterparty in exchange for a floating payment indexed to the inflation rate, LQDI can also use TIPS, credit default swaps and U.S. Treasury futures to achieve similar protections.
The underlying ETF invests primarily in intermediate- and long-term investment-grade corporate bonds, so LQDI will as well. Its duration of around eight years means that the fund will be somewhat volatile and prone to rising interest rates. The fund's expense ratio of 0.20% is higher than some of the largest bond ETFs, including the 0.15% fee of LQD, but the overall expense level seems reasonable given the active management involved with the inflation hedging. The 30-day SEC yield of the fund is around 4%.
For more ETF news and analysis, subscribe to our free newsletter.
The Bottom Line
It's important to note that inflation risk is not the same as interest rate risk. Unless it uses an interest rate hedging strategy, bond funds will be susceptible to changes in interest rates. In the case of LQDI, it's only hedging against changes in inflation. Therefore, the fund can lose value if interest rates begin to rise. In the world of ETFs, there aren't many strategies left that haven't been covered, but this fund is actually the first to use inflation hedging techniques on a corporate bond fund. It's a logical strategy and could be useful for investors who wish to maintain the inflation hedge but want to use corporate bonds for the added yield.
ETFdb has ETF investing guides and other ebooks to help you navigate the investing landscape using ETFs. Sign up to ETF Database Pro to get access to all the PDFs located on our ETF Guides page.