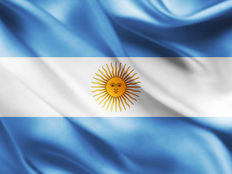 Argentina seeks aid from the International Monetary Fund as the peso continues to bleed amid broad emerging markets sell-off.
In the meantime, tech-heavy PowerShares QQQ ETF trended along with blockchain-driven businesses comprised in the Amplify Transformational Data Sharing ETF. U.S. Treasuries came fourth in the list on the back of a sustained rally above the 3% level for the 10-year Treasuries, while crude oil closed the list.
Check out our previous trends edition at Trending: Oil Continues March Ahead Due to Political and Supply Woes.
---
Content continues below advertisement
Argentina Explores Options in an Attempt to Fix Economy
Mounting pressures in the South American economy have steered investors toward the story behind the deepening crisis in the region's second economy. As such, traffic in the Argentina ETF List ballooned by 688% as the country muddles through its roughest economic conditions in a decade.
The debacle started in January with markets questioning the independence of the Argentinean Central Bank and commitment to reducing inflation and then worsened in the following months. After a decision to loosen its inflation target for 2018 from 12% to 15% and lower interest rates by 0.75%, the central bank bore the brunt of a stronger U.S. dollar and rising yields for U.S. Treasuries.
A current account deficit of 4.6% and a rapid growth of external debt pinpoints last year's recovery as one fueled by debt. As 2018 rolled in and 10-year U.S. Treasury yields surged above 3% in late April, market participants withdrew money from emerging markets, with Argentina suffering most.
Faced with a rapidly weakening peso, the central bank raised rates to 40% and sold $4.3 billion of its dollar reserves in an attempt to stem the bleeding. The maneuver worked at first but soon proved insufficient as U.S. Treasuries sparked another sell-off in the peso, taking the losses in the local currency to a whopping 24% over the last 40 days when compared to the greenback.
The prospect of a financial meltdown prompted Argentinean officials to seek assistance from the International Monetary Fund (IMF). A decision loathed by the public as it reminds the nation of the dark period at the turn of the century in which the IMF played a decisive role that eventually backfired and tainted its reputation around the globe. Last week, President Mauricio Macri took the decision to access a $30 billion line of credit from the IMF while maintaining full ownership of the economic reform plan that should provide thrust for sustained and equitable growth while restoring market confidence.
Falling by 11% over the last 30 days, the Global X MSCI Argentina ETF (ARGT A-)'s performance shows that local companies are feeling the pain of a depreciating peso. Businesses like Mercadolibre (MELI) are having troubles operating in an economy with interest rates of 40%.
Sign up for ETFdb.com Pro and get access to real-time ratings on over 1,900 U.S.-listed ETFs.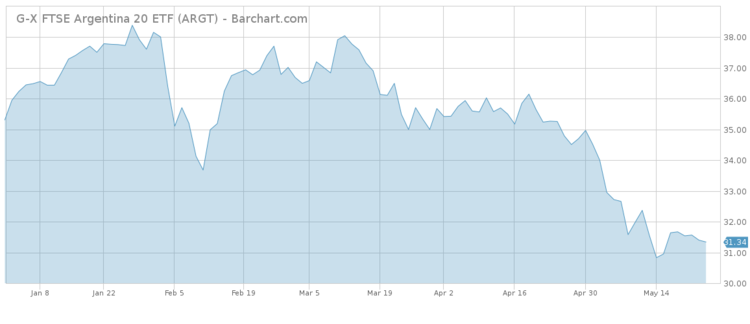 Technology Giants Gain on the Back of Trade Truce
A softer stance on trade relations with the rest of the world, and especially China, pushed back against fears that a trade war is inevitable. Investors delved into tech companies and ETFs like PowerShares QQQ, increasing traffic by 165% over the last week.
President Donald Trump first announced that his administration is working on saving the Chinese telecommunications company ZTE after previously banning it from importing American components or software. This radical turn in approach was a hint that negotiations are possible, even in a case of "law enforcement," as the initial measure against the Chinese enterprise was dubbed.
China moved forward and halted the U.S. sorghum dumping probe while more recently cutting the import duty on passenger cars to 15% from 25%. This signaled even greater openness to a future U.S.-China trade pact as American officials admit that the Chinese are meeting many of their demands.
In a global intertwined economy where cooperation is key, such positive developments act as a lever to companies most exposed to trade barriers. As such, the PowerShares QQQ ETF (QQQ B+), with its elevated tech exposure to companies like Apple (AAPL) and Broadcom (AVGO), stands to benefit from a more conducive environment. Apple derives 20% of its revenue from sales in China, while Broadcom relies on the Chinese market for more than half of its revenue.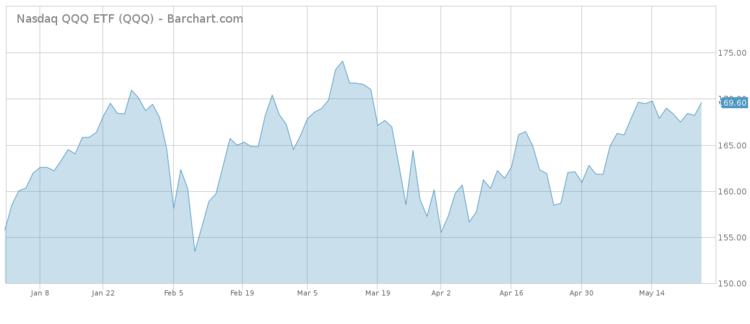 Blockchain ETFs in Spotlight, Yet Again
Although the cryptocurrency craze has eased in 2018 with Bitcoin prices falling as much as 63% in a span of less of two months, blockchain enthusiasts have alternatives. Turning their attention to the core technology of the digital coins, investors drove viewership numbers for the Amplify Transformational Data Sharing ETF up by 157%.
Amplify Transformational Data Sharing ETF (BLOK B-) has suffered from the sell-off in the world's most renowned digital currency but to a much lesser extent, shedding only 3.64% for the year. This is due to its exposure to companies that rely on chip manufacturing, software and even banking, overcoming the recent difficulties of the currencies that made the blockchain technology famous.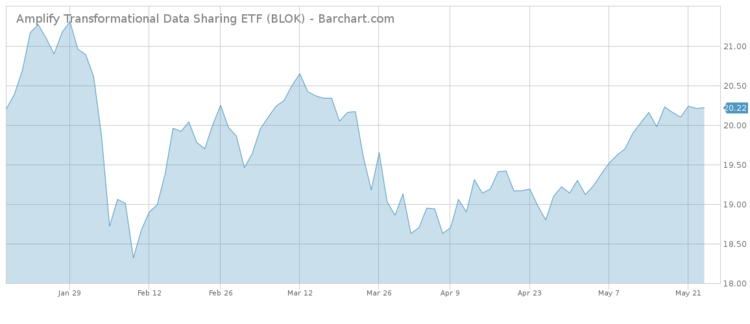 For a deeper analysis on individual ETF investments such as (UUP B) or (QQQ B+), use our ETF Analyzer tool. You can select ETFs by Category or Type as well as add individual ticker symbols to compare performance, expenses and dividend yield, among other metrics.
The ETF's second holding, Japanese conglomerate GMO Internet Group, recently outlined plans for the sale of its long-awaited 7nm bitcoin mining chips. GMO already operates a crypto exchange called GMO Coin while also intending to launch a crypto payment service. The fourth holding in the ETF, Taiwan Semiconductor Manufacturing Company (TSM), is the world's largest chip producer, generating over 55% of the world's chips and profiting handsomely from the crypto mining boom. High-performance chips are needed in these businesses as they allow powerful computing software to run smoothly.
U.S. Treasury Yields Stay Firm
The yield on the benchmark U.S. 10-year Treasury note hit a new multi-year high of 3.128%, a level not seen in seven years. Treasuries slumped further as investors continued to worry about potential geopolitical clashes that could push prices and inflation higher, a negative for bonds. Bond prices fall as yields rise.
Investors can avoid the drop in U.S. Treasuries by choosing the iShares Short Treasury Bond ETF (SHV A-), one of the few large and liquid ETFs with a positive year-to-date performance, albeit below one percent. The ETF focuses on the ultra-short end of the maturity curve, with securities that have between one and twelve months until maturity.
Further data on the U.S. economy show signs of improvement with a labor market approaching full employment as the jobless rate nears a 17-year low of 3.9 percent. A tight labor market signals higher wages and further pushes inflation above Federal Reserve's target level of 2%. A rising inflation also threatens Treasury prices as it erodes the purchasing power of their fixed payments.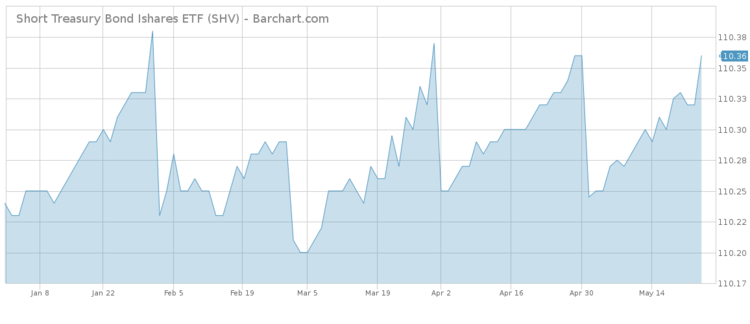 Crude Oil
Crude oil further captured the attention of investors, with a rise in viewership of 65% over the last week as prices burst through recent highs before losing some steam in the past few days.
Oil benchmarks fell lately after an unexpected build of 5.8 million barrels last week in U.S. crude inventories. Gasoline inventories grew by 1.9 million barrels, despite strong demand. Traders weighed a possible increase in OPEC crude output to cover any shortfalls in supply from Iran and Venezuela.
PowerShares DB Oil Fund (DBO A) retraced slightly on Tuesday but held its ground with a solid 24% performance for the year. The ETF tracks light sweet crude oil prices and benefits from the rising premium between Brent crude and U.S. crude, which makes American exports more attractive. China-based Sinopec, Asia's largest refiner, is said to plan boosting U.S. crude oil imports to an all-time high as China tries to reduce its trade deficit with the United States.
The Bottom Line
Argentina took center stage with its endeavor to turn its economy around and avert a recession with an economic program aimed at bolstering growth, keeping inflation at healthy levels and tackling fiscal imbalances. Moving to the Northern Hemisphere, an entire host of U.S. technology corporations stand to prosper from a more serene political scene as both U.S. and Chinese officials signal reconciliation measures. Blockchain ETFs are back on the radar with soaring demand for chips, while both U.S. Treasury yields and oil remain at multi-year highs, causing friction in global markets.
By analyzing how you, our valued readers, search our property each week, we hope to uncover important trends that will help you understand how the market is behaving so you can fine-tune your investment strategy. At the end of the week, we'll share these trends, giving you better insight into the relevant market events that will allow you to make more valuable decisions for your portfolio.