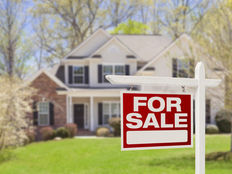 Pacer Financial is best known for its Trendpilot and cash flow-focused family of ETFs.
This week, Pacer shifts its attention to real estate with the launch of a trio of new products. Here are this week's new fund launches:
---
Content continues below advertisement
Pacer Targets Three Different Segments of the Real Estate Market
Based on the current economic environment, now may or may not be a good time to invest in real estate. On one hand, a stronger economy means that property managers may be able to charge higher rents and have a better choice of potential tenants. On the other hand, interest rates are on the rise and that can mean bad news for the rate-sensitive real estate sector. Pacer sees the current market as an ideal time to launch a suite of ETFs that take advantage of real estate opportunities in the rapidly growing e-commerce space, as well as the traditional brick-and-mortar retail segment.
The Pacer Benchmark Industrial Real Estate SCTR ETF (INDS B-) seeks to track an index that provides exposure to industrial REITs that are part of the e-commerce distribution and logistics networks along with self-storage facilities. The initial universe starts with companies that generate at least 85% of revenue from real estate operations, and then targets REITs it identifies as industrial according to their type of property, tenant and revenue. Companies that have a market cap of at least $200 million and an average daily trading volume of at least 10,000 shares are eligible to be included in the fund's index. The index is reconstituted and rebalanced on a quarterly basis. Anticipated investments include warehouses, distribution centers and similar facilities that enable e-commerce businesses to ship goods to their customers.
For more ETF news and analysis, subscribe to our free newsletter.
The Pacer Benchmark Data & Infrastructure Real Estate SCTR ETF (SRVR C) aims to track an index that targets data and infrastructure REITs and C-Corps. It uses a similar starting point and screening process as that of INDS but targets companies that help power the data and infrastructure side of the e-commerce market. For example, these REITs could focus on cell towers or the data processing centers that store the information and handle the orders that start the e-commerce process.
The Pacer Benchmark Retail Real Estate SCTR ETF (RTL B-) looks to track an index that provides exposure to commercial retail REITs, the types of companies that are threatened by the growing competition from e-commerce. This could include shopping centers, shopping malls and similar structures. Traditional retail has struggled for some time, so RTL seeks to invest in assets that are located in prime locations with quality tenants throughout the country.
The Bottom Line
Pacer's new real estate ETFs serve to acknowledge and profit from the ever-expanding e-commerce market, while looking to still take advantage of the most ideal opportunities in brick-and-mortar. SRVR probably offers investors the greatest growth potential as companies are sinking big money into big data and the best ways to utilize it. RTL could be a bit of a tougher sell as shopping malls and strip malls struggle to deal with unoccupied space and businesses that are streamlining their operations away from physical stores and toward the online channel.
On the plus side, REITs are known for their high yields and low correlations with other asset classes. They make great diversification tools for broader portfolios and can often reduce overall portfolio volatility.
ETFdb.com has ETF investing guides and other ebooks to help you navigate the investing landscape using ETFs. Sign up to ETFdb Pro to get access to all the PDFs located on our ETF Guides page.