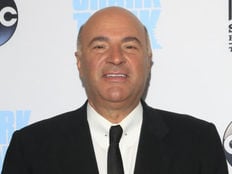 The technology of the future has its fingerprints all over this week's batch of new ETFs.
Two of the bigger ETF issuers bring new offerings to market that are focused on artificial intelligence and autonomous vehicles, two popular themes in the ETF industry. Plus, we get a new ETF from the namesake firm of lovable bad guy, Shark Tank celebrity Kevin O'Leary.
Here are this week's new fund launches:
---
Content continues below advertisement
A New ETF From Mr. Wonderful? Stop the Madness!
Most people know Kevin O'Leary as Shark Tank's sharp-tongued, occasionally cranky angel investor. Fewer people probably know that his firm, O'Shares, operates a successful suite of six different ETFs. The newest fund in that group, the O'Shares Global Internet Giants ETF (OGIG B-), screens for balance sheet quality in the same way that all other O'Shares ETFs do, but is the first to focus on a non-dividend strategy.
The fund's index starts by looking at the 2,500 largest global companies that derive at least 50% of their revenues from the Internet software, service or retail spaces, and then screens them for both quality and growth. The quality factor is determined by a company's cash burn rate, or the rate at which shareholder capital is spent, while revenue growth is used to determine the company's growth rating. Companies that have a high growth rating and a low cash burn rate qualify for inclusion in the index. REITs, BDCs, MLPs and closed-end funds are excluded from consideration.
Top holdings for the fund currently include Alibaba (BABA), Amazon (AMZN), Facebook, Alphabet (GOOG) and Tencent Holdings (TCEHY).
For more ETF news and analysis, subscribe to our free newsletter.
EquBot Launches Global AI-Powered ETF
The AI-Powered Equity ETF (AIEQ C+) launched late last year using IBM's Watson AI technology for its stock selection process instead of humans. So far, the strategy has worked with AIEQ generating a total return of 14% since inception versus a 10% return for the S&P 500. This week, EquBot debuts an international version of that strategy with the launch of the AI-Powered International Equity ETF (AIIQ B-).
AIIQ is an actively-managed fund that aims to outperform global equity benchmarks with comparable levels of volatility. On a daily basis, a series of proprietary analytical algorithms using AI technology are used to build predictive financial models on thousands of international companies. From that universe, AIIQ anticipates holding between 80 and 250 names with the greatest potential for price appreciation over the following 12 months.
Amplify Capitalizes on the Battery Boom
As the electric and autonomous vehicle industry grows and the appetite for smart and other electronic devices remains strong, demand for the materials that go into the batteries used to power these devices also grows. That's the theory behind the launch of the Amplify Advanced Battery Metals & Materials ETF (BATT ).
BATT is an actively-managed fund that invests in companies principally engaged in the business of mining, exploration, production, processing or recycling of advanced battery metals and materials. To qualify for inclusion in the fund, companies must either derive at least 50% of their revenue from any advanced battery material or be in the top five and have at least 10% of global market share. While BATT will most closely compete with the Global X Lithium ETF (LIT B-), it differentiates itself by seeking exposure to cobalt, nickel, manganese and graphite, in addition to lithium.
Amplify is known for developing unique and innovative ETFs. It already has the Amplify Online Retail ETF (IBUY C+) and the Amplify Transformational Data Sharing ETF (BLOK B-), one of the first blockchain ETFs.
The Bond ETF That Can Invest Anywhere
As interest rates look to slowly continue rising, investors have become increasingly interested in fixed income products that are not only actively-managed but also have the ability to look just about anywhere for attractive opportunities. The First Trust TCW Unconstrained Plus Bond ETF (UCON A-) launches this week to help fill that need.
First Trust is partnering with TCW Investment Management on a fund that truly meets the definition of 'unconstrained.' It can invest in bonds of any type or credit quality, although the fund's managers anticipate keeping the average duration under 10 years. It can invest up to 70% of assets in junk bonds, up to 60% in emerging markets securities and up to 50% in foreign-denominated bonds. The 'Plus' refers to the fund's ability to remain flexible at all times to manage exposure to interest rates, credit sectors and currencies.
The Bottom Line
If you're interested in investing in future tech, this is your week! While there are just a handful of ETFs that focus on or use artificial intelligence, the Global X Robotics and Artificial Intelligence Thematic ETF (BOTZ B) probably being the most notable, the proliferation of AI technology in investment management will continue to grow. On the other end of the spectrum, the Internet Giants ETF provides a nice contrast to AIIQ and BATT by focusing on more developed, financially healthy companies in the tech space.
Sign up for ETFdb Pro and get access to real-time ratings on over 1,900 U.S. listed ETFs.