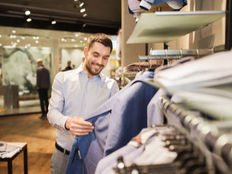 ETFdb.com is recommending a new long position for the month ahead. This long recommendation is based on a resurgence of positive momentum in a former laggard aided by stellar quarterly earnings results. Below, we outline our investment thesis and outlook for the new recommendation.
This position is motivated by supportive fundamentals and strong positive price action across the sector, which should result in a tailwind that carries over through the next quarter.
The new long recommendation is based on:
Domestic Consumer Discretionary

ETF

that is up over 15% year-to-date and more than 5% in just the past month
This

ETF

is very well balanced, holding a total of 90 securities with only 15% of its total assets in the top 10 holdings
There is about 25% of the fund dedicated to each size of security (i.e., micro, small, mid, large cap)
This

ETF

has seen rising inflows over the past quarter, bringing in $14 million in the past four weeks and more than $290 million in the past 13 weeks
Check out our most recent sell pick here.