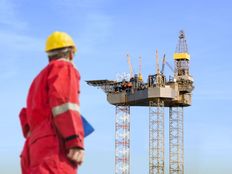 There's no doubt about it, the markets have hit a rough patch. After rising all of last year without even a hiccup, this year has been a bit different – especially in recent weeks. Wild market swings and high volatility is now the norm. Much has been written about the decline in tech stocks and ETFs like the Technology Select Sector SPDR Fund (XLK A) causing the bulk of the market's meltdown. But it's another sector that is actually fairing worse than tech stocks.
We're talking about the energy sector.
Oil producers, refiners and other energy-related stocks and ETFs have dipped far more than tech in recent months. But unlike the dips in tech, the drop in energy ETFs may be unjustified. Today, the sector could be one of the biggest values out there. For investors, the time to consider energy ETFs may be now.
See what investor's think about natural gas ETFs by reading our recently published trends article here.