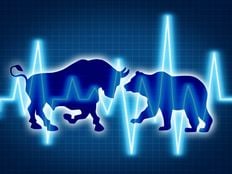 To help investors keep up with the markets, we present our ETF Scorecard. The Scorecard takes a step back and looks at how various asset classes across the globe are performing. The weekly performance is from last Friday's open to this week's Thursday close.
A key vote in the British Parliament to approve a Brexit deal negotiated by Prime Minister Theresa May failed to get the necessary support, as largely expected. May lost the vote by a big margin, plunging the U.K. into uncertainty. The European Union ruled out reopening negotiations, but May is holding talks with opposition parties to end the deadlock. Progress is slow, though.
The G20 conference kicked off in Tokyo with a speech by Japanese Finance Minister Taro Aso. The official urged the Group of 20 major economies to renew their cooperation against protectionism.
U.S. consumer price index fell 0.1% in December month-over-month, the first drop in nine months. Year-over-year, the

CPI

was up 1.9%, declining from 2.2% in November.
U.K. inflation grew 2.1% in December compared to the same period last year, hitting a two-year low. Last time the U.K. saw lower inflation was in February 2017, when overall prices were rising due to Brexit.
European

CPI

was also on a downtrend. Eurozone inflation rose 1.6% in December compared to the same period last year, below expectations of 1.7%. Final core

CPI

advanced 1%, in line with expectations but well below European Central Bank's target.
U.S. crude oil inventories dipped 2.7 million barrels in the January 11 week, the sixth consecutive week with no growth.
U.S. unemployment claims came in at 213,000 for the week ended January 12, declining from 216,000 in the prior week.
Risk Appetite Review
Markets rallied again this week.
Risk assets (

SPHB

) gained 3.08%, as investors continued to buy into the broad-based recovery.
The broad market (

SPY

) was the worst performer, however, advancing 2.61%.
Sign up for ETFdb.com Pro and get access to real-time ratings on over 1,900 U.S.-listed ETFs.
---
Content continues below advertisement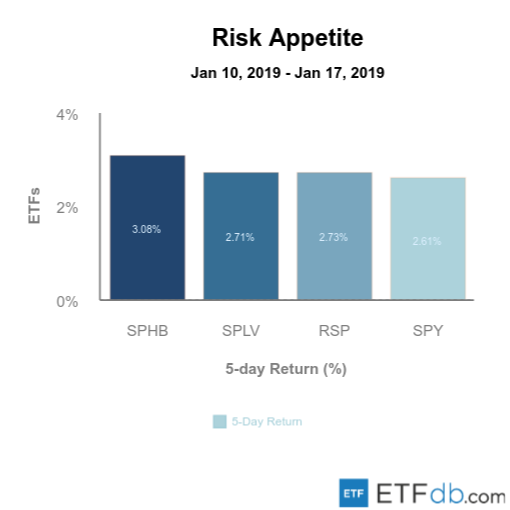 Major Index Review
Major indexes were all up, with their performance roughly similar.
Small-cap stocks (

IWM

) were again the best performers for the week, rising 2.65%.
Europe and Australasia (

EFA

) was the only asset that posted gains below 1% for the week.
Emerging markets (

EEM

) retained its best-performer status for the rolling month, jumping 5.57%.
The S&P 500 (

SPY

) was the worst monthly performer from this pack as well, up just 2.24%.
To see how these indices performed over the past year, check out ETF Scorecard: January 11 Edition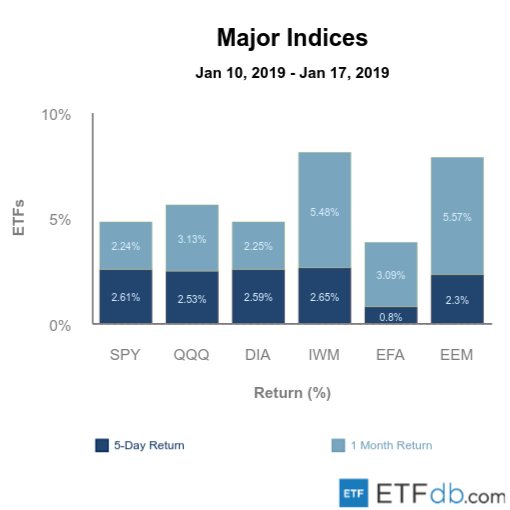 Sectors Review
The financial sector (

XLF

) was the best performer both for the week and the rolling month, surging 5.23% and 5.88%, respectively. Financials were already priced for weakness, but a fresh stimulus from China combined with strong results by some U.S. banks improved the sentiment.
At the other side of the spectrum is utilities (

XLU

), which gained 0.53% for the week and dropped 4% for the rolling month.
Use our Head-to-Head Comparison tool to compare two ETFs such as (XLF A) and (XLU A) on a variety of criteria such as performance, AUM, trading volume and expenses.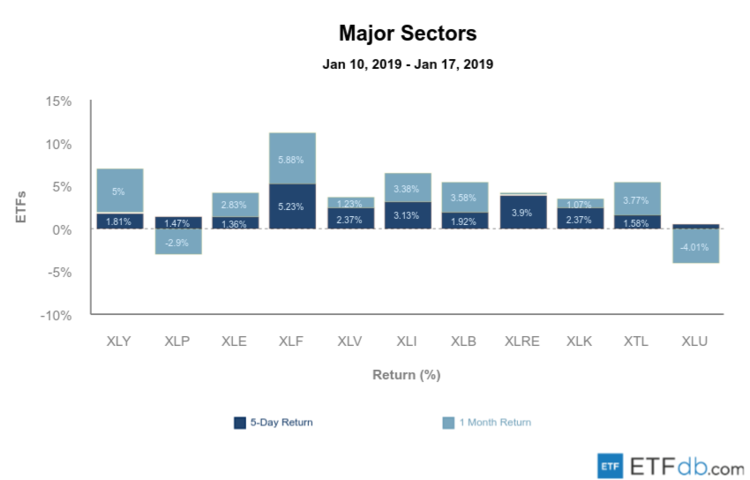 Foreign Equity Review
To find out more about ETFs exposed to particular countries, check our ETF Country Exposure tool. Select a particular country from a world map and get a list of all ETFs tracking your pick.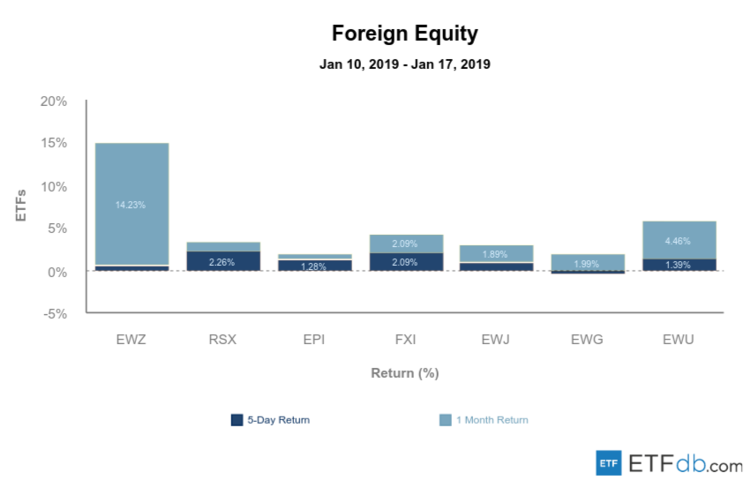 Commodities Review
Natural gas (

UNG

), which has been extremely volatile in recent weeks, surged 12.18% for the week. Yet, the commodity remains the worst monthly performer, down 5.26%.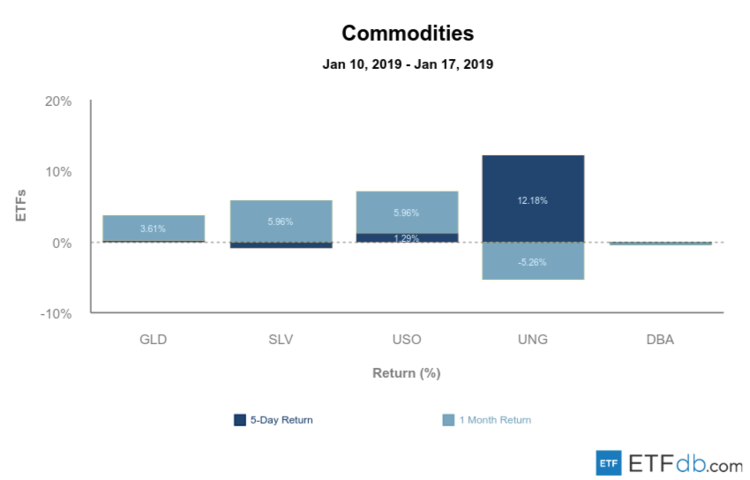 Currency Review
The British pound (

FXB

) gained 1.69% this week, as investors were pleased to hear that May's Brexit deal was voted down by Parliament. One of the main scenarios is that the U.K. keeps close ties to the European Union, particularly if the Parliament takes over Brexit negotiations.
Meanwhile, the European shared currency (

FXE

) was the worst weekly performer, dropping 1.82%.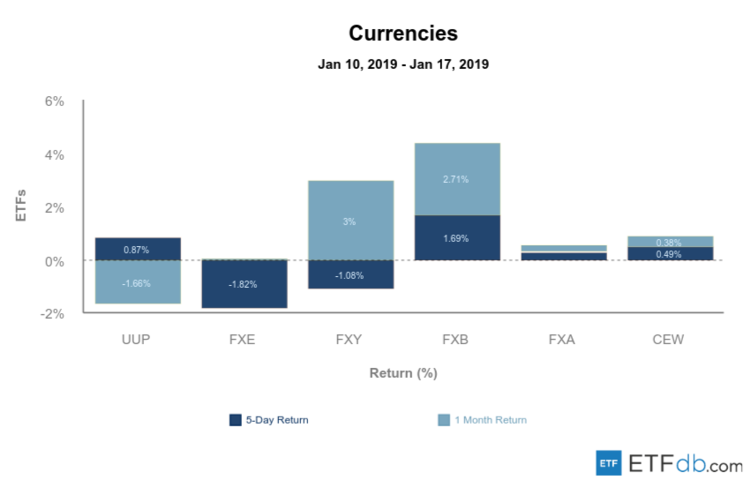 For more ETF analysis, make sure to sign up for our free ETF newsletter.
Disclosure: No positions at time of writing.