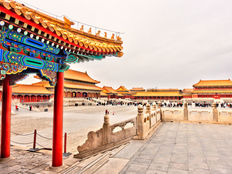 The iShares China Large-Cap ETF FXI (FXI A) and the iShares MSCI China ETF MCHI (MCHI A) are among the China ETFs leading this year's emerging markets resurgence. Entering Thursday, the MSCI Emerging Markets Index was up 9.20% while FXI and MCHI were up an average of 12.60%.
Easing trade tensions between the U.S. and China, the world's two largest economies, are bolstering the fortunes of Chinese stocks and ETFs such as FXI (FXI A) and MCHI (MCHI A) this year and some market observers believe Chinese stocks can continue rallying.
Investors appear to be embracing the ideas that the dollar will weaken this year and that the Federal Reserve will slow its pace of interest rate hikes or that no rate increases at all will be delivered in 2019. China's efforts to stimulate its massive economy also make the case for considering the country's equity markets.
The rally in China stocks and ETFs "comes amid an ongoing trade battle between the United States and China over tariffs, with the Chinese delegation currently in Washington for trade negotiations ahead of the March 2 deadline when increased tariffs could go into effect," reports CNBC.
---
Content continues below advertisement