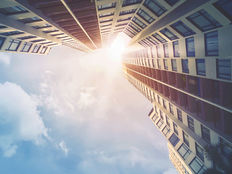 Across multiple sectors, the trends of tomorrow are accessible and tangible today. The same is true of the real estate sector and REIT ETFs, but many of the largest exchange traded funds tracking the sector do not adequately reflect the major shifts and compelling story lines that underpin the future of real estate investing.
Among ETFs tracking real estate investment trusts (REITs), the Pacer Benchmark Industrial Real Estate SCTR ETF INDS (INDS B-) is proving its worth as a credible avenue to some of the most prominent REIT themes: industrial REITs and the e-commerce boom.
INDS offers investors exposure to US companies that generate the majority of their revenue from industrial REITs that are part of the e-commerce distribution and logistics network. INDS provides exposure to the growing e-commerce space by investing in data center and distribution center REITs, along with higher quality retail real estate.
The rapid rise of online giant retailers like Amazon has increased demand for warehouses to store inventory. Around 25% to 30% of warehouse space is currently dedicated to e-commerce.
"First and foremost, what is fascinating it that eCommerce accounts for less than 10% of overall retail sales but is growing 16% year over year for the last 5 years," said Kevin Kelly, managing partner at Benchmark Investments, in an interview. "Since e-Commerce has grown from 5% of overall sales in 2012 (see attached) to now (less than 10%), industrial REITs have had an excess return of 6.37% per annum, an alpha of 5.62 and a lower downside capture."
---
Content continues below advertisement