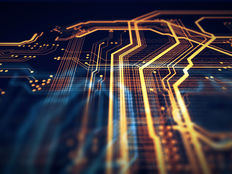 Among the sector exchange traded funds hitting new highs Friday was the SPDR Kensho New Economies Composite ETF KOMP (KOMP A-), a unique spin on the technologies of tomorrow.
KOMP, which debuted last October, includes "New Economy" industries, ranging from 3D printing to genetic engineering, can provide investors access to a comprehensive and diversified set of companies propelling the new economy.
KOMP follows an "index utilizing artificial intelligence and a quantitative weighting methodology to pursue the potential of a new economy fueled by innovative companies disrupting traditional industries by leveraging advancements in exponential processing power, artificial intelligence, robotics, and automation," according to State Street.
Kensho Technologies leverages alternative data and artificial intelligence to identify and analyze large amounts of data, from companies that are developing the products and services driving the new economy, including those in the entire ecosystem, such as suppliers and service providers, in addition to the pure play companies.
The ETF features broad-based exposure to multiple disruptive technology themes and offers a deep bench of almost 370 stocks. Fifteen industry groups are represented in the fund.
---
Content continues below advertisement