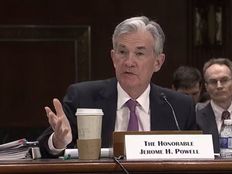 Federal Reserve Chairman Jerome Powell told a Senate committee on Tuesday that the economy is on solid footing, but potential dangers are looming, such as the year-end volatility experienced in 2018. Powell, however, assured that the central bank will respond accordingly should such dangers present themselves.
"While we view current economic conditions as healthy and the economic outlook as favorable, over the past few months we have seen some crosscurrents and conflicting signals," Powell said in his prepared remarks to the Senate Committee on Banking, Housing and Urban Affairs. "Financial markets became more volatile toward year-end, and financial conditions are now less supportive of growth than they were earlier last year."
In the minutes from a Jan. 29-30 policy meeting released by the Fed last week, it was close to unanimous that a reduction in assets would come prior to the end of 2019. The markets were keen on the central bank's holdings of $3.8 trillion in bonds, which it has steadily been reducing since October 2017.
A separate statement last month alluded to a more flexible Fed that would be more strategic with regard to its balance sheet policy. Furthermore, flexibility would also apply to its holdings of Treasuries and mortgage-backed securities, which signaled a diversion from statements that the central bank would resume its asset purchases if economic data warranted a rate cut.
"I would note that we are prepared to adjust any of the details for completing balance sheet normalization in light of economic and financial developments. In the longer run, the size of the balance sheet will be determined by the demand for Federal Reserve liabilities such as currency and bank reserves," said Powell.
---
Content continues below advertisement