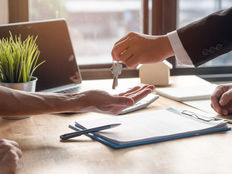 Pending home sales rebounded during the month of January, but the Vanguard Real Estate ETF VNQ (VNQ A) fell 1.12 percent on Wednesday.
Contracts to buy existing homes rose 4.6 percent in January versus December, according to a monthly survey from the National Association of Realtors (NAR). However, contracts were still 2.3 percent lower versus a year ago, which makes it thirteenth straight months of declines annually.
Furthermore, the central bank has been sounding increasingly dovish as of late, which could mean that less rate hikes than anticipated for 2019–something that could help give the sector a much-needed boost.
"A change in Federal Reserve policy and the reopening of the government were very beneficial to the market," said Lawrence Yun, chief economist for the NAR. "Homebuyers are now returning and taking advantage of lower interest rates, while a boost in inventory is also providing more choices for consumers."
---
Content continues below advertisement