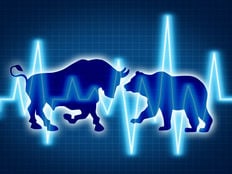 To help investors keep up with the markets, we present our ETF Scorecard. The Scorecard takes a step back and looks at how various asset classes across the globe are performing. The weekly performance is from last Friday's open to this week's Thursday close.
Notable progress on Brexit was registered this week, as Theresa May admitted for the first time that a delay of the March 29 deadline was possible. Now, it appears that the no-deal scenario is unlikely, with the possibilities oscillating between a postponement and an agreement.
A summit between the U.S. and North Korea broke down after U.S. President Donald Trump said he declined a proposal to fully lift the sanctions in exchange for denuclearization. In a follow-up press conference, the rogue country said it had asked for the partial lifting of sanctions and confirmed it would not change its stance.
U.S. Federal Reserve Chair Jerome Powell reiterated the central bank's stance of patience in its approach to monetary policy in prepared testimony for the Senate Banking Committee. Powell said the economy was strong but has seen "conflicting signals" over the past few months.
The Bank of England's Mark Carney said policymakers are more likely than not to cut interest rates in a no-deal Brexit scenario, which is increasingly unlikely.
The U.S. economy grew by 2.6% in the last quarter of the year, beating expectations of 2.2%, largely thanks to a pickup in business spending. In the third quarter, the economy advanced at an annualized pace of 3.4%.
Germany's business climate, as measured by the Institute for Economic Research, fell to a 10-year low in February to 98.5.
The U.S. housing market is showing signs of distress, with housing starts for January declining to 1.08 million, a level not seen since October 2016.
U.S. consumer confidence increased to 131.4 in February from a revised 121.7 in the prior month.
Crude oil inventories declined for the first time in five weeks in the weekly period ended February 22, by as much as 8.6 million barrels at that.
Risk Appetite Review
Markets were in slight retreat this week.
Risk assets (

SPLV

) declined 0.36%, representing the worst performance.
The broad market grew by 0.35%, while safe-haven assets (

SPHB

) advanced more than 1%.
Sign up for ETFdb.com Pro and get access to real-time ratings on over 1,900 U.S.-listed ETFs.
---
Content continues below advertisement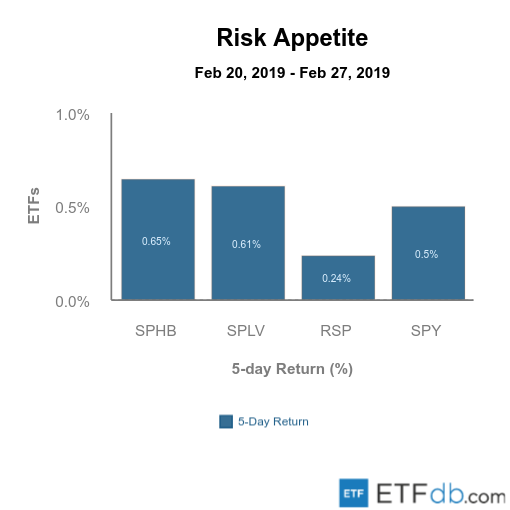 Major Index Review
Major indexes were mixed.
Technology stocks (

QQQ

) was the best performer this week, after finishing last in the prior week.
Emerging markets (

EEM

), meanwhile, lost 0.40% of its value, in a week with low volatility.
To see how these indices performed over the past year, check out ETF Scorecard:February 22 Edition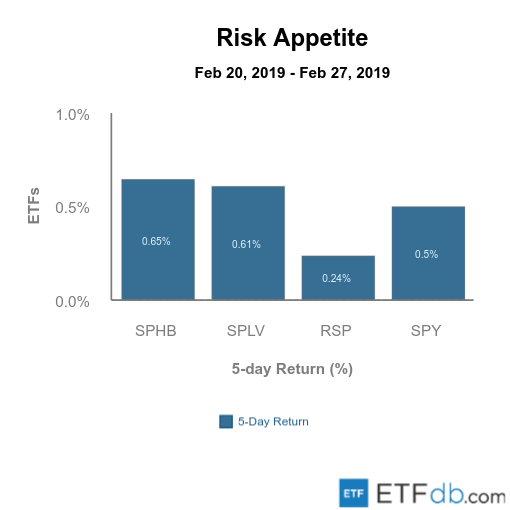 Sectors Review
Sectors posted mixed performance.
The energy sector (

XLE

) was the poorest performer from the bunch, declining 1.72%, despite oil and gas prices standing firm. (

XLE

)'s largest holdings are ExxonMobil (

XOM

) and Chevron (

CVX

), which collectively make up around 40% of the index.
The technology sector (

XLK

) came out first, gaining around 1.9% for the week.
Use our Head-to-Head Comparison tool to compare two ETFs such as (XLE A) and (XLK A) on a variety of criteria such as performance, AUM, trading volume and expenses.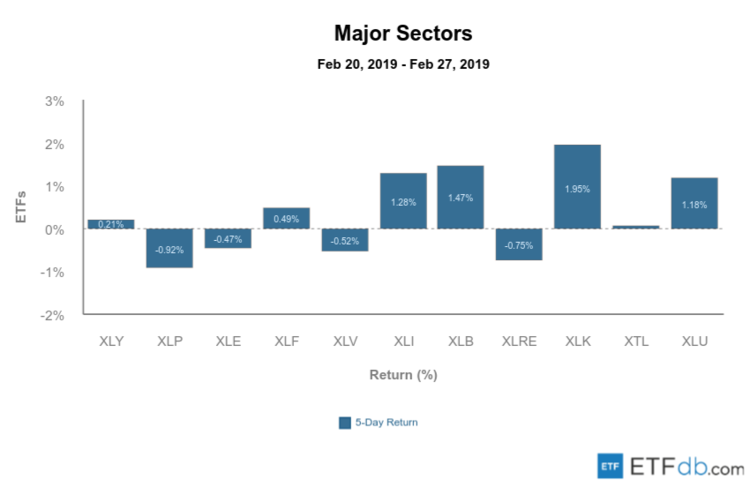 Foreign Equity Review
Foreign equities posted mixed performance.
Russian equities (

RSX

) fell 1.21% this week, as the country has been hit hard by U.S. preparations for a new sanctions package.
To find out more about ETFs exposed to particular countries, check out our ETF Country Exposure tool. Select a particular country from a world map and get a list of all ETFs tracking your pick.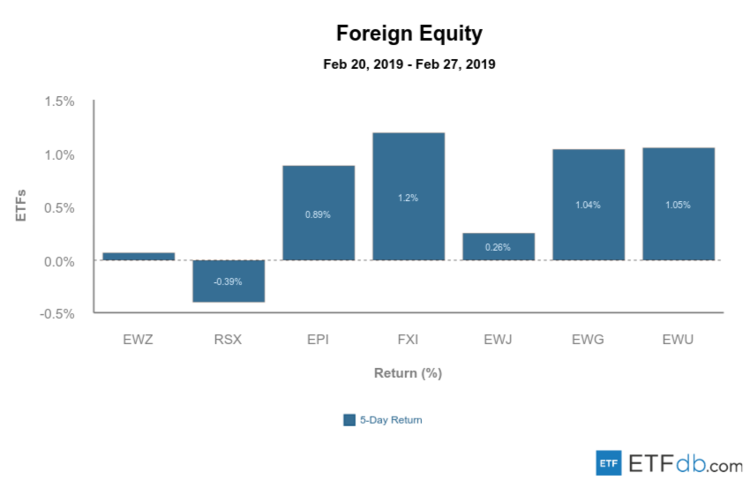 Commodities Review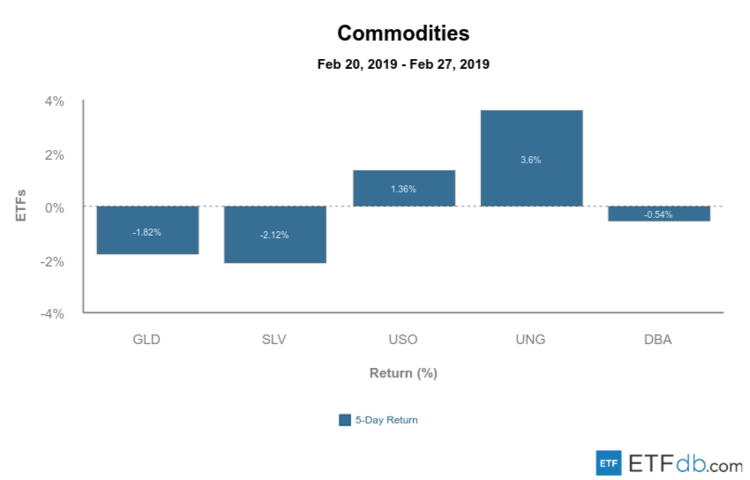 Currency Review
The euro (

FXE

) continued to underperform, falling more than 2% over the past five days.
The British pound (

FXB

) gained 1.6% on improved prospects that a favorable resolution to the Brexit debacle will be reached.
For more ETF news and analysis, subscribe to our free newsletter.