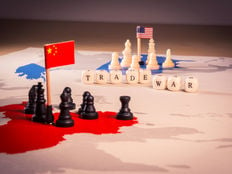 China ETFs stood out Monday, with Chinese markets rising to a nine-month high, as the country's annual legislative session begins and investors looked for potentially more measures to kick start the slowing economy.
Among the better performing non-leveraged ETFs of Monday, the VanEck Vectors ChinaAMC CSI 300 ETF CNXT (CNXT C) increased 2.5% and Xtrackers Harvest CSI 300 China A-Shares ETF ASHR (ASHR B+) gained 0.8%.
Policymakers have promised tax cuts, more infrastructure spending this year and improved liquidity into the Chinese financial system in response to slowing growth, the Financial Times reports.
Some also argued that ongoing optimism over trade talks between the U.S. and China helped maintain the forward momentum.
Tai Hui, chief market strategist, Asia Pacific, at JP Morgan Asset Management, argued that the recent jump in mainland Chinese equities, including Monday's rally, "was triggered by positive progress in US-China trade negotiation and the shift from deleveraging to growth support from Beijing."
"We believe that foreign investors, especially active managers, have been leading the rally by adding A-shares due to attractive valuations. Local institutional investors are now participating more and driving medium to small-cap stocks. Retail investors are finally feeling more optimistic and this could sustain the momentum further," Hui added.
Cheap Valuations of "A Share" Market
Wang Yang, a technical analyst with Soochow Securities in Shanghai, pointed to a number of short-term factors that are supporting cheap valuations of the "A share" market for mainland-listed Chinese equities, such as "risk-free rate of return, economic downturn and a continued environment of loosened liquidity".
Iris Pang, China economist at ING, also believed that China's reform efforts will no longer include deleveraging or cuts to overcapacity this year, which pressured stocks in 2018. The National People's Congress meeting this week in Beijing is expected to reveal a lower growth target than last year's goal of about 6.5%.
"Economic conditions don't allow for further deleveraging, which would put additional pressure on growth," Pang told the FT. "We will be focusing on whether the government is prepared to invest in infrastructure to support the economy. From this, we will be able to gauge the severity of the headwind from the ongoing trade dispute."
---
Content continues below advertisement