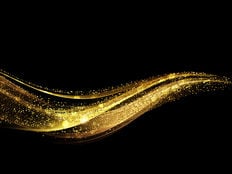 The end of 2018 burned an image of volatility in investors' minds that would drive their decisions when reassessing their portfolios for 2019. As such, alternatives to diversify and counteract volatility would be on the investment agenda, making ETFs like the commodities and precious metals a prime alternative.
During the bout of volatility that took hold of the capital markets near of the end of 2018, stocks and bonds did something they don't normally do–show signs of positive correlation. As equities were getting roiled with volatility, the tried and true safe haven of Treasuries were falling as yields were climbing.
This lockstep between stocks and bonds was not something typically seen within the capital markets as both are prone to marching to the beat of their own drum.
Commodities, however, lack correlation to both stocks and bonds–something investors will appreciate moving forward as a volatility protection measure. Commodities-focused ETFs like gold could continue gaining assets, such as the GraniteShares Gold Trust (BAR A-).
Once again, with costs in mind, it's an idea gold play option for investors focused on low costs. BAR represents one of the cheapest commodity ETFs on the block with a 0.17% expense ratio.
"For a lot of people, fees will be the most important thing," said Will Rhind, CEO of GraniteShares.
"We came in with the lowest cost gold ETF with BAR and a lot of people will focus on that as they rightfully should because low fees are important," added Rhind.
In 2018, rising interest rates that coincided with an extended bull run in U.S. equities for most of the year fueled a strong dollar, tamping down gains for gold. However, when investors got washed in a cycle of volatility that started in the fall and lasted through year's end, investors were quick to reconsider the precious metal as a safe haven, which helped ETFs backed by gold.
"You saw it at the end of last year when the stock market sold off pretty dramatically while gold prices went on a pretty significant rally," said Rhind.
"Look at this price and think of defensive positioning," added Rhind, referring to gold at its current level as a buying opportunity as fears of a global slowdown permeate the capital markets.
In the video below, Rhind shares his thoughts on the effect of monetary policy on gold:
---
Content continues below advertisement