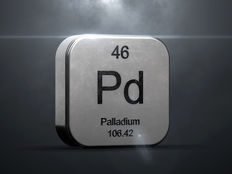 Palladium has been staging record highs for the better part of the last seven months, outstripping even the most bullish forecasts made during 2018 as a supply squeeze inflated the metal's price.
Palladium has been staging record highs for the better part of the last seven months, outstripping even the most bullish forecasts made during 2018 as a supply squeeze inflated the metal's price.
Recession woes have spread over the investment environment of late and the latest developments in debt markets have hit financial equities hardest. An acute selloff across equity markets spurred leveraged short-selling as investors are bracing for a dismal earnings season. The Brazilian administration is facing an uphill political struggle to fix a burdening social security system while the U.S. dollar closed the list after a dovish central bank decision. Check our previous trends edition at Trending: Transport Equities Up Despite Lack of Progress on Trade
Supply Constraints Take Palladium to Uncharted Territory
The precious metal widely used in the automotive industry has nearly doubled in value since last August as a demand-fueled rally continued with supply woes in an already tight market. Palladium has seen its viewership rise 75% over the last week as prices hit a new record, breaking the $1,600 per ounce barrier.
Most recently, a Russian ban on several metal exports hit the palladium market and supported prices despite an estimated slowdown in vehicle sales. The world's top palladium producer is weighing a ban on precious metals scrap and tailings to promote domestic refining of the materials. Another impetus for its price, the Chinese stimulus plan may spur demand even further as the Asian behemoth hosts the largest auto market.
The record run for the metal primarily used by automakers for catalytic converter manufacturing has also been backed by several mining strikes in the world's second largest producer, South Africa. Nearly 60% of the global palladium production goes into catalytic converters and 95% of the vehicles sold in Europe are equipped with such a device.
A play into the palladium territory, Aberdeen Standard Physical Palladium Shares ETF (PALL A) stands to gain over the long run from a perfect secular backdrop for the metal's bull run stemmed from an ever-tightening cycle of vehicle emissions regulation. Despite losing some ground over the last few days, a reaction to growing fears of a recession, the ETF still holds a nearly 13% year-to-date performance. Use our "head to head comparison tool":http://etfdb.com/tool/etf-comparison to compare two ETFs such as (PALL A) and (EZA B-) on a variety of criteria such as performance, AUM, trading volume and expenses.
---
Content continues below advertisement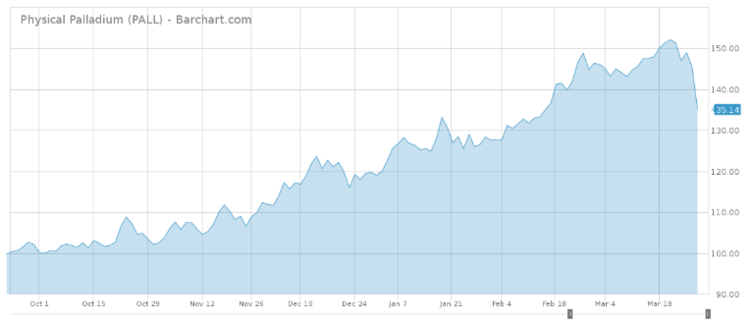 Financials Hit by Recession Fears
An increasingly dovish Federal Reserve (FED) and a nearly inverted yield curve took a toll on financial stocks as the market grows more worried a recession is at the horizon. Traffic in financials has increased by 55% over the last week as investors are looking at clues whether the current bull run witnessed in 2019 has enough steam to persist.
The Federal Reserve hinted it may refrain from hiking rates this year as signals of a slowdown in global economic growth multiply. The dovish flag had ripple effects in the market, driving a sell-off in financials equities. The broad-based Financial Select Sector SPDR ETF (XLF A) tumbled 6.2% from last week's high while bank stocks gathered under SPDR S&P Bank ETF (XLF A) lost nearly 9% over the same period. Compared to the June 2018 peak, XLF has fallen back into bear territory following last week's decline.
Analysts also point to Friday's inversion of the yield curve between the 3-month and 10-year Treasury note, the first time since 2007 and an event widely regarded as an omen to financial recessions. An inverted yield curve squeezes bank profitability as loan margins get compressed and challenge growth prospects.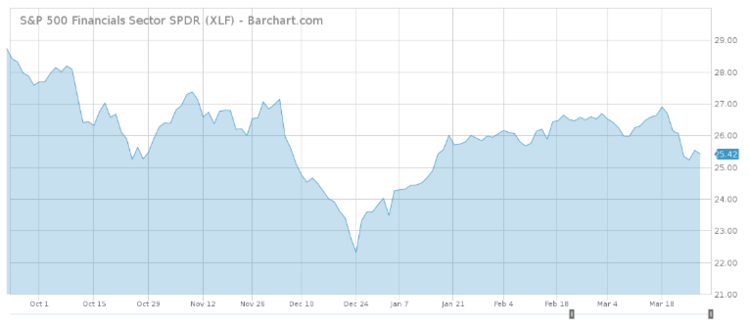 Growth woes spur short-selling
Falling bond yields across the board have prompted investors to take the short side of late, attracted by the prospect of top valuations, especially when compared to a lowered future guidance for most companies. Leveraged shorts have seen a 55% spike in traffic as last week's Friday sell-off acted as a wake-up call for market participants.
The European Central Bank (ECB) joined the dovish club last week as President Mario Draghi said a rate hike could be further delayed, a move that led markets to consider other measures to mitigate negative interest rates. Earlier in March, the ECB announced another round of its bank lending program that will be active for 18 months, starting September. German bund yields dived deeper into negative territory and are currently trading at around -0.08%, coming down from positive 0.18% at the start of the month.
Technology companies have lowered their revenue guidance at a pace not seen in nearly 7 years. More than 30 companies have issued warnings regarding the next earnings season and the technology sector joins energy in a duo that sees declining year-over-year revenue of 1.1% and 3.3%, respectively. Intel (INTC) and Apple (AAPL) have been the big drags of the technology sector, each saying that earnings are expected to come around 14% and 20% lower, respectively. ProShares UltraPro Short QQQ (SQQQ A) has rebounded somewhat lately and holds a five-day performance of nearly 8%. For more ETF news and analysis, subscribe to our free newsletter.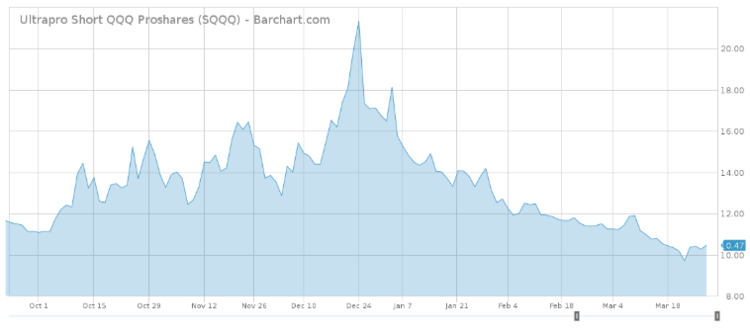 Brazil Struggles to Steady Markets
President Jair Bolsonaro's turnaround endeavor proves rocky as the country's parliament moved to seize more control over the federal budget, adding to concerns that the administration is losing momentum in its push for the much needed economic reforms. "Brazil": http://etfdb.com/etfs/country/brazil/ has attracted 35% more viewers of late as the inner political chaos deepened.
The Bolsonaro administration suffered a setback in its attempt to pass its signature proposal regarding Brazil's social security system as members of the parliament proved unimpressed by the arguments behind the proposed $250 million savings plan.
The Brazilian currency reacted and plummeted to six-month lows, at 3.99 real per U.S. dollar, its stock market sold-off to eleven-week lows while bonds climbed steeply. iShares MSCI Brazil ETF (EWZ A-), the largest and most liquid product in the list, fell more than 10% in the last five trading sessions. Most recently, the government said it plans to unveil a $2.5 billion plan to help financially strapped state governments. Sign up for ETFdb.com Pro and get access to real-time ratings on over 1,900 U.S. listed ETFs.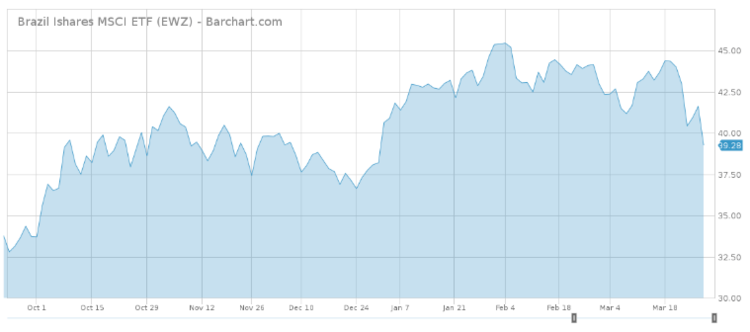 The U.S. Dollar
The greenback cooled off after policymakers lowered their interest rate forecast last week in a decision that was widely regarded as dovish.
The Fed officials downgraded their expectations for U.S. economic growth in 2019 from 2.3% in December to 2.1%. The two hikes estimated at the last meeting were also scrapped as the governing body now sees no interest rate increase for the remainder of the year. Yields for the 10-year treasury note fell 8 basis points, the most in 10 months, to 2.53%, following the decision. In a separate move, the Fed said it will slow the monthly reduction of its balance sheet from $30 billion to just $15 billion and expects to wrap up the reduction of aggregate securities by October.
The Invesco DB US Dollar Index Bullish Fund (UUP B) dropped 0.5% initially but recouped all the lost ground and then some over the next four trading session as the global sell-off in equities lifted the safe haven currency. For a deeper analysis on individual ETF investments such as (UWT ) or (UUP B), use our ETF Analyzer Tool:http://etfdb.com/etf-analyzer/. You can select ETFs by Category or Type as well as add individual ticker symbols to compare performance, expenses, and dividend yield among other metrics.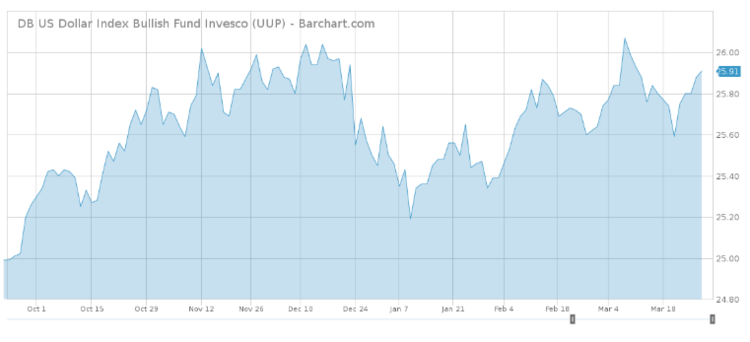 The Bottom Line
Palladium quotes skyrocketed further on the back of talks regarding a Russian ban on metal exports and rising demand only to be interrupted by spreading fears of a global recession. Last week's dovish decision by the Fed hampered growth prospects for financial equities while falling bond yields and an inverted yield curve sparked interest in leveraged short selling. Brazil's political wrangling puts pressure on the country's already embattled budget. Lastly, the U.S. currency proves resilient to dovish signals.
By analyzing how you, our valued readers, search our property each week, we hope to uncover important trends that will help you understand how the market is behaving so you can fine-tune your investment strategy. At the end of the week, we'll share these trends, giving you better insight into the relevant market events that will allow you to make more valuable decisions for your portfolio.