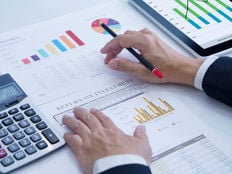 To help investors keep up with the markets, we present our ETF Scorecard. The Scorecard takes a step back and looks at how various asset classes across the globe are performing. The weekly performance is from last Friday's open to this week's Thursday close.
The British Parliament could not agree on a Brexit position, although a proposal for a customs regime got most votes in favor. Meanwhile, Prime Minister Theresa May will pass in Parliament her Brexit proposal for the third time on Friday, but chances are slim that it will pass, potentially throwing again the country in limbo. Changing tack, May will put to a vote the withdrawal treaty, while leaving the political declaration on the future relations with the EU on hold. Britain needs to find a solution before April 12 or elsewhere face a chaotic exit.
A host of European services and manufacturing purchasing managers' indexes fell into contraction territory in March, taking analysts by surprise. French services and manufacturing

PMI

were below 50, while German manufacturing

PMI

slipped to 44.7, the lowest level since mid-2012. German services were the only bright spot, slightly beating expectations of 54.9.
U.S. flash manufacturing

PMI

for March fell to the lowest level since June 2017, at 52.5. Services

PMI

, meanwhile, declined to 54.8 from 56 in the prior month.
Building permits in the U.S. were relatively strong at 1.30 million in February, although they were down from a revised 1.32 million in the prior month. Analysts had predicted the figure to come in at 1.32 million.
At the same time, housing starts dropped dramatically in February from a revised 1.27 million to 1.16 million. Economists had forecasted housing starts to fall to 1.22 million.
U.S. consumer confidence slipped to 124.1 in March from 131.4 in the prior month. Analysts had expected a slight advance.
U.S

GDP

grew by 2.2% in the fourth quarter of the year, down from the previous estimate of 2.6%. As a result, the U.S. economy expanded by 2.9% in 2018 compared with 3.1% previously.
U.S. unemployment claims dropped to 211,000 for the week ended March 23 from 216,000 previously, signaling a strong labor market.
For more ETF news and analysis, subscribe to our free newsletter.
Risk Appetite Review
High-risk assets (

SPHB

) have been beaten up this week, dropping 2.49%.
Meanwhile, low volatility (

SPLV

) was the best performer and the only gainer, up 0.42%.
The broad market (

SPY

) lost 0.89%.
---
Content continues below advertisement
Major Index Review
Major indexes were all down.
Dow Jones (

DIA

) recorded the smallest losses for the week, shedding 0.33%, as the blue-chip index is considered somewhat of a safe haven.
Technology stocks (

QQQ

) lost nearly 2%, as a strong rally in previous weeks withered.
To see how these indices performed over the past year, check out ETF Scorecard: March 22 Edition
Sectors Review
Sectors were mostly down, with real estate stocks, consumer staples and consumer discretionary, among the few gainers.
Consumer staples (

XLP

) rose 1.22% in the five days through Thursday, with the sector favored by investors amid an environment of falling interest rates.
The technology sector (

XLK

) was the poorest performer, with the index losing 1.90%.
Use our head to head comparison tool to compare two ETFs such as (XLP A) and (XLK A) on a variety of criteria such as performance, AUM, trading volume and expenses.
Foreign Equity Review
Foreign equities were mixed.
Russian equities (

RSX

) declined 1.75% for the week, correcting some of the strong gains experienced in previous weeks.
Meanwhile, Indian equities (

EPI

) were slightly up at 0.31%, representing the best performance.
To find out more about ETFs exposed to particular countries, check our ETF Country Exposure Tool. Select a particular country from a world map and get a list of all ETFs tracking your pick.
Commodities Review
Currency Review
Euro (

FXE

) was the biggest loser this week, shedding 3.41%, as a string of bad economic data spurred worries the euro area economy may be approaching a recession.
Meanwhile, the U.S. dollar (

UUP

) advanced 0.78% and was the only currency to post advances.
For more ETF analysis, make sure to sign up for our free ETF newsletter.
Disclosure: No positions at time of writing.