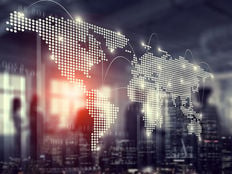 WisdomTree is a top 10 ETF issuer, but it's making a few changes to its product lineup. In addition to launching a brand new fund, it's switching two of its existing ETFs to multifactor strategies. Plus, Innovator adds another trio of funds to its Buffer ETF series and State Street debuts a pair of sector rotation strategies.
Here are the latest new fund launches:
---
Content continues below advertisement
WisdomTree Converts Two ETFs, Launches a Third
It's been a period of significant change lately for WisdomTree's ETF roster. Earlier this year, the company shuttered eight of its ETFs and this week it's making a few more changes. Effective March 29th, the WisdomTree Dynamic Currency Hedged Europe Equity ETF will become the WisdomTree Europe Multifactor ETF (EUMF A-) while the WisdomTree Dynamic Currency Hedged Japan Equity ETF will transition into the WisdomTree Japan Multifactor ETF (JAMF ). Both funds will use a proprietary factor model that seeks to identify attractive combinations of value, momentum and quality within their respective regions of the world. They will maintain their use of dynamic currency hedging which can range anywhere between 0% and 100% of the portfolio.
The WisdomTree India ex-State-Owned Enterprises ETF (IXSE C) is a new offering that will target companies with less than 20% ownership by the Indian government. Companies with high government ownership shares are often considered less attractive investments because they can be run with a different set of corporate objectives in mind. Excluding these companies helps give investors more of a pure play on the growth of the Indian economy. WisdomTree also manages a China-focused ETF using the same strategy.
For more ETF news and analysis, subscribe to our free newsletter.
REX Debuts Suite of Big Bank ETNs
Leveraged funds which target specific sectors and regions are certainly nothing new but ones that target such a narrow slice of the market are. REX Shares' new batch of ETNs falling under its MicroSectors brand will provide varying levels of exposure to an equal-weighted index of just the 10 largest banks in the United States, including Bank of America (BAC), Morgan Stanley (MS) and Citigroup (C).
The MicroSectors U.S. Big Banks Index 3x Leveraged ETN (BNKU B+), MicroSectors U.S. Big Banks Index -3x Inverse Leveraged ETN (BNKD B), MicroSectors U.S. Big Banks Index 2x Leveraged ETN (BNKO C+), MicroSectors U.S. Big Banks Index -2x Inverse Leveraged ETN (BNKZ C+), and the MicroSectors U.S. Big Banks Index Inverse ETN (KNAB ) will join a similar suite of FANG-focused ETNs that employ similar strategies.
State Street Introduces Pair of Sector Rotation Funds
State Street is launching two new ETFs that will rotate in and out of specific sectors of their markets based on several quantitative and qualitative factors. The SPDR SSGA U.S. Sector Rotation ETF (XLSR B) will invest in some combination of the SPDR Select Sector ETFs by first evaluating each sector's macroeconomic, financial and market to arrive at a project return forecast. Allocations are then made to maximize return and diversification guidelines. The SPDR SSGA Fixed Income Sector Rotation ETF (FISR C+) will do essentially the same thing examining a universe that consists of government, corporate and junk bonds, TIPs, bank loans and variable rate securities.
Innovator Adds To Buffer ETF Roster
Innovator Management has been launching its series of defined outcome ETFs every three months since last year and this week debuts its April group of funds. These funds are designed to deliver S&P 500 returns within a specific range during the entire defined outcome period. The upside is that they provide certain degrees of protection against downside losses in the index but it comes at the expense of capped gains. The Innovator S&P 500 Buffer ETF (BAPR B) protects investors against the first 9% of losses, the Innovator S&P 500 Power Buffer ETF (PAPR B+) shields against the first 15% of losses and the Innovator S&P 500 Ultra Buffer ETF (UAPR B) guards against losses between 5% and 35%.
Other New ETF Launches
Among other ETFs that have recently hit the market:
BlackRock is introducing the iShares iBonds December 2026 Term Muni Bond ETF (IBMO B-). It will join seven other existing funds in the iBonds Muni ETF lineup which seek to invest solely in investment-grade bonds that are expected to mature sometime in 2026.
The NETLease Corporate Real Estate ETF (NETL B) will follow an index of net lease REITs, which are arrangements typically associated with commercial real estate that require the tenant to pay all or a portion of the taxes, fees, and maintenance costs for a property in addition to rent.
The Aberdeen Standard Bloomberg WTI Crude Oil Strategy K-1 Free ETF (AOIL A+) is an actively-managed fund that will invest in a portfolio of crude oil futures contracts that are expected to expire in one to three months.
The Bottom Line
ETF issuers are increasingly getting away from plain vanilla strategies and more towards alternative and smart beta strategies to gain the marketplace's attention. Innovator's Buffer ETF series continues to be an intriguing option for investors who want equity exposure but also downside protection. Sector rotation strategies aren't necessarily in State Street's wheelhouse but these are an intriguing way of working to outperform the broader market. WisdomTree's move to add a factor strategy to two of its existing ETFs shows that issuers are beginning to reconsider active management in an attempt to beat the market.