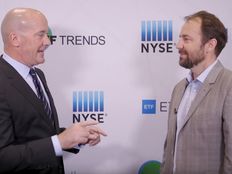 Market capitalization-weighted index funds have served investors well over the years, but there may be better options for passive exchange traded fund investors to choose from.
"They're fine. They're just not great," Mebane Faber, Co-Founder & CIO, Cambria Investment Management, said at the Morningstar Investment Conference.
"It was a great invention because it was cheap and low turnover, but the problem with cap-weighting is it has no tether to reality, no tether to fundamentals, so you end up owning expensive stocks. Almost any weighting methodology other than cap weighting beats cap weighting," he added.
Under a market cap-weighted indexing methodology, investors are exposed to some of the biggest and most recent high-flying stocks, so a cap-weighted fund may become top heavy to more overpriced components.
Faber also warned that most investors now have a heavy tilt toward U.S. companies, which are now trading at historically high valuations. Consequently, Faber argued that investors should be looking abroad to cheaper foreign markets as a way to diversify their investment portfolios.
Specifically, investors may consider something like the Cambria Global Value ETF (GVAL B) to help exploit valuation opportunities in markets outside the U.S. The fund invests in about 100 stocks from the world's most undervalued markets, targeting the cheapest, most liquid picks in countries where political or economic crisis have depressed valuations.
The strategy tries to play on the historical attribute where future stock market returns tend to be lower when starting valuations are high and future returns tend to be higher when starting valuations are low.
The underlying index begins with a universe of 45 countries taken from developed and emerging markets. The Index then selects the top 25% cheapest country stock markets as measured by Cambria's proprietary long term valuation metrics, similar to the CAPE ratio. It then uses a valuation composite across traditional metrics such as trailing P/E, P/B, P/S, P/FCF, and EV/EBITDA to screen for the 10 most undervalued stocks out of the top 30 largest stocks by market capitalization within each country.
Watch the full interview between ETF Trends CEO Tom Lydon and Meb Faber
---
Content continues below advertisement