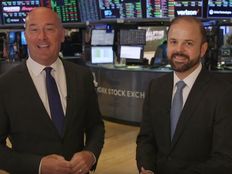 J.P. Morgan Asset Management Beta Specialist Josh Rogers says there is plenty of investing opportunities to bump up quality and profitability despite equities slowing in the U.S. and abroad.
Speaking with ETF Trends CEO Tom Lydon in the latest In the Know, quarterly series, Rogers discusses the impacts equities are having on markets.
"US equities had a very strong run in the first half of the year," Rogers said. "When we look internationally, though, those markets have slowed a little bit." Emerging markets, in particular, seems to be taking in the weight of the trade tensions.
As Rogers explains, trends in the second half of the year show how growth appears to be slowing. This means investors from all around the world should expect more muted returns.
---
Content continues below advertisement
Best Plans For Portfolios
Lydon asked Rogers about portfolio construction and what direction clients are advised to go based on the market's current position. As an example, Rogers states, "People have had a really good go in technology over the last couple years. That's been one of the strongest running sectors, right? But what we're also seeing with the growth tilt in portfolios is actually a low-quality bias."
So, for JP Morgan Asset Management, Rogers shared how they talk to clients about ways to bump up quality and profitability. These are things clients want, of course, especially in the approach to the longest bull run that has ever been seen in US equities.
Shifting is what makes the most sense. From a quality lens, that's a very adaptable solution. At the same time, some clients look across factors. Something like value could have a relative appeal, so going for multi-factor strategies could make a lot of sense in what to go for, especially one that's risk-aware.
Weighing Portfolios Against Fixed Income
Changing gears to fixed income, which has seen its share of changes regarding the Fed. As Rogers explains, following a year where a lot of international markets were selling off, with rates coming down strong as a result, many investors had a considerable boost in their fixed income portfolios.
That in mind, Rogers states how this part of the year needs to have a focus on repositioning portfolios to get some more downside hopefully. This means clients may need to put back more duration into their portfolios.
Rogers continues, "Rates have come down, so some folks may be a little more reticent to add more duration if rates do pop back up. But I think that what's being forecasted right now, across the board, is a pretty dovish, not only Fed, but global central bank policy, and that should be positive for folks that want that duration."
In regards to the JPMorgan US Aggregate Bond ETF (JAGG), Rogers talks about how it has the potential to be great for clients. With corporate bond exposure being a key issue in fixed income due to an exponential growth of the investment-grade corporate market over the past five years, creating a high level of risk, JAGG can apply a systematic selection process to that investment-grade exposure to give clients the most attractive issuers.
Related: ETF of the Week: JPMorgan U.S. Aggregate Bond ETF (JAGG) 
Moving on to emerging market debt, Rogers explains that this is one of the strongest performing asset classes in fixed income so far this year. A key challenge, however, is the small rise in country-level risk.
"When we look across that space right now, there's many market cap products that have taken in and become the largest products in the space," Rogers adds. "But may taking in a little more risk-aware approach, and trying to, at least, filter out some of those riskiest countries, like Venezuela, I think can make a ton of sense."
Rogers then speaks about an ETF than tracks individual countries and invests in EM debt. This would be the JPMorgan USD Emerging Markets Sovereign Bond ETF (JPMB B+), which filters out the 10% riskiest countries. By doing this, it rules out countries that have to deal with a lot of volatility and may not even provide the desired yield.
JPMB is also quite helpful in delivering credit exposure for clients. So, the fund can tilt back towards countries in the high yield space that can make it through the risk filter.
Watch the full In the Know segment today!
This article was originally published on our sister site, ETF Trends.