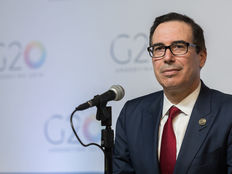 As more investors pile into safe-haven government debt as a default risk-off maneuver, Treasury Secretary Steve Mnuchin says a 50-year bond offering is under serious consideration. It's something the Treasury department has been mulling for some time, but Mnuchin confirmed the idea could actually come into fruition.
"This is something I have talked about over the last two years, it is something we are very seriously considering," he said on ""Squawk Box":https://www.cnbc.com/squawk-box-us/." "We're looking at issuing a 50-year bond, what we could call an ultra-long bond. We think there is some demand for it. It is something we'll very seriously consider for next year."
Mnuchin's latest comments come on the heels of U.S. President Donald Trump suggesting that the country should consider the option of refinancing its current debt, which stands at over $22.5 trillion. If the 50-year bond becomes reality, the U.S. would mimic other countries who are already implementing ultra-long debt—Belgium, Mexico, Canada, and Ireland already have similar offerings in their respective markets.
"We would do this in a way that if there is demand it's something that we would meet. I personally think it would be a good thing to expand the U.S.′ borrowing capabilities," Mnuchin said. "I would say it's obviously quite attractive for us to extend and derisk the U.S. Treasury borrowing. So we're also looking at extending the weighted average maturity of the Treasury borrowing to derisk this for the U.S. people."
---
Content continues below advertisement
Flocking To Safe-Havens
Market volatility is opening the pathway for investors to flock to safe-haven government debt, which is causing yields to fall. As such, a yield curve inversion—a typical sign ahead of a recession—is forming with respect to the 2- and 10-year Treasury yields.
Given the latest market volatility, getting that bond exposure is still a must. Investors looking to gain broad-based exposure to bonds can look at funds like the ProShares S&P 500 Bond ETF (SPXB B). The fund seeks investment results that track the performance of the S&P 500®/MarketAxess Investment Grade Corporate Bond Index, which consists exclusively of investment-grade bonds issued by companies in the S&P 500.
Investment-grade corporate bond-focused fixed-income ETF options include the iShares Intermediate Credit Bond ETF (CIU A), iShares iBoxx $ Investment Grade Corp Bd ETF (LQD A) and Vanguard Interm-Term Corp Bd ETF (VCIT A). Investors looking for broad-based core bond exposure can look to a fund like the iShares Core US Aggregate Bond ETF (AGG A).
This article originally appeared on ETFTrends.com