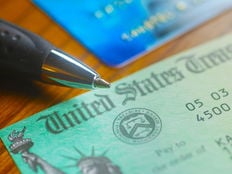 After weakening over the first half of September, Treasury bonds and related ETFs are making a rebound this week.
The PIMCO 25+ Year Zero Coupon US Treasury Index ETF (ZROZ C+), Vanguard Extended Duration Treasury ETF (EDV B+) and iShares 20+ Year Treasury Bond ETF (TLT B-) have strengthened back-to-back this week, pushing back above their short-term trend line at the 50-day simple moving average.
Bond prices have declined over the first half of September as yields rose with demand for safety abating.
"We've had a very good short-term correction," Mark Newton, technical analyst at Newton Advisors, said on CNBC. "However, the long-term uptrend is still very much intact, and so with all this uncertainty, you know, my thinking is it's right to still be long Treasuries. The third quarter is typically a very bullish time to be long Treasuries."
Looking ahead, Newton argued that investors should look back into Treasuries exposure, such as something like TLT, adding that there is opportunity in the recent weakness.
"I think that the back half of September, early October, it's right to take a stab at really buying dips in TLT and being long Treasuries, thinking this little spike in yields reverses and we see a pullback back down to potentially lows," Newton added.
Michael Binger, president of Gradient Investments, also projected that that bond prices should continue to rise and yields fall later this year.
"Yields are going to drip lower over time as we end this year," Binger told CNBC. "When I look at the economic picture, the U.S. economy is pretty good, but it's growing at a slower rate than it has, and I think that growth is decelerating a bit more. You know the rest of the world certainly is really struggling for growth right now."
U.S. government bonds could continue to find support from ongoing economic uncertainty and a slowing growth outlook, along with a looser monetary policy out of the Federal Reserve.
"I believe [the move in the bond market]is a result of general geopolitical concerns, the fact that the Fed could resume easing again at some point this year, and the fact the market has stabilized from its 45 basis points reversal that took place over a very short period recently," Tom di Galoma, managing director of Treasury trading at Seaport Global Holdings, told MarketWatch.
This article originally appeared on ETFTrends.com
---
Content continues below advertisement