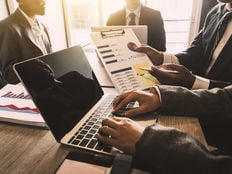 Facebook, Amazon, Netflix, and Google (FANG) stocks were the toast of the town during the height of the aging bull run. However, there are still exchange-traded funds (ETFs) to capitalize on if investors are still feeling that FANG fever.
So which of the four FANG stocks can provide investors with the most upside moving forward?
"By far my favorite of the bunch is Amazon," said  Mark Tepper, president of Strategic Wealth Partners.
"From an e-commerce standpoint, nobody can match them when it comes to price and convenience. Yes, they're spending some money right now on one-day shipping but that's a short-term drag and that's actually going to make them much, much stronger in the long run," Tepper added.
Tepper, in particular, likes Amazon's multi-faceted business model that hits the areas of e-commerce, cloud computing and advertising. Given its current price, Tepper sees a value opportunity investors can capitalize on.
"It's trading in the mid-$1,700s right now. We think fair value is somewhere between $2,000 and $2,400 so plenty of upside here," said Tepper.
Investors can also look to ETFs with pronounced holdings of Amazon.
---
Content continues below advertisement
3 ETFs to Watch
ProShares Online Retail

ETF

(

ONLN

): seeks investment results, before fees and expenses, that track the performance of the ProShares Online Retail Index. The index tracks retailers that principally sell online or through other non-store channels. The index uses a modified market-capitalization weighted approach, is rebalanced monthly and is reconstituted annually. Retailers may include U.S. and non-U.S. companies. To be eligible, retailers must: be classified as an online retailer, an e-commerce retailer, or an internet or direct marketing retailer, according to standard industry classification systems; have a market capitalization of at least $500 million; have a six-month daily average value traded of at least $1 million; and meet other requirements.
Fidelity

MSCI

Consumer Discretionary Index

ETF

(

FDIS

): seeks to provide investment returns that correspond generally to the performance of the

MSCI

USA

IMI

Consumer Discretionary Index. The index represents the performance of the consumer discretionary sector in the U.S. equity market.
Consumer Discret Sel Sect

SPDR

ETF

(

XLY

): seeks investment results that correspond to the price and yield performance of publicly traded equity securities of companies in the Consumer Discretionary Select Sector Index. The index includes securities of companies from the following industries: retail; hotels, restaurants and leisure; textiles, apparel and luxury goods; household durables; automobiles; auto components; distributors; leisure products; and diversified consumer services.
This article originally appeared on ETFTrends.com