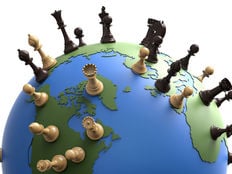 It's certainly been the summer of bonds after the equities markets spooked investors into safer haven assets like government debt. The holidays are right around the corner and some analysts are forecasting that market volume in bonds could drop given the current geopolitical landscape.
With global events like Brexit and the Hong Kong protests in full swing, Wells Fargo Securities' Michael Schumacher foresees a challenging bond market up ahead. Additionally, it could all start this week.
"This week it's Brexit. Probably Brexit again next week. Trade after that. Hong Kong. Iran. You could go on and on and on," said Schumacher. "These things are very tough for investors to assess."
Add to these geopolitical risks is the fact that the major indexes are close to their all-time highs. Thanks to a better-than-expected third-quarter earnings season so far, the S&P 500 and Dow Jones Industrial Average are just 1% below their highs, while the Nasdaq Composite is shy of its high by 2%.
"A lot of people, at least the ones I talk to, are saying it's been a good year," Schumacher added. "Why should I take a lot of risk around year-end when I can't really get a grip on some of these things?"
---
Content continues below advertisement
Go Short and Go Corporate
So where should investors look anyway if they do want that fixed income exposure? Shumacher cites two areas–short duration and corporate bonds.
"The best place to go is in fairly short duration credit," Schumacher said. "Maybe not the very, very front end of the curve, but call it the three-year part out to the five- to seven-year area. Decent yield. Decent carry. Not a ton of downside."
"It's interesting people like to point to corporate debt burdens being very high. Well, it's true if you look at debt per say," he added. "But corporates have been benefiting so much by virtue of Treasury yields being low that their actual interest coverage is still very, very good."
With the short-term rate adjustments being instituted by the Federal Reserve, investors can limit exposure to long-term debt issues and focus on maturity profiles. An example would be the SPDR Portfolio Short Term Corp Bd ETF (SPSB A-), which seeks to provide investment results that correspond to the performance of the Bloomberg Barclays U.S. 1-3 Year Corporate Bond Index.
Another short-term bond ETF option is the iShares 1-3 Year Credit Bond ETF (CSJ A-), which tracks the investment results of the Bloomberg Barclays U.S. 1-3 Year Credit Bond Index where 90 percent of its assets will be allocated towards a mix of investment-grade corporate debt and sovereign, supranational, local authority, and non-U.S. agency bonds that are U.S. dollar-denominated and have a remaining maturity of greater than one year and less than or equal to three years.
This article originally appeared on ETFTrends.com