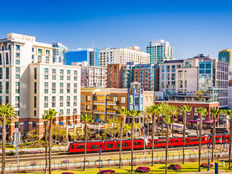 The 7th annual Inside Fixed Income conference returns Nov. 12-13 at the Manchester Grand Hyatt in San Diego, California. The 2019 event comes at the perfect time as investors look to position their bond portfolios for 2020 considering the impact of the presidential election.
Join more than 250 attendees, thought leaders and ETF experts for two days of high-quality content, unmatched networking opportunities and leave better prepared to face the road ahead.
The conference will be jam-packed with sessions on fixed income model portfolios, the muni market, factors-based investing, ESG and much more. The conference is split into two parts this year: theory and implementation. Hear 40+ experts share their knowledge and expertise. Keynotes this year include Sonya Dreizler, CEO, Solutions and Jim Bianco, President, Bianco Research.
Industry leaders confirmed to speak this year include representatives from Nottingham Advisors, CFRA, AllianceBernstein, Lake Avenue Financial, Bair Financial Planning and ICI Global to name a few.
There has been incredible inflows of bond ETFs this year. The question is what happens now? The conference will help unpick the myths around bond ETFs and focus on what advisors need to know now and in the future.
With bond ETFs raking in assets to the tune of roughly $74 billion in the first six months of the year, the conference will explore why fixed income ETFs exploded in 2019 and what can be expected for the remainder of Q4 and the year ahead.
Key themes playing out in 2019 sent the Inside Fixed Income team back to the drawing board as they had to rethink and reimagine what a fixed income event should look like during all the market uncertainty around the election, strength of the dollar and, of course, the anticipation of rate cuts by the fed.
With cutting edge macro insights from Jim Bianco of Bianco Research, attendees can be sure to leave with a deeper understanding of what is driving bond markets and how they can start preparing their client portfolios for whatever the markets throw ahead.
More to the bond market than just the macro outlook
Municipal bonds have gathered assets hand over fist as high-net-worth investors turn to more tax-sensitive investments. Once again, the team at Inside Fixed income has you covered as they gather both practitioners and industry experts on the stage to break down this growing market and why ETFs are seeing success.
Perhaps the most exciting development is the return of its famed fixed income ETF university. This will be an introduction to bond ETFs as well as practical workshop-style sessions on ESG, high yield, factors-based investing and more. Attend the afternoon sessions on day one for insights you won't find anywhere else.
With assets flowing into bond ETFs, it is imperative that investors truly understand how these innovative ETFs work, best practices for trading them and to gather first-hand insight on how to best use them in their client's asset allocation.
For more information, click here.
---
Content continues below advertisement