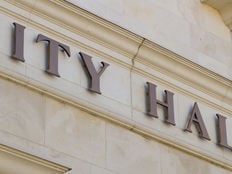 Treasury yields have been ticking higher with the major indexes in the equities market notching record highs. Nonetheless, yields are still low, which is making fixed income investors look to other debt issues like municipal bonds, which saw its activity rise in November.
"Municipal bond issuance rose to $44.665 billion in November, a gain of 53.7% over the same month last year," an article in The Bond Buyer noted. "November's sales bring total issuance for the year to $377.672 billion, up from $320.066 billion in the same 11 months in 2018. November's output slipped from $52.19 billion in October."
"The recent supply rise can be attributed to the increased use of taxable bonds due to attractive low rates, high demand from retail buyers, and growing interest from foreign investors," the article added.
For investor seeking more yield, they can look to these municipal bond ETFs:
1. VanEck Vectors AMT-Free Long Municipal Index ETF (MLN B): seeks to replicate as closely as possible, before fees and expenses, the price and yield performance of the Bloomberg Barclays AMT-Free Long Continuous Municipal Index. The index is comprised of publicly traded municipal bonds that cover the U.S. dollar-denominated long-term tax-exempt bond market.
2. Xtrackers Municipal Infrastructure Revenue Bond ETF (RVNU A-): seeks investment results that correspond generally to the performance, before fees and expenses, of the Solactive Municipal Infrastructure Revenue Bond Index. The fund will invest at least 80% of its total assets (but typically far more) in instruments that comprise the underlying index. The underlying index is comprised of tax-exempt municipal securities issued by states, cities, counties, districts, their respective agencies, and other tax-exempt issuers.
3. Franklin Liberty Municipal Bond ETF (FLMB C):  seeks a high level of current income that is exempt from federal income taxes. Although the fund tries to invest all of its assets in tax-free securities, it is possible that up to 20% of the fund's net assets may be in securities that pay interest that may be subject to the federal alternative minimum tax and, although not anticipated, in securities that pay interest subject to other federal or state income taxes.
---
Content continues below advertisement
A High Yield Option
One high yield municipal bond ETF that's worth a look is the SPDR Nuveen S&P High Yield Municipal Bond ETF (HYMB B+). HYMB seeks to provide investment results that correspond generally to the price and yield performance of the Bloomberg Barclays Municipal Yield Index.
The fund invests a majority of its total assets in the securities comprising the index and in securities that the Sub-Adviser determines have economic characteristics that are substantially identical to the economic characteristics of the securities that comprise the index. The index measures the performance of USD-denominated high-yield municipal bonds issued by U.S. states, the District of Columbia, U.S. territories and local governments or agencies.
This article was originally published on ETF Trends.