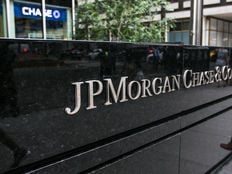 J.P. Morgan Asset Management expanded its innovative BetaBuilders suite on Thursday with the launch of a new low-cost international equity ETF.
The JPMorgan BetaBuilders International Equity ETF (BBIN) becomes its eighth strategy in the suite, which comes with an expense ratio of just 0.07%.
BBIN sets out to provide investors with liquid, low-cost access to Developed International equities ex-North America.
Joanna Gallegos, U.S. Head of ETFs at J.P. Morgan Asset Management, told ETF Trends that BBIN offers Developed ex-North America equity exposure investors are looking for at a competitive price point, being managed by an experienced and tenured PM team from JPMorgan.
"In terms of its exposure, BBIN is constructed to offer large and mid-cap equity exposure to developed ex-North America, similar to other widely used market cap indices," Gallegos said. "At a price point of 7 bps, we believe that it offers one of the most attractive combinations of exposure and efficiency in the space."
Gallegos added that just like its other international BetaBuilders, BBIN tracks a Morningstar Target Market Exposure benchmark, highlighting the ETF has been designed to provide investors with efficient access to the almost $50 trillion global equities market, a core allocation for any diversified portfolio.
"These indexes provide exposure to the top 85% of equity market capitalization, focusing on liquidity, investability, and ease of tracking," she said. "Securities are weighted according to float-adjusted market capitalization. The Developed ex-North America TME Index allows access to all developed equity markets excluding Canada and the United States."
BBIN leverages JPMorgan's 30-plus year track record managing equity index strategies and the Fund's portfolio management team, headed by Ove Fladberg, averages 18 years' experience. JPMorgan's beta platform manages over $45 billion across market-cap weighted, strategic beta and alternative beta investment strategies.
With this launch, J.P. Morgan Asset Management's U.S. ETF suite now features 33 product offerings with close to $30 billion in assets under management.
This article originally appeared on ETFTrends.com.
---
Content continues below advertisement