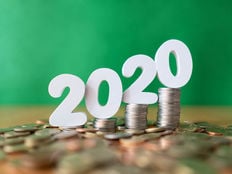 After 2019's strong performance for stocks and bonds, expect both assets to put out a showing in 2020 that's akin to a musical artist's sophomore slump after a chart-topping debut album. Nuveen's U.S. equity strategist Bob Doll recently predicted in a MarketWatch report that both stocks and bonds will gain "less than 5% for only the fourth time in 25 years."
"We observe that stocks are not particularly cheap at this point, as prices rose considerably in 2019," Doll wrote. "At the same time interest rates may rise modestly from low levels, which could cause bonds and cash to struggle. Should all this all play out, all three asset classes could return less than 5%, as happened in 2005, 2015 and 2018."
His bearishness in stocks and bonds was counterbalanced by his bullishness in the U.S. economy. Doll anticipates that the U.S. economy will grow 2%–higher than the central bank's 1.9% growth prediction.
"As a portfolio manager, I talk to CEOs all the time and their most common complaint is that they can't find workers," Doll said during a webcast unveiling his predictions. "If they need somebody they have to pluck them out of some other place and typically pay up for them.
---
Content continues below advertisement
Core ETF Exposure to Stocks, Bonds
Investors who want core exposure to both asset classes via ETFs can look to the heaviest of hitters like the SPDR S&P 500 ETF (SPY A) and the iShares Core U.S. Aggregate Bond ETF (AGG A).
For ETF investors, the SPY has been a staple fund for many years.
Fund facts:
SPY

seeks to provide investment results that, before expenses, correspond generally to the price and yield performance of the S&P 500® Index (the "Index")
The S&P 500 Index is a diversified large cap U.S. index that holds companies across all eleven

GICS

sectors
Launched in January 1993,

SPY

was the very first exchange traded fund listed in the United States
Since 2003, AGG has been the go-to fund for investors who want that core bond exposure, and with close to 20 years under its belt, the fund is still a great option.
Fund facts:
AGG

seeks to track the investment results of the Bloomberg Barclays U.S. Aggregate Bond Index.
The index measures the performance of the total U.S. investment-grade bond market.
The fund generally invests at least 90% of its net assets in component securities of its underlying index and in investments that have economic characteristics that are substantially identical to the economic characteristics of the component securities of its underlying index.
Reasons to use AGG:
Broad exposure to U.S. investment-grade bonds
A low-cost easy way to diversify a portfolio using fixed income
 Use at the core of your portfolio to seek stability and pursue income
This article originally appeared on ETFTrends.com.