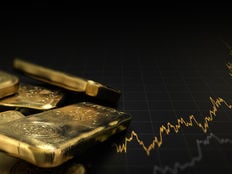 While U.S. stocks continue to charter record highs, the gold market has been languishing lately.
While the lustrous metal climbed 4% so far this year already, with the SPDR Gold Shares (GLD A-) also climbing 3%, as gold prices reached their loftiest level since April 2013 early last month, since the start of February things have been more subdued.
After finishing January near its highs, gold sold off nearly $40 an ounce, and has been trading sideways since ever since, as investors pile into stocks, despite fears of the coronavirus contagion.
The challenges for the precious metal continue within China's gold market, where jewelry demand is expected to decline as a result of growing fears surrounding the coronavirus.
In a recent interview with Bloomberg, Zhang Yongtao, chief executive officer of the China Gold Association, stated that jewelry demand is expected to drop in the world's top market for gold consumption. He added that a fear of the coronavirus is preventing consumers from leaving their houses.
"People are not in the mood to shop for jewelry. Stores and shopping malls are closed because of the virus. The sales of gold jewelry and bars will drop substantially this year," Yongtao said in the interview.
Gold's value typically moves inversely to the dollar as the precious metal is internationally priced in the U.S. currency.
While it may come as a surprise to some investors, analysts recently warned that gold could suffer a pullback before moving higher.
"Prices have advanced already significantly … Gold prices are at our September target, silver at the December target and platinum at our June target," the Dutch bank's senior FX & precious metals strategist Georgette Boele said in a report published on Friday. "We continue to expect a price correction in the coming weeks and months."
"A good start to the year is not a guarantee of higher prices at the end of the year. So, we would wait and look for a correction to take place," Boele wrote.
Given that overall bullish gold positioning has become increasingly overcrowded, and has been for some time now, investors may be better off waiting to add positions, noted the strategist.
This article originally appeared on ETFTrends.com.
---
Content continues below advertisement