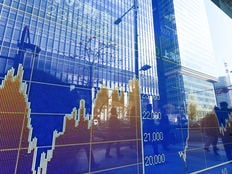 Fixed income investors searching for yield in excess of what's offered by U.S. government debt may want to consider emerging markets bonds. Yes, even high-yield corporate fare, which is accessible via the VanEck Market Vectors EM High Yield Bond ETF (HYEM A-).
HYEM, which turns eight years old in May, follows the ICE BofAML Diversified High Yield US Emerging Markets Corporate Plus Index. That benchmark "is comprised of U.S. dollar-denominated bonds issued by non-sovereign emerging markets issuers that are rated below investment grade and that are issued in the major domestic and Eurobond markets," according to VanEck.
When comparing global central bank monetary policies, most developed countries have heavily relied on quantitative easing and low interest rates to bolster their economies, with some, notably the U.S. and the United Kingdom, already eyeing tighter monetary policies to obviate a potentially overheating economy. Meanwhile, many emerging market central banks have more room to run with their easing policies, which may continue to support their local debt securities.
"Bonds have been a good refuge for investors looking to skirt coronavirus-impacted assets. And that sentiment isn't confined to boring U.S. Treasury bonds. The VanEck Vectors Emerging Markets High Yield Bond ETF (NYSEARCA: HYEM) has been steady over the past month despite a 12% weight to Chinese junk debt," reports InvestorPlace.
Tempting Yield
There is risk with junk bonds – domestic or emerging markets – but HYEM compensates investors for that risk with a 30-day SEC yield of 5.26%. That's well above the comparable yields on rival US-focused high-yield debt ETFs.
"Yes, there's risk with junk bonds. And yes, many believe combining emerging markets and high-yield debt amplifies those risks. But HYEM offers a 30-day U.S. Securities and Exchange Commission yield of 5.3% to compensate for those risks. Plus, this emerging markets ETF's risk profile may not be as severe as it appears on the surface," according to InvestorPlace.
HYEM has an effective duration of 3.42 years. About 89% of the fund's 672 holdings are rated BB or B. Emerging market fundamentals, like growth, debt stock, real rates and policy flexibility, all remain at a favorable starting point relative to developed economies going forward.
This article originally appeared on ETFTrends.com.
---
Content continues below advertisement