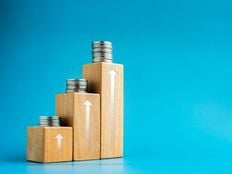 Top Performing Unleveraged ETFs Last Week
These were last week's top performing ETFs. We've excluded funds which use leverage or make inverse bets on their underlying assets.
Last week's top performers table was dominated by biotech and healthcare funds. In fact, only two funds on the list weren't from that sector: the MLCX Biofuels ETN (FUE C) and the United States Gasoline Fund (UGA B-). FUE has had a strong month with 18.3% returns, but little investor interest. UGA on the other hand has seen weak returns for the past month and steady outflows despite this week's performance.
For our biotech funds, the SPDR S&P Biotech ETF's (XBI A) returns of 11.3% were accompanied by strong inflows for the week as well. The fund saw $703 million in new assets over the past week, accounting for almost 11% of XBI's total assets.
| Ticker | Name | 1 Week Return |
| --- | --- | --- |
| (IBBJ ) | Defiance Nasdaq Junior Biotechnology ETF | 13.65% |
| (BTEC ) | Principal Healthcare Innovators Index ETF | 12.51% |
| (FUE ) | MLCX Biofuels ETN | 12.23% |
| (PTH ) | Invesco DWA Healthcare Momentum ETF | 12.02% |
| (BBC ) | Virtus LifeSci Biotech Clinical Trials ETF | 11.81% |
| (IDNA ) | iShares Genomics Immunology and Healthcare ETF | 11.57% |
| (XBI ) | SPDR S&P Biotech ETF | 11.30% |
| (CNCR ) | Loncar Cancer Immunotherapy ETF | 11.21% |
| (UGA ) | United States Gasoline Fund | 11.04% |
| (SBIO ) | ALPS Medical Breakthroughs ETF | 10.78% |
---
Content continues below advertisement