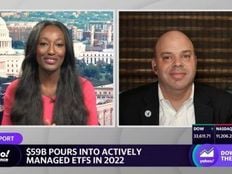 VettaFi's head of research Todd Rosenbluth got active on Yahoo Finance to discuss tech's ongoing slide, leveraged and inverse ETFs, and the performance of active funds, particularly on the fixed income side of the ledger.
Tech's Fall Garnering Leveraged and Inverse Interest
With many traders betting against tech, valuations are starting to look attractive to some.
"We've seen a lot of money going in and a lot of interest in the short version of QQQ," Rosenbluth said, continuing, "there's a lot of pessimism about the technology and growth-orientated sectors." Though funds shorting QQQ, such as the ProShares UltraPro Short QQQ (SQQQ A), have been popular of late, Rosenbluth pointed out that the ProShares UltraPro QQQ (TQQQ B+) is also gathering investor interest.
According to Rosenbluth, "on our VettaFi platform, there's interest in getting to know these products." It has been a down year for equities and growth investing, opening up long and short opportunities. Nodding to a previous segment covering semiconductors, Rosenbluth said, "a lot of people are willing to bet – and that's the key word here, 'bet,' on the short term price movements of the semiconductor industry both long and short this year."
Speaking to the risks in inverse and leveraged ETFs, Rosenbluth said, "these are intended for a short-term time horizon. The longer you are there, the greater risk."
---
Content continues below advertisement
Active's Rise
Active Management has been gaining traction all year. He noted that active funds such as the JPMorgan Equity Premium Income ETF (JEPI A) allow investors to benefit from the stock-picking expertise of a management team instead of rolling the dice with a leveraged or inverse fund.
"JEPI has held up better than the current marketplace because of that income component," Rosenbluth noted in discussing how the fund works and gears itself toward income.
Asked about active and passive funds, Rosenbluth noted that active had had a big year in both equity and fixed income, with many active fixed income funds outperforming the broader iShares Core U.S. Aggregate Bond ETF (AGG A). He noted strong interest in funds like the Fidelity Total Bond ETF (FBND B) and the SPDR DoubleLine Total Return Tactical ETF (TOTL B+) are also attracting much attention. "You can make money through an actively managed fixed income ETF, get the benefits of security selection, without having to take on the same level of risk."
Spot Bitcoin ETF Shot Down Again
"The SEC continues to have concerns about risks related to bitcoin from a fraud perspective," Rosenbluth noted. He sees a spot bitcoin ETF as unlikely until next year or later but pointed out that the ProShares Bitcoin Strategy ETF (BITO ) still presents investors with a futures-based option for Bitcoin exposure.
For more news, information, and strategy, visit VettaFi.