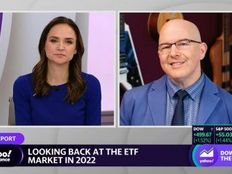 "We had over 400 launches this year," Nadig said, which he thinks could be a record. Looking at funds that launched this year, Nadig noted the Fairlead Tactical Sector ETF (TACK ), which uses a sector rotation strategy and technical analysis. Since its launch in March, it's beaten the S&P by about 10%. "It's a hole in the marketplace, there's not a lot of these actively managed, technical rotation type strategies out there," Nadig said, noting that this has been several unusual equity launches this year, including the KPOP and Korean Entertainment ETF (KPOP C) and the Harbor Corporate Culture Leaders ETF (HAPY C+).
Speaking about the continued uncertainty in the market, Nadig said, "Honestly, I think advisors are a little less optimistic than consumers." Consumer sentiment has been rising, but advisors are continuing to make defensive plays. Quality, value, and dividend spins have been go-to strategies as advisors attempt to navigate the market. Funds like the JPMorgan Equity Premium Income ETF (JEPI A) have been highly successful, putting up big numbers in both performance and inflows. Nadig also observed that the fifth biggest asset-gathering fund this year was a very traditional dividend fund, the Schwab US Dividend Equity ETF (SCHD B+). An ESG spin on SCHD also launched recently, the Xtrackers S&P ESG Dividend Aristocrats ETF (SNPD B).
Geopolitics could continue to be a huge influence in the investment space next year, and Nadig noted that "the run-up on the U.S. dollar has made it very tough to be internationally diversified." Of course, international exposure is critical in a well-diversified portfolio, so Nadig pointed to a developed market strategy in the Democracy International Fund ETF (DMCY B+) and the emerging market exposure in the Freedom 100 Emerging Markets ETF (FRDM C). FRDM avoided exposure in China and Russia (even before the war) and both funds have managed to outperform by centering countries that are more democratic and less authoritarian.
Nadig also noted that investors should be skeptical of TIPS products right now, though TIPS themselves are interesting right now. "If you are looking for inflation plays, I'm not sure you should be looking at the bond market based on what we have going on over the last couple of years," he said.
---
Content continues below advertisement