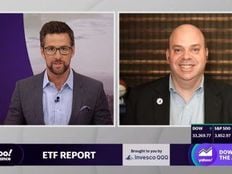 VettaFi head of research Todd Rosenbluth appeared on Yahoo Finance to discuss what's now inside growth and value funds based on VettaFi research, as well as the big year ETFs put together in 2022.
With $611 billion in inflows despite the down year, ETFs had a remarkable year on several fronts. Active management funds had one of their best years ever. Smart beta looked strong, and value ETFs were big winners in 2022. Rosenbluth said, "these are all trends that are set up as we look toward 2023 and as we, the team at VettaFi, are putting together the , how we're setting the agendas so that advisors can stay informed as we look toward the future."
Given that the S&P 500 value stocks outperformed S&P 500 growth stocks by over 2,000 basis points with similar margins in the Russell 1000, investors are looking for more value in 2023. What goes into a value fund and a growth fund may be surprising to some investors, however. Rosenbluth cautioned that "value indexes are rebalanced and reconstructed, certainly the S&P 500-based ones, at the end of 2022. What used to be in a growth index is now in value. What used to be in a value index is now in growth."
As examples, Exxon, Chevron, and United Health all helped the iShares S&P 500 Value ETF (IVE A) outperform in 2022. They are no longer in IVE and have migrated over to the iShares S&P 500 Growth ETF (IVW A). Companies like Amazon, Meta, and Microsoft, meanwhile, went in the other direction and are now in the value index. "Value might not perform as well as growth because of what's inside the portfolio," Rosenbluth added.
When asked about what trends to be on the lookout for in 2023, Rosenbluth indicated that he anticipates interest rates will rise before potentially slowing down. This is going to give investors pause as they try to figure out their fixed income exposure and what form of interest rate risk they are willing to be susceptible to. "We could see products that are more rate sensitive," Rosenbluth said, pointing to products like the iShares 20+ Year Treasury Bond ETF (TLT B-). He also noted that investors could steer clear of short-term products.
---
Content continues below advertisement