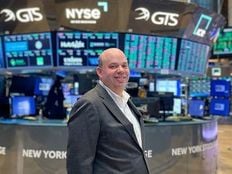 On Sunday, a select few of us in the ETF industry will be toasting the 30th anniversary of the , the first U.S.-listed and still-largest ETF. However, millions of Americans will unknowingly be among the beneficiaries of the major milestone.  
The first ETF began trading in Canada in 1990, but most will agree that the birth of SPY on January 22, 1993, helped propel the ETF industry's global growth. While it took some time and weakness in the financial markets for ETFs to become mainstream, there is now approximately $7 trillion in assets spread across more than 3,000 U.S. ETFs, aided by back to back impressive years of net inflows. Many advisors have built strategies using only ETFs, and there is a collection of experienced and passionate VettaFi Voices eager to help them.  
VettaFi is going to have a proper celebration with more than 1,000 of our closest financial advisors and ETF industry friends in a few weeks at Exchange in Miami. But I asked Matt Bartolini, head of SPDR Americas Research, to share some statistics about SPY, which remains the granddaddy of all ETFs. Here are some of my favorites as well as some perspective from me on the data: 
SPY

has had $110 trillion of total trading volume since inception. 

SPY

recently had $372 trillion in assets. While many buy and hold

SPY

, the

ETF

is frequently used for shorter-term purposes.

SPY

traded more than $9.7 trillion in 2022, making it the most traded

ETF

.

SPY

accounted for 21% of the record U.S.

ETF

volume. 
SPY's total trading volume in 2022 was 15 times more than that of the and 18 times more than that of the .
Over the last five years,

VOO

,

IVV

, and the had net inflows of $134 billion, $79 billion, and $13 billion respectively, while

SPY

had $16 billion of net outflows.
SPY's net expense ratio of 0.09% is three times that of these ETFs. Despite losing some market share at the asset level,

SPY

remains the go-to vehicle for many.

SPY

, on average, trades more than its top seven index constituents combined, including Apple, Amazon.com, and Microsoft
While what is inside the

ETF

is the driver of its performance, there is tremendous liquidity in the basket of stocks in the S&P 500.
Over the last three decades, the ETF industry has provided investors, large and small, with many additional ways to access financial markets we take for granted. Some of these are the offspring for SPY, and it is a lineage worthy of pride.  
For example, there is a wide range of ETFs tied the S&P 500 Index, including sector-focused funds like the , style-oriented funds like the , factor-based funds like the (SPLV A+), ESG-screened funds like the , and many more. 
Meanwhile, thanks to SPY, investors can gain access to international equity markets that are closed for the day when the ETF trading in the U.S. occurs, including funds like the and the )+. 
For those wanting to outperform SPY, despite the challenges, there are now hundreds of actively managed ETFs to consider, including many from firms long associated with the mutual fund world, such as ETFs like the and the )+. Indeed, it is hard to think of an asset management firm that does not have an ETF presence. 
Not to mention that ETF investors get the benefits of trading on an exchange a portfolio of securities like high yield bonds (through funds like the , gold (through an ETF like the ), and even ones investing in futures like the )+. 
I could list ETF innovations from now until SPY turns 30 years old. But I want to get ready to celebrate, and you should too. 
To learn more about the event and register, please visit the Exchange website.
For more news, information, and analysis, visit VettaFi | ETFDB.
---
Content continues below advertisement