New investors are overwhelmingly choosing ETFs as their investment vehicle of choice. Between June 13 and June 28, Charles Schwab conducted a comprehensive survey of 2,200 investors for its 2023 ETFs and Beyond Study. The firm chose 1,000 ETF investors, 1,000 non-ETF investors, and 200 "Gen I" for its study. The last group refers to new investors who have been investing since 2020.
In 2020, 71% of investors agreed that ETFs trumped other fund wrappers as their preferred vehicle. They selected the vehicle over options like closed-end funds and mutual funds. In 2022, this proportion increased to 80%, meaning four in five investors across the sampled spectrum prefer them. And 95% are likely to consider purchasing an ETF within the next two years. That suggests that ETFs are poised to continue growing rapidly.
Furthermore, growth of the industry is not just confined to those who have already bought ETFs in the past. The overwhelming majority (95%) of current ETF investors say they'll buy more going forward. However, almost half of non-ETF investors (48%) say they are likely to purchase one within the next two years. This is up 7% from a year prior. Additionally, portfolio diversification is the use case selected by the majority of this group.

---
Content continues below advertisement
With more choices than ever, it's no surprise that ETFs have exploded in popularity. Overall, 88% of surveyed ETF investors wanted to personalize their portfolios more in 2023. Meanwhile, 78% plan on investing according to their values. There are more than 3,000 ETFs listed in the U.S. alone as of November 2023. Those funds cover countless asset classes, sectors, themes, and factors.
Education Crucial for Future Expansion
Education will play an important role in getting ETFs into the hands of non-ETF investors. 71% of this group consider themselves to be beginners when it comes to understanding the fund wrapper. Meanwhile, 34% are "extremely interested" in learning more about ETFs. Like those who have already purchased ETFs, their top use case is to diversify their portfolio, which could be overwhelming given the sheer amount of choices today.
The survey also highlights that fee compression is unlikely to go away any time soon. For those already invested in ETFs, the top two factors in choosing a fund are "Total cost" and "Low expense ratio." An ETF's total cost is largely a product of its management fee, though there are other considerations such as bid-ask spreads and fund premiums. With costs in mind, tracking error to the fund's index was similarly an important consideration factor.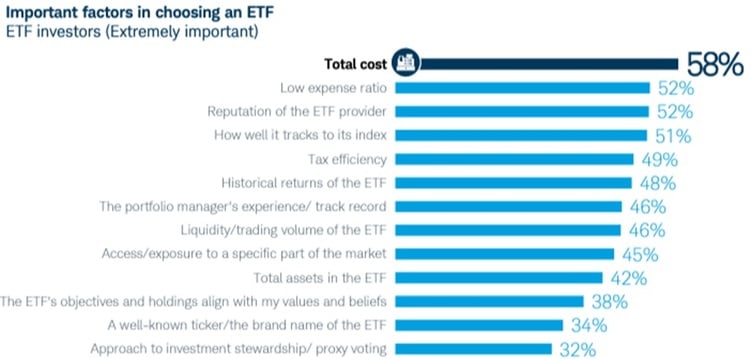 Bonds Get Attention From ETF Investors
Schwab devoted a large portion of its research to fixed income products. Bond ETFs are one of the fastest-growing segments of the market. BlackRock projects they will reach $5 trillion in AUM by 2030, up from about $2 trillion today. With interest rates at their highest in over two decades and an uncertain macro environment, the post-pandemic era has led many investors to favor bonds over other asset classes like stocks and real estate. Only 35% of ETF investors say they are highly experienced or experienced with fixed income. And 44% are "very interested" in learning more.
Bonds are typically recommended for investors nearing retirement due to their lower volatility. However, the average baby boomer portfolio is 31% in fixed income, versus 45% for millennials. More than half (51%) of millennials plan on investing additional capital into fixed income products as well next year, while this number is just 40% for baby boomers. This information evidences a generational knowledge gap as well, as older investors should be the ones taking advantage of higher rates the most, particularly when Treasury bills, which carry no credit risk and nearly zero interest rate risk, are yielding north of 5%.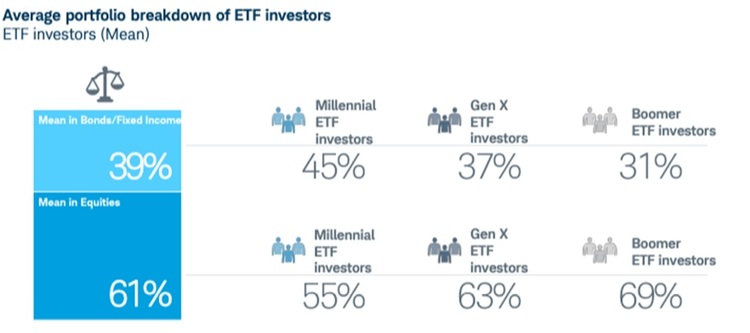 ETF Growth Has Long Runway
The findings from the Charles Schwab 2023 ETFs and Beyond Study clearly indicate a growing enthusiasm for ETFs among seasoned as well as new investors, showcasing an industry in rapid ascent. This trend is likely to persist, with the majority of investors, including those who have yet to purchase ETFs, planning to incorporate them into their investment strategies to enhance diversification and align with personal values.
As the market matures and education improves, we can expect ETFs to maintain a prominent role in the portfolios of a diverse range of investors, reshaping the investment landscape for the foreseeable future.
For more news, information, and analysis, visit VettaFi | ETFDB.